The little vibe that could
Just as dynamite comes in small packages, so does the power of the Salsa. You'll be hard pressed to find a vibrator of comparable size, with vibrations that are just as strong. It's simple, small, discreet, quiet and packs a punch. What more could you ask for?
Published:
Pros:
Powerful vibrations
Small and discreet
Waterproof
Cons:
Discontinued
Pressure dampens vibrations
Possible defectives in circulation
How in the world did We-Vibe pack so much power into such a little package? The Salsa is a mere 3 inches long and yet it has vibrations that get my attention and I'm a Hitachi girl. That's saying something. OK, it's not Hitachi strong, but what is? For a tiny, discreet, rechargeable vibrator, you'll be amazed at what it can do.
The Salsa is made of PC-ABS (Polycarbonate/Acrylonitrile Butadiene Styrene) thermoplastic in three color choices, red white and black. Plastic isn't as hygienic as silicone, but if cleaned properly, it won't give you any problems. I have been washing mine in antibacterial soap and water. Yeah that's right, this little powerhouse is waterproof.
Designed as a clitoris stimulator the Salsa really isn't meant for insertion, and don't you even think about sticking it up your ass. That's a guaranteed trip to the ER. This vibe is a slippery devil if you're using lube, which I like to do. The glossy plastic has very little drag, but there is just enough that I use a small amount of silicone lube. You can use whatever type of lube you prefer.
The vibrations are more rumbly than buzzy, but keep in mind that my frame of reference here is the Hitachi so, take my vibration assessment with a grain of salt. However, the overwhelming consensus is that it is more on the rumbly side. It's shaped like a traditional bullet-style vibrator and if you have other toys that accommodate a bullet, you can use the more powerful Salsa instead. So, have fun getting reacquainted with some of those toys you've grown bored with.
The bullet style shape of it allows for pinpoint stimulation, if that is what you like, but if you prefer a more diffuse vibration, you can simply turn it on its side a bit. The vibrations feel well concentrated at the business end of the vibe. For those of you who enjoy pressure, you might find this vibe a little frustrating. Pressure does dampen the vibration a bit. I have found that even holding it tightly dampens the vibration. The best way I've found to use it is holding very lightly at the end of it. Then there is no interference with the vibrations. My fingers don't get numb, even though I usually end up holding onto it for quite a long time.
Operation is pretty simple. One button located at the bottom, between the two charging contacts. You can scroll through 4 vibration levels (3000, 3600, 4200, 4800rpm) and 4 patterns by pressing the button quickly.

TEASE

WAVE

PULSE

CHA CHA
Holding the button down for 2 seconds turns it off. The Salsa can even remember which mode you were in when you shut it off. Sometimes, I find that having to scroll through all the modes to get to the one I want is a little annoying, but I don't think We-Vibe had room to add more controls to this little vibe.
Charging takes 90 minutes and that gives you up to 2 hours of play time. I tend to take a long time to reach orgasm and the Salsa has the endurance to get me there. The charging base and the cord are two separate pieces. I have no idea why We-Vibe did this, but it might make the base (or the cord) easier to misplace. If you do happen to lose the charger, a replacement can be purchased from We-Vibe.
The Salsa comes packaged in a trapezoidal box, which isn't discreet. It has a picture of the vibe right on the front. I guess you could use the box for storage if discretion isn't an issue, but a nice satiny white bag comes with the vibe and it's large enough to hold the cord and charging base as well.
You might be thinking: "This all sounds great. I gotta get a Salsa", but I have some bad news for you. It's been discontinued. Yeah, I don't get it either. Considering its popularity, you'd think We-Vibe would keep making it. Maybe they've discontinued it in favor of their almost identical vibrator, the Tango. The Tango has the exact same construction of the Salsa, with the exception of the tip. It is flat on one side, like a tube of lipstick rather than the pointed tip of the Salsa.
There are still a limited number of Salsas floating around out there. If you want one, you better grab it if you find it. Soon they will all be gone. And that thought saddens me, because I hate that so many will miss out on a great little vibe, but also, when my Salsa buzzes its last buzz, I won't be able to buy another one. I guess when that time comes, I'll consider the Tango.
Experience
So, I've been singing Salsa's praises, but there is a negative I have to mention. The first one I received was defective. It would make this horrible rattling sound, especially on the higher vibration settings. Apparently, this has happened to a few people out there, so We-Vibe may have had a small batch of defectives get out there. I figure it's a small number, because the overwhelming majority of reviews are positive and there's not much mention of this rattling problem. Fortunately, the merchant was accommodating and allowed me to exchange it for another. The replacement I received does not have the rattling problem. Most merchants would likely work with you if you receive a defective one, but if you find yourself stuck with a defective Salsa, you're in luck. We-Vibe offers a one year warranty.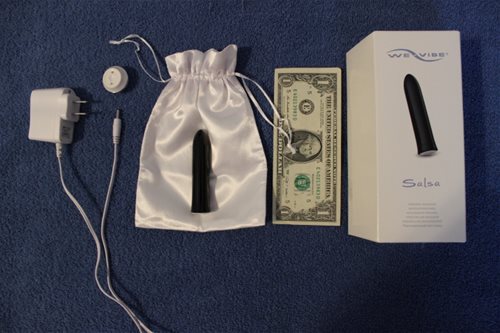 *Dollar not included.
This content is the opinion of the submitting contributor and is not endorsed by EdenFantasys.com

Thank you for viewing
Salsa
– sex toy review page!