Basic Instinct Parody is basically boring and disappointing.
For a parody this is quite boring. I didn't even watch the whole movie, it was that exciting! The women actors in the movie are sexy and enjoyable to look at, but other then that this movie is a waste. It might have been a better movie if the sound wasn't terrible, that you could actually understand the movie. If you're interested in a sexy movie, this isn't it. If you want to watch just the porn scenes, then knock yourself out!
Published:
Pros:
Nice packaging, actors are sexy.
Cons:
Terrible sound quality, boring, not a parody.

Packaging/Cover:
The dvd in cased in a special edition type cover box. It measures 11" in height, 7.5" width, and the thickness of an actual dvd. It came wrapped in clear plastic to protect it, and the box you can open from the right side. The box front and back are identical to the actual dvd cover when it comes to pictures. The box at the back is designed so it can be displayed like a picture frame. There is a spot at the back that can fold down to create an arm, so it can stand.
The front cover shows the main actress Breanne Benson, who is playing the character Catherine Trammel. She is clawing in the shoulder of Michael Vegas, who is playing the character Nick Curran. Only the top part of her face is showing, which emphasizes her mysterious eyes. It's a complete replica of the original movie cover. The photo is black and white toned, and the Titles are red and black in color.
The back of cover shows pornographic shots of different scenes, which include the whole cast. With this being an adult movie, most of the photos are naked and of the sexual nature. One of the photos include Breanne in the iconic outfit and position, just like the original actress Sharon Stone in the original movie.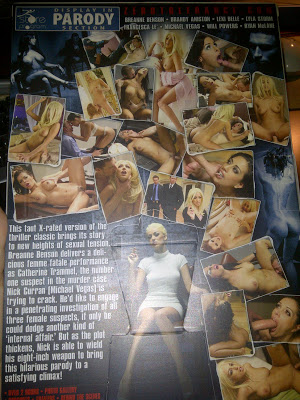 Special Features include:
- Photo gallery
- Popshots
- Trailers
- Behind the scenes
- Full motion chapter menu
- Auto restart if you leave it running!
- 2 hours in length
- Rating: XXX
- Release Date: 4/20/2011
- Production Year: 2011
- Studio: Zero Tolerance
Summary:
Think of this as a porn version of the original Basic Instinct.
The movie starts with Catherine Trammel riding a guy. She ties his hands with a white scarf, and then murders him with an ice pick.
Next scene: The police accuse Catherine of murder, and go to her home to question her. Once they leave, her and her girlfriend (Lexi Belle) meet at the top of the stairs. Catherine removes her see-through robe, and the two start rubbing and massaging each other. They slowly, but eventually move things to the floor and take turns performing oral sex, and fingering each other. Catherine is aware that they're being watched and continues to fuck her girlfriend since officer Nick is watching.
Next scene: Nick is experiencing a lot of sexual tension since he got a hard on from Catherine and two other suspects. His therapist (Lyla Storm) and him talk about it at his place and they start to get it on. She starts with a strip tease, and he then gives her oral. She ends up giving him a blow job, followed by sex in various positions. Scene ends with him shooting cum on her.
Next scene: Prostitute by the name of Brandy Aniston seduces a religious cop (Ryan McLane). He eventually gives in to the temptation, and the scene is oral and vaginal sex. She gives oral, he gives oral, he gives it to her rough, and cums on her.
Next scene: The religious cop ends up dead. The cops think that Nick killed him since they weren't friends. The end up taking his badge. Later, Fancesca Le and Will Power talk, and it naturally turns into sex. It's another session or oral and vaginal sex.
Next scene: Catherine and Nick get it on. She teases him by taking her time unzipping his pants. The scene ends up with him giving her oral, her giving him a blow job, and then rough vaginal sex. Once they're finished she reaches over the side of the bed and pulls out the ice pick!
Experience
I was not happy with the quality of this movie, as the volume is terrible. I had my television at full blast, and at times I still couldn't hear the people talking. Then when it's at full blast, all of a sudden it kicks into porn mode... just what my neighbors need to hear! The movie was so bad, that I didn't even finish watching it. Not that many movies I've done that to, but this is one of them. The volume is so poor, that you would think this is a bootleg, even though it's not. The picture is excellent, the actors are hot, but the volume ruins it.

This is NOT a parody, as a parody is supposed to be making fun of the movie. This movie isn't funny at all. The only funny thing about this movie is that the damn volume doesn't work properly!

The best part of this item is the packaging.
Follow-up commentary
3 months after original review
I liked the idea, but I still hate the quality of this movie. I tried watching it a couple times, and there really was no use. I just ended up donating it.
This product was provided at a discounted price in exchange for an unbiased review. This review is in compliance with the FTC guidelines.

Thank you for viewing
Official Basic Instinct Parody
review page!