The 'Instincts' Were Good, Their 'Basics' Mediocre
I have mixed feelings about this film. I really do. While I do appreciate the more serious execution for the parody and the decent acting, I was not at all crazy about the music going in and out unexpectedly or the very predictable sex 'choreography'. I figure it could be amazing for some and disappointing to others. If you want some plot and acting with your sex, give this one a try! If you want just hot, hard sex and won't settle for less than great chemistry then look elsewhere.
Published:
Pros:
~Some decent acting
~Full story-line
~Some great cinematography
Cons:
~Repetitive sex 'formula'
~Scary music and sex shouldn't be mixed
~Stop the spitting!
I've heard of reading a book before seeing a movie or even being backward about it and seeing the movie before getting time to read the book. But how often can someone say they saw the porn parody before the movie? Well, I'm one of the people that knew about the
Basic Instinct
movie but never got around to seeing it. But I will say that this XXX version has forced me to add it to my Netflix queue! I was pleasantly surprised at this porn film being able to tackle a feature film plot. The only thing I could wish for more would be if the exposition were smoother and less predictable and the sex not be so formulaic.
Plot, Content, & Audience
Not to state the obvious but yes, this film does have a plot. It just so happens to be a parody, in fact, of a crime thriller. And while there is an element of serious pondering on death and homicide, it isn't so strong that it gets in the way of the sex. After all, porn films should really be about the sex, right? Some parts of the exposition they address more lightly to keep you from losing your hard-on (physical or metaphorical).
As for content, you'll find a little dabbling in many things. There are mostly male/female pairings with pretty vanilla sex (not completely though cause there is a single anal scene to look forward to) but there's also a female/female pairing. Unfortunately, that's pretty much it for variety. So if you're a beginner to porn or to anything outside of vanilla stuff, this could be pretty great for you. If you're not? Well, c'est la vie. That's pretty much par for the course when it comes to mainstream porn. And I believe the target audience is pretty much that, beginners and the vanilla, due to the fact that they didn't stray into any fetish and the plot will allow it to be more interesting to any non 'traditional porn' viewer.
Cinematography & Acting
The cinematography was actually very impressive in this film. The setting was beautiful and always well chosen for the scenes and the camera movements and angles were always appropriate. The music, however? Well... you'll see. And the acting was pretty decent with some of the stars, thank goodness. But I just really wish they would continue their efforts during the sex scenes! Please!
~STARS & SCENES~

Menu & Opening Sequence
The menu is very mainstream and unlike that of your average porn. There's no one having sex or doing a striptease above the play button. I very much approve of the menu screen. And the opening is very similar. Well, maybe not very. It does start out with sex, though not very graphic compared to the rest of the movie. And then the conflict of our story - a murder. It's a pretty intense and serious opening scene that sets a somber tone for the rest of the film.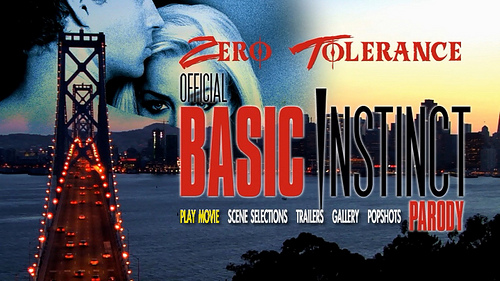 1st - Brianne Benson & Lexi Belle
Our very first scene starts out with two ladies at the top of the stairs in a luxurious setting. Yeah, it's pretty and all but that very sudden music will definitely create an unresolvable dichotomy in some viewers. Should we be horny or scared? On the edge of our seat or with our hands in our pants? And as suddenly as it started, it's gone. Anyway, welcome to one of my biggest issues with this film. Otherwise this scene is only 'meh' for me. There wasn't any particularly good chemistry and everything seemed oddly... dry.
2nd - Lyla Storm & Micheal Vegas
This is possibly my favorite scene. Yeah, yeah, I know. It surprises me too. It started out with the same crazy music and an oddly random strip tease. And after getting through the definitely-doesn't-belong-here giggling some real hard pounding takes place that makes up for it all. It's just primal sex with some definite unspoken dominance. Not bad at all for this film.
3rd - Brandy Aniston & Ryan McLane
I stand by my opinion that more
actual
acting needs to happen in porn films that claim to have a plot. So you're saying that a very conservative, very religious man (possibly even virginal) suddenly knew how to give a prostitute oral sex while fingering her G-spot? It would have been MUCH more interesting for it to have actually been a 'worldly woman' seducing a naive and 'innocent' man. After the mutual oral, it goes into the predictable rest of the formula. (And I won't even address just how random this excuse for a sex scene was.)
Experience
4th - Francesca Le & Will Powers
Speaking of poor sex scene set-up... What's with the creepy, slow-mo smoking shot from a character not even in this scene? And then what's up with the music starting out all horror movie like while she's stripping? And the audio overlap with the music was poorly done. Just sad. What is worth mentioning is the pretty nice cunnilingus in this scene and, guess what else, anal sex. Yup, here's some variety for you!

5th - Breanne Benson & Micheal Vegas
This supposed to be what we've wait all movie for. But instead I just can't get into it with that music! And maybe that's the reason why I found myself distracted by the unprotected mattress underneath... But I did enjoy the standing, rear-entry portion of the scene and it made up for the beginning since I had forgotten the issues I had with it by then.

DVD Features and Bonuses
109 minute run-time
Scene Selection
Trailers
Gallery
Popshots
This product was provided free of charge to the reviewer. This review is in compliance with the FTC guidelines.

Thank you for viewing
Official Basic Instinct Parody
review page!