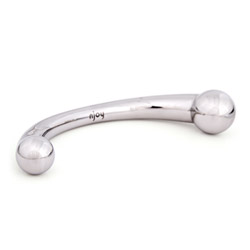 Pure wand
Contoured probe
by Njoy
Pure and Simple...and Glorious!
There is nothing else to say, the Pure Wand is a toy that everyone who enjoys toys should own. It can be used in a variety of ways, and does a fabulous job no matter the task. Add to that the sleek, sexy look and the ergonomic design, and you have a toy that is as beautiful as it is functional. The Pure Wand is iconic for a reason; it deserves to be!
Published:
Pros:
-Ergonomic Design
-Great Material
-Lots of Uses
-Easy to Clean
Cons:
NONE
I'd wanted the Pure Wand for a long time. The sleek design drew me in; the thought of the cool metal against me was a strong pull. I stalked the page and set alerts, until one day it was in stock. I pounced. No, it doesn't vibrate or thrust; it doesn't have 8 million settings or patterns. But look how pretty! And it's more than just a pretty face, it's an amazing toy.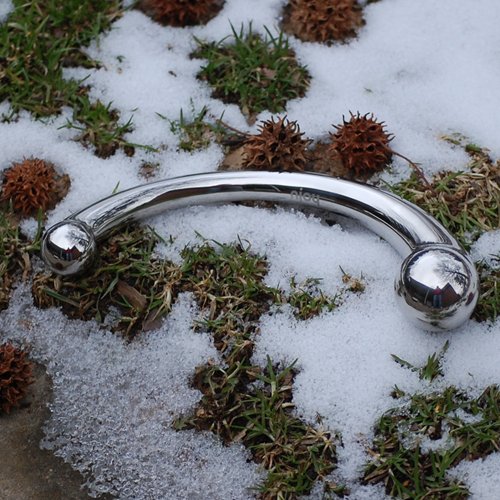 The Pure Wand is a double sided dildo. It is designed to be used vaginally or anally, with rave reviews no matter which you choose. Although it doesn't push me over the edge when I use it for clitoral stimulation, the feel of the smooth, cool steel against me causes me to think of the fun times to come, and certainly gets my motor running. Each end has a rounded knob. One end has a smaller knob, the other a larger knob. Most find the larger knob better suited for vaginal play, and the smaller for anal play. There aren't rules, and you are free to use whichever end works well for you, in whichever way you like.
When used vaginally, there is no toy I've ever tried that stimulated my G-spot so easily and with so much focused, powerful attention. I have several G-spot toys that I love, but this one blew them all away. The weight of the Pure Wand, and the curve, work so well that you need only rock the toy gently to have it really hit the spot. Anally, that little knob provides a nice sense of fullness, and if you have a prostate, it provides a strong P-spot massage and pressure. No matter how you use it, the weight of the steel works for you and helps get the job done.
The Pure Wand is also a wonderful toy for doing Kegel exercises. You can insert either end vaginally, and then clench and release around the toy. Gradually work up to more repeats, and holding the clench for a longer amount of time. Kegel exercises are great for incontinence issues, and also lead to stronger orgasms and increased muscle tone.
The total length of the Pure Wand is 8" long, not accounting for the curve. The larger knob is 1 1/2" in diameter; the smaller knob is 1" in diameter. The knobs at the end aren't centered, instead seeming as if the curve unfurled leaving an uncurled round knob at each end. The surface is completely smooth, with no nubs or swirls. The perfectly smooth surface gives it an amazing glide when inserted, and no drag at all. It is waterproof, and could be used in the bath or shower.
Size Comparison: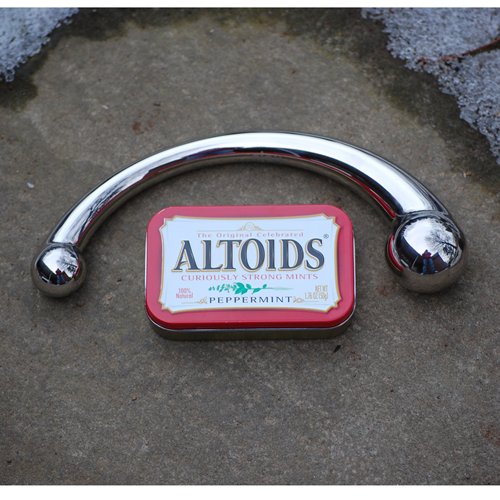 Large Knob: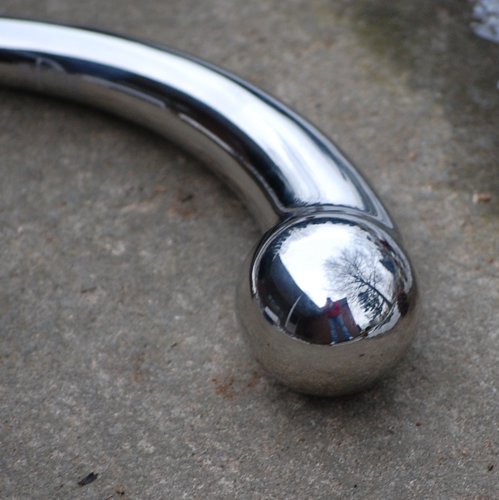 Small Knob: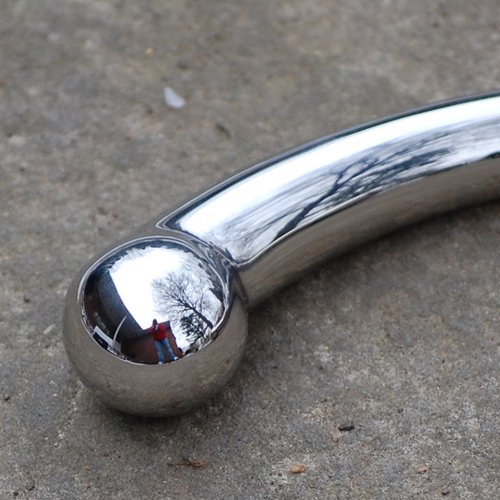 Stainless steel toys have a wonderfully cool feel, and warm to your body nicely. They are also well suited for temperature play, so you could warm or cool your Pure Wand before using it to provide a different sensation. Be sure to not freeze or overheat the Pure Wand, to avoid damaging sensitive tissues. Always test the toy on your inner forearm to see if it is too hot or too cold.
The Pure Wand is made of medical grade, non-porous, hypoallergenic stainless steel, and is one single piece. It is a heavy toy, measuring a whopping 24 ounces, but you don't notice the weight as much as you might think. Stainless steel is a very durable material, and you don't have to worry about it breaking or degrading from coming in contact with other toys. Any lubes, be they water, oil or silicone based, can be used with stainless steel. Cleaning is easy; it can be washed with soap and water or your favorite toy cleaner. If you wish to sterilize the Pure Wand, you can boil it, soak it an a 10% bleach solution or run it through the dishwasher.
The package the Pure Wand comes in is nothing short of lovely. It resembles a jewelry box, and is your first clue that this toy is the height of luxury. There is an outer sleeve of white cardboard, which serves to protect a sturdy back box, which hinges to open like a ring box would. Inside the box, nestled gently in a bed of pink satin, sits the Pure Wand. The packaging lends itself to gifting, and is great for storage as well. I would call the box discreet, as it would blend in and doesn't attract a lot of attention. Anyone opening the box might have some questions about it, but it doesn't exactly scream "sex toy".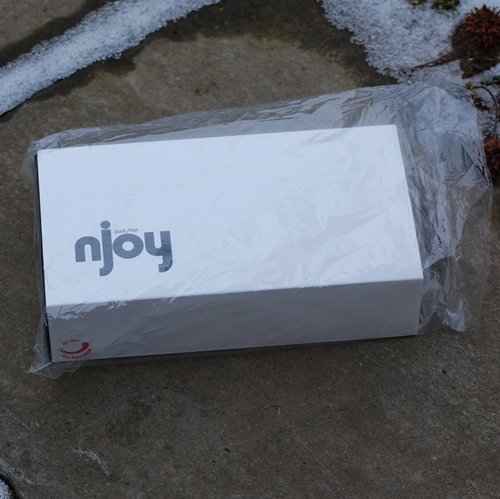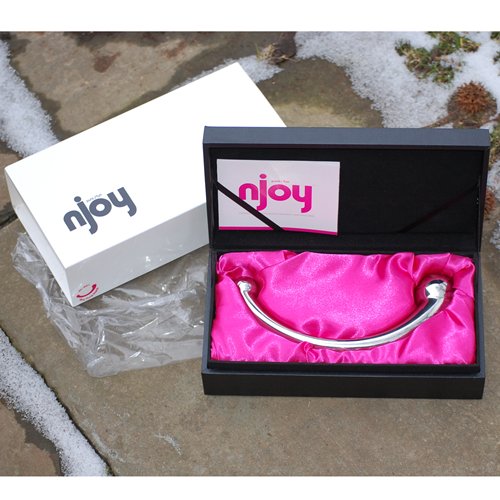 Experience
Look how pretty!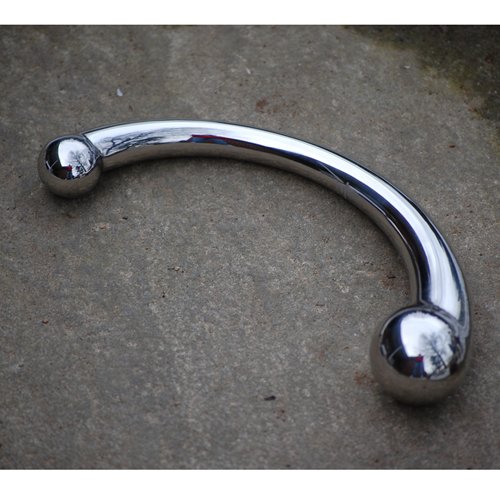 I admit that even though I knew how heavy this toy was, I was surprised how well that weight worked with me. It dropped in to a comfortable place all on its own, and needed only a small amount of rocking to massage my G-spot well. I moved it in small circles, and rocked it an inch or so back and forth while giving it a touch of upward pressure, and it felt lovely.
I will caution you that I had trouble using this with my husband. It's so heavy and solid, that he wanted to move it too much or too forcefully, and it was uncomfortable. He also has a tendency to want to move my hips and change my positioning while he plays with me, and that wasn't comfortable with a heavy hunk of steel in me. I'm sure with practice we can work that out, but it's something to note.
I used this toy for Kegel work while I waited for play time, and it was nice. I enjoyed seeing how much I could move the part of the curve that was still outside of me, and it provided a nice amount of fullness and resistance.
There isn't much else to say about this lovely thing! It's a winner, it is well designed, and it really does what it claims to do!
Follow-up commentary
8 months after original review
True, this one has a learning curve (no pun intended). But, once you figure out the right moves, it delivers orgasms that are power packed. It has held up well, with no issues, and is a breeze to clean. I think any sex toy collector needs this one.
This product was provided at a discounted price in exchange for an unbiased review. This review is in compliance with the FTC guidelines.

Thank you for viewing
Pure wand
– sex toy review page!