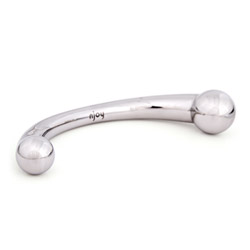 Pure wand
Contoured probe by Njoy
Sexy, Classy, and Functional Comfort
Overall, the Pure Wand by njoy is an amazing, versatile, and enjoyable toy. There may be a learning curve with this wand, but my orgasms are worth it. With the excellent quality and craftsmanship that njoy put into their products, you can't go wrong with the Pure Wand.
Published:
Pros:
Design, quality, versatility, durability
Cons:
Dropping it could result in broken tiles and toes.
Upon opening my package, I was delighted to see a nice, discreet black box within a white sleeve. The njoy logo stamped on top of the convenient, hinged lid was my only clue to what might be inside the box. Lifting the lid reveals pretty, pink satin cradling the shiny, modern Pure Wand in all its glory. This fancy packaging not only provides protection from nicks and scratches, but also lends a modern, classy feel to the Pure Wand.

On picking up my Pure Wand, it felt rather hefty since it is made of 316 grade stainless steel. The Pure Wand is a double-ended dildo with an elegant, curved design. One end is thicker, with a large ball that is perfect for G-spot stimulation. Its other end is narrower, with a small ball that is intended for P-spot stimulation. Although there is no flared end on this toy, its curve and weight make it difficult for you to "lose" it inside, and that makes this toy safe for anal play. However, the Pure Wand's uses do not stop here and we are still having fun discovering them all!

The Pure Wand is solid stainless steel and not a light toy; its weight comes in at 1.5 lbs. Stainless steel is hypoallergenic and completely nonporous. It is also free of latex, phthalates, odor, and taste. These characteristics of stainless steel make the Pure Wand compatible with any lube you prefer. Cleaning and sanitizing (if shared between partners and/or orifices) has never been easier with this toy: you can wash the Pure Wand with water and any soap, as well as sanitize it by boiling, or running through the dishwasher.

Specifications:
Total length: 11″
Curved handle length: 8″
Larger ball circumference: 4.5″
Larger ball diameter: 1.5″
Largest circumference of the handle (just off the larger ball): 3.5"
Largest diameter of the handle: 1″
Smaller ball circumference: 3.25″
Smaller ball diameter: 1″
Smallest circumference of the handle (just off the smaller ball): 2″
Smallest diameter of the handle: 0.5″
Weight: 1.5 lbs

The Pure Wand is a very popular toy famous for G-spot orgasms and squirting. The Pure Wand has never failed me, even though I have not yet discovered the elusive squirt with this toy. When I use the Pure Wand's large end against my G-spot with a thrusting motion, it quickly builds me up to an amazing orgasm. My partner, on the other hand, likes to use the wand to make a gentle rocking motion against my G-spot, so I can enjoy a gradual yet powerful orgasm. With the Pure Wand being so heavy and rigid, I would recommend first playing with the wand solo. By doing that, you will be able to show your partner what feels good when using the wand together. Please be gentle when you first play with the wand, so you won't bruise yourself, or your partner.
This product was provided at a discounted price in exchange for an unbiased review. This review is in compliance with the FTC guidelines.

Thank you for viewing
Pure wand
– contoured probe review page!