Ridin the Waves
Another great glass piece that has the waves and gives a great popping sensation. This one doesn't disappoint and is a bit heavier than my other glass pieces. Great for temperature play!
Published:
Pros:
Heavy
Elegant
Waves
Temperature Play
Cons:
none other than be chipped if dropped.
Sasha Grey Swell Wand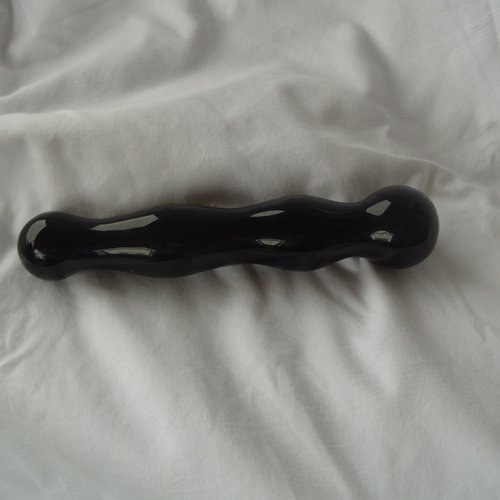 A glass dildo for vaginal use. I wouldn't use this one for anal use even if you have a very cautious partner as there is no base to this toy. Even though the end bubble is very large some anal users may be able to insert it without difficulty. The glass can get very slick with lube and I would be worried about loosing this one and having a trip to the ER.
Great for Hot or Cold temperature play. To warm it up you simply place it in a cup of hot water and the heat is absorbed. To cool it down, place in a cup of ice water or put it in the fridge. Be sure to test the temperature on your inner wrist, no burnt lips!!! I wouldn't suggest freezing as you could honestly get some frost bite!!
Material/Texture
Each of the waves tend to give you sort of a popping sensation. With the best popping sensation from the largest ball at the end. The glass is actually borosilicate glass other wise know as Pyrex, the stuff your cookware is made from. Borosilicate glass contains boron to change the density of the glass so that it resists breakage and it to break into large pieces with out shards or splinters. This is very safe for sex toys since out bodies have give and the toy doesn't.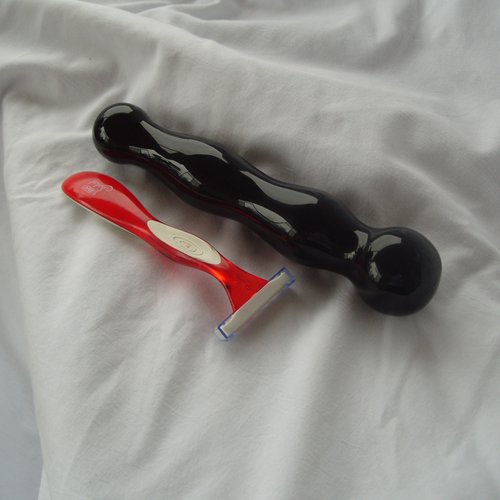 The way to ruin this glass is by dropping it and getting chips or scratches on the surface. The scratches can actually cause tissue damage. Be sure to inspect your glass before you use it. The glass is a food safe, hypoallergenic, non porous, latex and phthalates free material It has an Eden safety scale rating of 10. The only problem with this glass being black and opaque is that you cannot see any imperfections other than on the surface of the toy.
The glass is very firm, please be careful with thrusting or have your partner we aware of the fact that you can bruise your cervix with the firm glass. There is only the waves, the swell wand is completely smooth.
The Size/Shape/Design
The swell wand is 8 inches long with a large bulbous end that has a diameter of 1 1/2 inches. It then has 2 waves, the first wave is raised 1 3/8inches, the 2nd wave is raised 1 ¼ inches and a smaller rounded end with a diameter of 1 ¼ inches. The area in between the waves has a diameter of 1 inch. It is really heavy at 13.5 ounces and performs really well!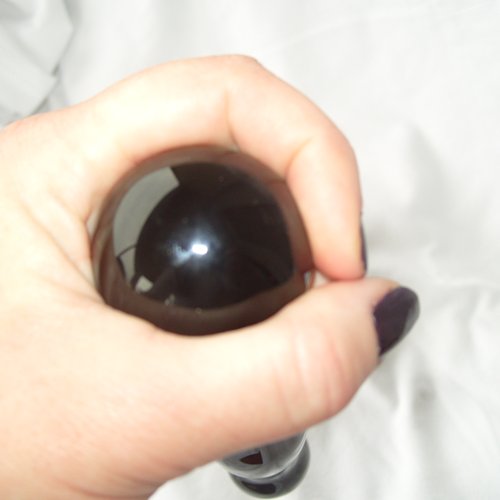 bold|Care/Maintenance]
You can use any type of lube with glass ranging from your oils, water based, hybrid or latex. You only need a few drops of lube with this toy. You can sterilize glass by boiling it, placing it in your dishwasher, or cleaning it with a 10% bleach solution. You can clean it with your antibacterial soap and water, toy sprays, Eden wipes or what ever you use. If using chemicals be sure to rinse it before you use it. You can use your glass any where, but be careful in the shower so you don't drop it. The swell wand is smooth despite the waves and it is very slick when wet and when you have lube on it.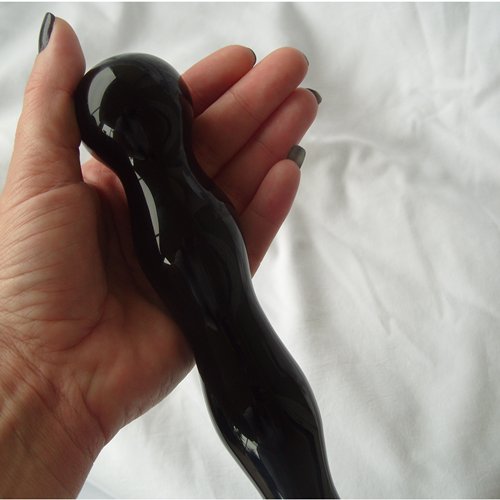 Storage
Store the wand in a sock, in a padded bag available here at Eden. Just ensure that the glass won't bang into other toys or items that could hurt it's finish.
Packaging
The swell wand comes in a black box with a foam padding that holds the wand. The foam is hard to get back into the box so it isn't a really good storage option.
I really don't consider any of the glass pieces travel friendly, I am too afraid to hurt them.
Experience
I really like this one, It is not my favorite glass but it ranks pretty high. The opaque black glass is cool looking and ominous. It has added weight that my other glass doesn't have. I would almost compare the large end to the pure wand type of sensation. It does cause some awesome orgasms and looks really cool wet with juices. Even though this isn't curved for g-spot stimulation for me it works in that manner. The box is a pain to try to put the wand back into.
Follow-up commentary
3 months after original review
I still like this one. It commands orgasms and it works wonderful when you hit it with a clitoral vibrator. It is amazing how much it heats up from your body when you remove it after use.
This content is the opinion of the submitting contributor and is not endorsed by EdenFantasys.com

Thank you for viewing
Sasha Grey signature swell wand
– sex toy review page!