Out of this world - Adventures with a Space Jockey
With its large ridged head, girthy shaft and pearlescent colouring, the Tantus Vamp is not just pleasing on the eye but is also fulfilling in use and very well suited to certain fantasies, harness compatible too!
Published:
Pros:
Large, firm and realistic build. Beautiful pearlescent colour, stimulating ridged head.
Cons:
May be too large/firm for some.
Already being a huge fan of Tantus toys, I ordered the Vamp quite soon after its release. With its instant popularity and the string of positive reviews that quickly popped up for it, I was easily persuaded to see for myself whether the Vamp would live up to its hype.
Packaging:
The packaging of the Vamp is Tantus' usual style of packaging, a clear plastic box which is free of any sexual imagery. On the back and sides of the packaging you will find plenty of information about the silicone used in Tantus toys. The Vamp fits nicely in its box with no real excess packaging. As the clear plastic box is so see-through (even in places where there is information printed) it gives the advantage of being able to see the toy from every angle while it still sits in it packaging.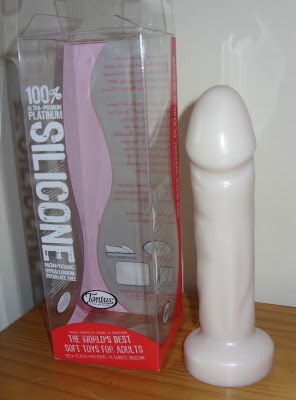 First Impression:
My first time laying eyes on the Vamp in person I was slightly intimidated by its girthy head and its not much less girthy of a shaft. Being used to playing with more petite toys at the time, the Vamps larger than average build would be a size challenge for me. With its beautiful Ivory pearl colouring and realistically shaped and ridged head at least the attractive appearance of the Vamp would certainly be of help in motivating me to take the challenge.
The 'Ivory pearl' colouring of the Vamp is somewhere in between a pale flesh tone and Tantus' pearl white colour which the likes of the Goddess are available in. Having since added the Tantus Adam dildo in cream to my collection, the Vamp doesn't actually appear all that pale when compared to Tantus' cream flesh tone used in some of their realistic dildos. When you look at the Vamp in light you can see the shimmery pearlescent finish that it gains its name from. On close inspection tiny specks of silver glitter can be seen in the silicone material. The colouring of the Vamp is really very dependent on the level and type of lighting around it so every time you use it you may see a new shade appearing in its pearlescent sheen.
Being made of silicone, the Vamp is scentless and tasteless. Though most Tantus toys are quite a firm feeling silicone, the Vamp may actually still surprise you with just how firm it is. Bending it in your hands takes some effort and its rigid build means that it quickly springs back into shape. Being dense and firm, the Vamp also has alot of weight to it. With its baton like build my submissive partner even likes it to be used for smacking!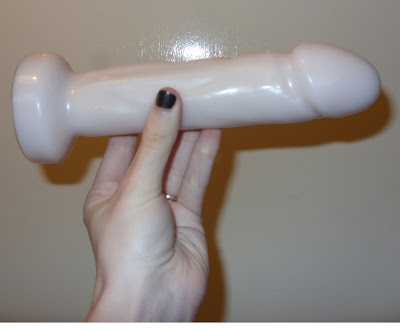 Measurements:
Total Length: 8 Inches
Insertable Length: 7 Inches
Circumference: 5 to 5 ½ Inches
Diameter of Base: 2 ½ Inches
In Use/Experience:
Using the Vamp for the first time the girthy head proved to be a challenge for me, one that took several attempts for me to manage. Unsuccessful in my first couple of tries, the first time I managed the Vamp it was definitely an intense experience! In fact it was one of the most intense first times I have had with a toy. I consider the Vamp to be the toy that got me past the size limits that I had for the first six or so years of toying! The solid and intimidating large ridged head of the Vamp is breathtaking on initial insertion and as the rest of the shaft follows you realise how little difference there is in girth between the head and the shaft. The ridged head can be felt with every thrust while the very lightly veined texture of the shaft is a relief as the texture of the ridged head and overall generous size of the Vamp is enough to provide intense stimulation with every thrust and a deeply fulfilling feeling even it left still between thrusts.
Experience
The whimsical and pearlescent but realistic appearance of the Vamp can play a large part of the experience if you are into vampire fantasy but for me the fantasy that the Vamp brings is of quite a different being. For my first few months owning the Vamp I didn't have this inspiration but after seeing a film that changed, No it's not that I finally got around to watching the Twilight films. The film that brought the Vamp to life for me was Prometheus. Being a huge fan of the Alien films I was not only excited to get a better look at what the Space Jockey really looked like because of curiosity but I was able to walk out of the cinema with a new appreciation for the Vamp and the fantasies that it can fit in with so well. Large, realistic and pale/ pearlescent in colour, the Vamp is as suited to Space Jockey fantasies as Vampire fantasy. Add to that, the fact that its feels incredibly firm and filling while suiting these fantasies and you have an absolute favourite toy that is guaranteed to see much use.
Apart from being a fantasy maker, the Tantus Vamp is also a great dildo for strap-on play. With a shaft diameter of roughly an inch and a half and a base diameter of two and a half inches it sits nicely in O-ring harnesses. The firm material of the base helps keep it in place for even the roughest of strap-on sessions. I have noticed however that there seems to be two slightly different models of the Vamp and one has a much thinner base. I can only speak for the thicker based model that I have and say that it is both fantastic for saying put in a harness and comfortable to hold onto while thrusting by hand.
In terms of use anally I would only recommend attempting this if you are well experienced with anal play. The bulbous head is something that I find always needs a warm up toy before inserting vaginally so lots of lube is a must when used either vaginally and obviously particularly when used anally. The large size and ridged head aren't quite enough to really stimulate the prostate (or the g-spot for women) as the shape of the Vamp is so straight.
Material/Care:
Made of Tantus' high quality silicone, the Vamp is scentless, tasteless and is completely free from latex and phthalates. It is generally recommended that you don't use silicone lubricants with silicone toys; I would recommend using a water based lubricant with the Vamp. With its generous size lube is well needed. The Vamp is incredibly easy to wash after use with soap and warm water. Specialised toy cleaner or cleaning wipes can be used instead or if you want to sterilize it after use it can be boiled for 3 minutes. I keep mine in a zip-sealed bag after use to keep it dust and lint free as like most silicone toys it attracts alot of lint.
-Compared with the Tantus Purr and Tantus Goddess-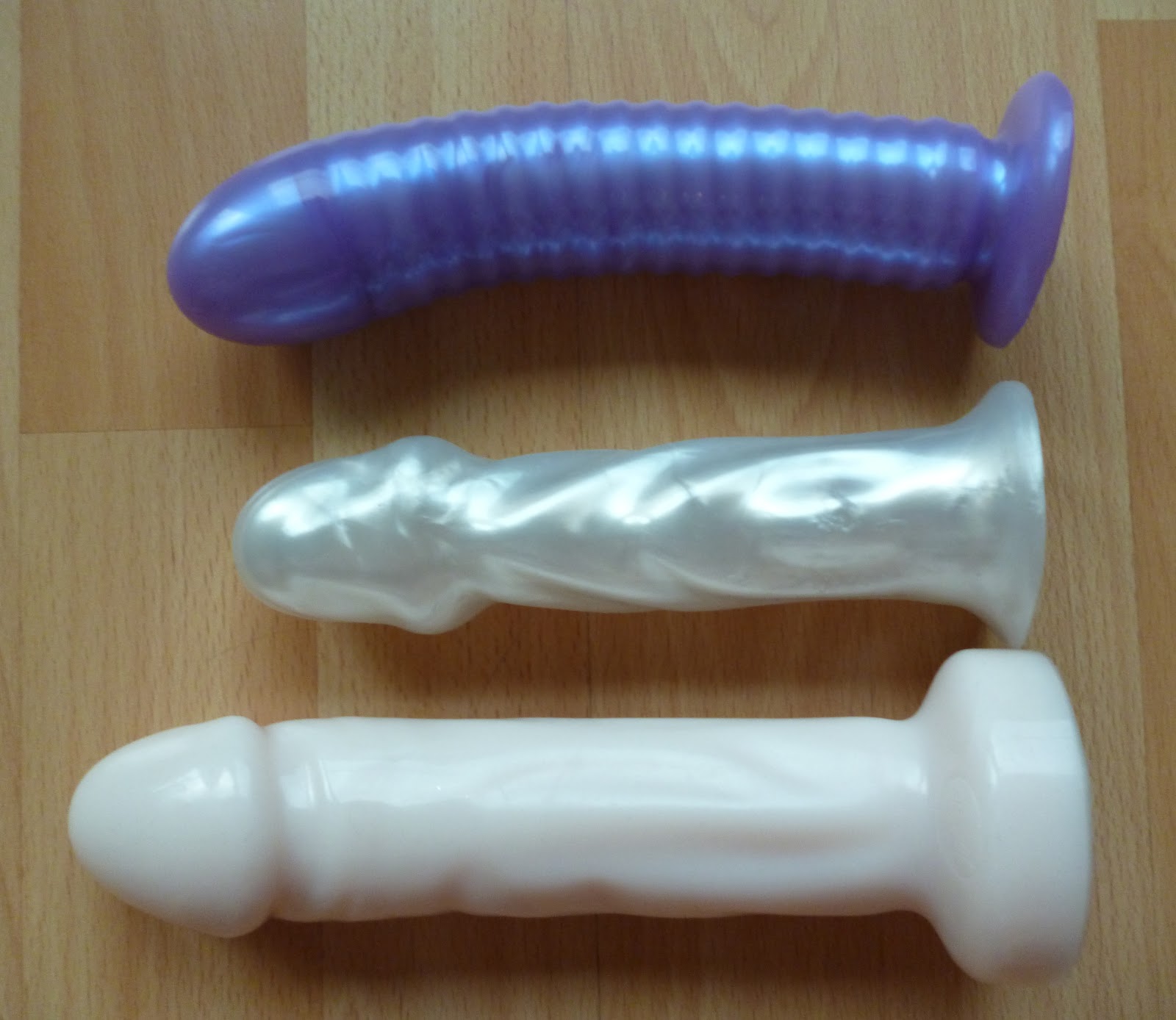 This content is the opinion of the submitting contributor and is not endorsed by EdenFantasys.com

Thank you for viewing
Vamp
– realistic strap-on dildo review page!