I must be missing out on something!
It is a great concept toy, but if your g-spot requires a fair bit of pressure you could find yourself in a fair bit of pain. Its bubbled end is the best part of this toy if used anally... but as always, be careful when using a toy without a good flared base.
Published:
Pros:
Great for a starter toy for anal (Hold on tight!)
Cons:
The tear drop shape is a little too pointy when angled
This dildo is made from pyrex glass with a length of seven and a quarter inches. The insertable length varies depending on which end you use: three inches on the curved side, and four on the bubbled end. At the widest point, it's 1 1/4th of an inch. Because he is made from glass, he is scentless, pore-less, and tasteless (unless you use flavoured lube).

Pros: It's got texture. The three bumps on the straight end are AMAZING anally with some careful play. I like to use this side to warm up for something bigger (BUT BE CAREFUL!). For some, the curved end is great to explore their g-spots with. Glass = temperature play. So you can heat him up or cool him down when you go to use him... another place to be careful, mild temperature play is great fun on your fun bits, but extreme temperature play is not. Check out the temperature on your inner wrist first! For the man I used this toy on, it was the very first time he has had a toy in his behind. When I asked for his thoughts on its use, his reply was glazed over eyes and a sigh.

He had experienced his first p-spot orgasm with this toy.

Cons: It's much too thin for fun vaginal use for me. And the end with the g-spot curve I find is a wee bit too pointy as I press the toy into me. The tip seems to dig in just as I get the right amount of pressure. Just as that wave of pleasure begins to sweep over me, I get an intense pain so I pull back. The one time I pushed through it, it felt like I had bruised my g-spot. I prefer something a little thicker for g-spot fun. The three bubbles end, it's ok vaginally but lacks the ability to get me off. The three bumped end is a heck of a lot of fun anally, but be VERY careful and hold on tightly. The little flared portion is not be enough to stop this toy from going further than you like up your bum. I've never orgasmed vaginally using this toy, but I have had many anal orgasms while using this toy.

Use: Can be used vaginally and anally if used carefully. If using anally, use lots of lube.

Cleaning: antibacterial soap and hot water, use a toy brush with soap for best cleaning.

Packaging/Storage: The Amethyst came in a simple velvet black bag wrapped in bubble wrap. I store him in a padded microfibre pouch I made in my Toy Box for toys I frequently use.

Lube: water, silicone or oil based. As always, be very careful using oil lubes because of the bacteria it can harbour. If you use silicone lube with this toy, be aware that silicone lube on silicone toys is not a good idea, so if you are using a silicone toy after using the Amethyst, be aware.

Level of play: I'd say it's good for anyone who is interested in exploring/discovering their g-spot. It's not that expensive, so if it does not work for you as well as you'd like, it's not an expensive fail. If he were thicker, it'd be more of an enjoyable g-spot toy for me. But that being said… anyone who enjoys anal play with a textured toy, this would be a fun toy if you like minor stretching. If you like the feeling of being "full" or stretched lots, this might not be the best toy for your bum.

Would I recommend it? His main purpose is to help a person explore their g-spot, and he can do that job really well if you don't need the feeling of fullness/pressure and thrusts over your g-spot. The angles of both sides works very well for different purposes. However; for those that prefer the feeling of fullness while playing, this might not be the best toy.

If you are looking to bring toys into the bedroom, and you don't know exactly where to start, this is where I'd suggest. He's cute, so won't scare anyone, it also comes in purple, blue and green. It's small enough to not be intimidating, and can be used on a man or a woman.
Experience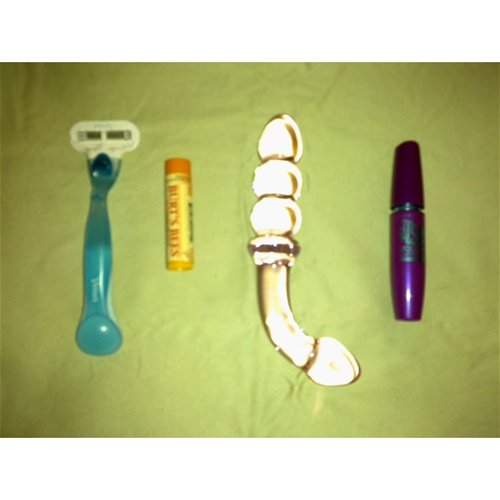 From left to right; Venus razor with a original head, tube of Burt's Bee's Original Lip Balm, Amethyst and a tube of Maybeline's Falsies.
My experience with the Amethyst may not have been the best in the world, and if I could change the tear drop like end to a more circular tip, or a larger tear drop shape... I know I'd be in heaven!!! But, I do strongly suggest the three bubble end anally as long as you are careful. And for that, I would strongly recommend this toy.
Because of his tip, I am going to knock off one star.
Follow-up commentary
2 months after original review
I still like the Amethyst... I just rarely use it any more.

From time to time he does make an appearance in my solo play time, just for the past little bit, my interest has just been clit play. When the Amethyst does make an appearance in my play time, he is still used as an anal toy and not as a g-spot seeking toy.

I still love the fact that this guy is very easy to care for.
This content is the opinion of the submitting contributor and is not endorsed by EdenFantasys.com

Thank you for viewing
Amethyst
– sex toy review page!