Yet Another Lovely Glass Piece.
While glass toys can scare some toy users this is a toy that should ease even the most nervous Nellie. It is composed entirely of Pyrex glass which means it is very strong and highly break resistant. It is also amazingly beautiful and a joy to use.
Published:
Pros:
Non-porous, smooth, beautiful
Cons:
Rigidity might cause discomfort
It's no secret that I love glass toys. Especially when they are beautifully colored or unusually shaped. The Amethyst by SSA Glass fits both criteria! Now add in that this was specifically designed for G spot play and I knew I had to give it a shot.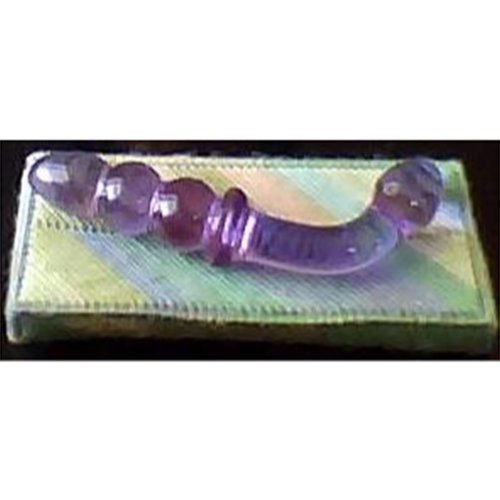 The color is true, beautiful and shines in the sunlight so nicely that I have, more than once, thought it would make a great wind chime. If I were to add in a couple in the other colors it would be amazing. Probably shock the socks off my neighbor to boot!
The Amethyst is made of borosilicate glass, more specifically it is made of Pyrex glass making it strong, and able to withstand extremes of temperature and very break or chip resistant. This is not a toy that is going to develop unexplained cracks or shatter if you should drop it in the sink while washing it off. This toy will not break inside of the human body no matter how it is used as it would take more force to shatter the thing than the human body can produce! In short, it is completely safe for use as a sex toy. A player should always check their toys for signs of wear and tear before use just to be certain but I feel completely confident that I will never recommend a Pyrex glass toy and then hear that it broke during play, or even developed a crack and cut the person playing with it.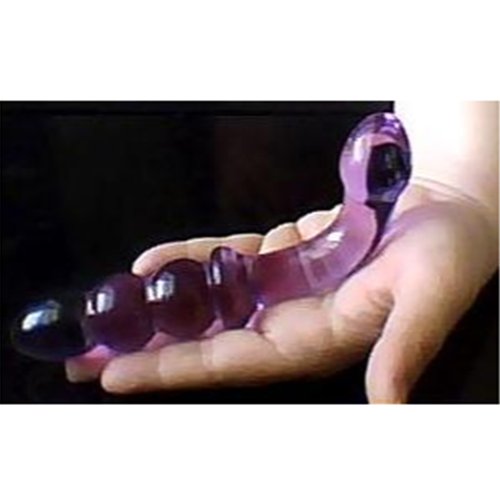 The Amethyst, as you can see offers many different features. It is curved to facilitate G spot play and has three ripples on one end and one large bubble on the other. It is smooth as...well, glass! This means that whatever lube you choose to use is going to go a long way. Any type of lube you prefer is fine to use with glass but, seriously, it only takes a few drops!
The entire toy measures 7.25 inches in total length. The straight part of the toy has an insert-able length of about 3.5 inches to the point where it narrows to form the curve.
The straight portion begins with a long teardrop that measures 3.25 inches around, and is followed by two shorter bubbles that measure almost 4 inches around. It terminates in a flattened bubble that measures just over 4 inches around, and it can act as a rest if the toy is used anally. This base isn't appreciably wider than the rest of the bubbles nor is there an appreciably long base before the flattened bubble. I am not certain that all butts will recognize that it is a flared base and might just continue on to the smooth curved neck. With proper respect this is an amazing toy but the user should be aware that though this toy is not terribly large around it is made of rigid glass. There will be no give and might make the user feel as though the toy is larger than it is.
The curved portion begins with a stylized penis shaped head that measures just under 3.5 inches before it tapers to 2.5 inches around for the entire length of the curve.
While this toy is excellent for P spot play it might be a bit uncomfortable if the prostate is sensitive or enlarged. This is an unforgiving glass toy so use caution for more reasons than safety.
I particularly love this toy for vaginal play. The curve allows me to hold the toy by the straight end and put lots of pressure on my easy to find G spot. If your G spot is a bit more difficult to locate, don't despair there's plenty of toy left to search it out! The toy is rigid so do your searching gingerly, so that you don't end up bruising yourself.
I also LOVE the bubbles for the 'bloop' effect and I use them for vaginal and anal play. This is one of the only toys, with texture, that I can use anally. I think it's because it is, otherwise, completely smooth.
If you can believe it, there is more that this toy can do! For people who like temperature play this toy is amazing. Warm it up with some hot water, not boiling, for a unique sensation. Cool it off with ice water, not by freezing the toy, and you get yet another unique sensation. The toy holds temperature well but if you start with it at room temperature it warms pretty quickly.
Experience
The toy arrives with a red pouch to store it in, and the pouch does a good job of protecting the toy. I prefer to make boxes for my toys but the little drawstring pouch will keep your glass toys from banging together in a drawer. Take some care while using the toy not to drop it. While it's doubtful it will chip or break it doesn't hurt to be careful!
The Amethyst can be boiled, washed in the dishwasher, wiped with a 10% bleach and water solution, spritzed with a commercial toy cleaner, or simply washed with hot water and soap. The narrow areas of the toy can collect fluids but they wash away easily. If you get some stubborn areas an old, soft bristled toothbrush will clean it right off.
Follow-up commentary
10 months after original review
This is yet another glass piece that I proudly display and use as both a sex toy and a massage aid. It has held up exactly as I would expect this quality of glass to hold up. It still looks brand new and innocently keeps my secrets!
This content is the opinion of the submitting contributor and is not endorsed by EdenFantasys.com

Thank you for viewing
Amethyst
– sex toy review page!