Definitely not a dud... Almost the best!
You all know me to be very critical of my toys, very demanding and I expect great things for what I pay for them. Many of you know of my hesitation of the Lelo toy line... but Mona 2 exceeded all my expectations and has become a toy I love and one I reach for on a regular basis! It's power, size, shape and all that fun stuff are basically what a toy should be. The handle? Meh. Needs some work to make this toy lover happy.
Published:
Pros:
Stronger than most, impressive for it's size
Cons:
That ruddy recharging port is the worst!!! Handle could be bigger
If you need me to compare any toy to Mona through pictures or words, feel free to leave a message in the comments section.
Third; let's get ready to rumble!
Mona 2 arrives to you in a pretty box in whichever colour your ordered. I ordered pink. So I got a pink and white box and inside that box was another black box with a sample packet of Lelo's lube, a satin storage pouch, some literature, a recharging thingie (100v-220v internationally friendly) and of course, Mona 2.
Meh. These are just words. So let's get Exhibit A: (I've been watching lawyer shows, can you tell?)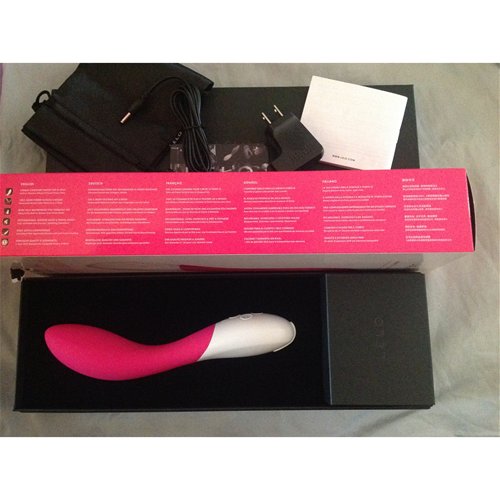 Exhibit B: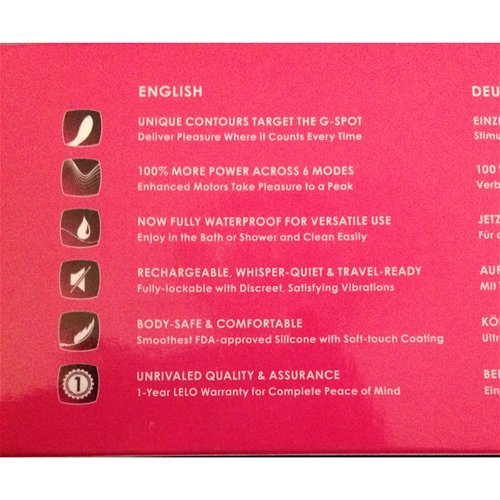 Shall we discuss the toy itself?
Mona 2 is 20cm in total length made from hard plastic. The insertable portion is 14.5cm and the hard plastic is covered in a medical grade velvety feeling silicone. The handle is shiny hard plastic with what feels like four silicone buttons and a silicone recharging plug flap. At Mona's thickest part, it is 11cm and at its thinnest part 7cm.
I am a true Canadian in this review. Metric all the way baby!!! Imperial measurements can be found on the product page.
Screw it. Comparison photo time!!! Best way to describe the measurements!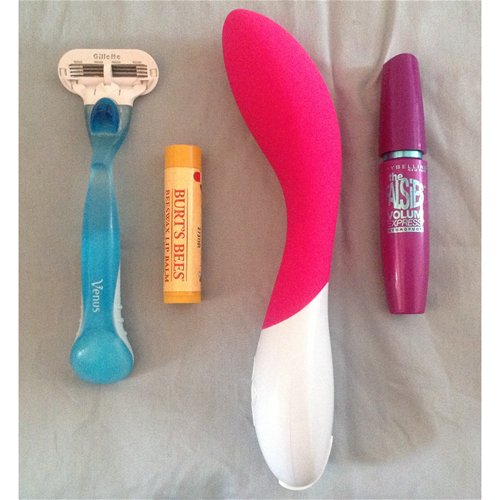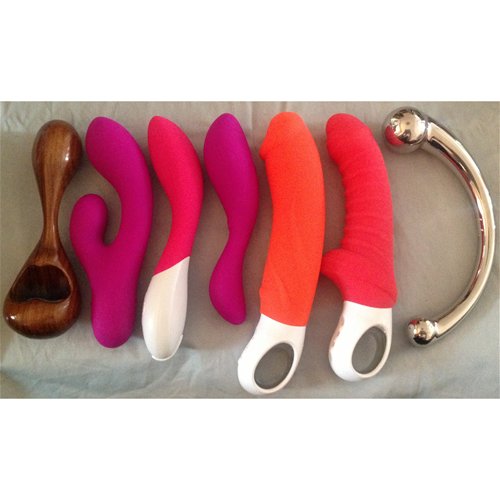 Many people have asked for a comparison photo of Mona's g-spot curves compared to some other toys. So... looking above left to right; Fling, Vr6, Mona 2, Vr2, Fun Factory's G4 The Big Boss and Tiger and Njoy's Pure Wand.
Let's discuss what everyone really wants to know. How strong is this new (insert something about dogs here)..er.. toy by Lelo.
The motor is housed in the g-spot bulge; as that is where the vibrations are strongest. You can feel the vibrations in the handle, but it is not hand numbing in the slightest. Let's compare when they toys are on their highest settings:
Vr6 is stronger and quieter than Mona. Vr6 still is #1!
Then I would say Mona has become #2 in terms of intensity level and sound. You cannot hear it from under a blanket, or in the next room. But it sounds like a phone's vibration.
Fun Factory's G4 The Big Boss and Tiger would come in third place. The vibrations are strong and powerful, but I feel that Mona's vibrations are more focused in the g-spot area and tip. The Mona is also so much quieter than Fun Factory's toys.
When you recharge Mona, umm... admitting time. I use Mona for about three thirty-ish minute long sessions and I always recharge. So I cannot tell you how long Mona will last on a single charge. I had Mona fully charged before I left for two months, and the charge did not hold.
Let's now talk about lubes to use with Mona. I'd not suggest silicone based lubes, but feel free to do a spot test if you prefer silicone based lubes. I personally use coconut oil as my lube and have no problems
take a read
. Most toy users will frown upon using coconut oil and only suggest water based lubes. I've encountered no problems using coconut oil as a lube with all my silicone toys. (NOTE: my silicone toys are all luxury and high end silicone. Lesser quality of silicones you might find some issues. Spot test please before using oil based lubes.)
Cleaning and storing your Mona is oodles easy. Use; toss in the sink and wash with hot water and anti-bacterial soap, a toy wipe, or even a 10% bleach solution. Do not boil or put in the dishwasher. To store, place in the satin storage pouch and keep out of direct sun slight. Be weary of storing silicone toys against other silicone toys. There are no scents or residual scents in Mona, and Mona is tasteless.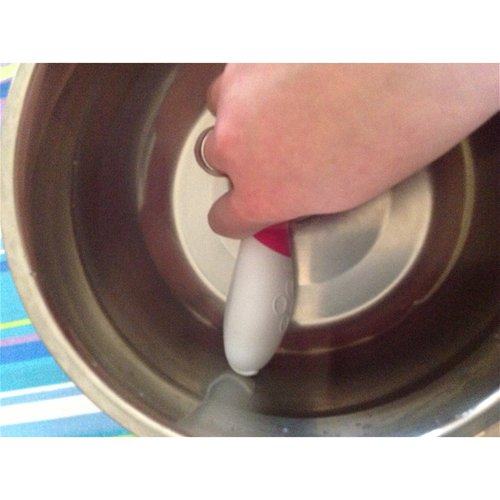 Mona is... waterproof. But one must ensure that the plug is very securely closed. Mona can be used in various water play activities, but I'd strongly suggest not playing with Mona in water sports. That recharge plug is not 100% secure. Many a time when I have cleaned Mona, my thumb has flipped it open.
The control panel contains four buttons; a + and - for intensity levels, and an up and down arrow for patterns. To turn on, press the + key. But to increase the intensity, one needs to press and hold the + key for approx five seconds to get to the highest setting. And to turn off, press and hold the - key. There are many patterns; some are fun and some are those cliffhanger types.
Experience
I ran out of room above, here is the control panel compared to others: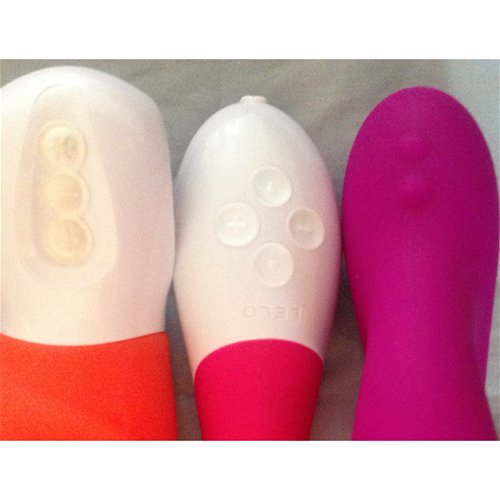 Safety Notes:
I'd not suggest using Mona anally for fear of loosing it up your bum. And because it is waterproof, and made from silicone/plastic means it is safe. But I'd still suggest if you are going to share Mona, put a condom-hat on it.
Now that the boring parts of the review are over let's discuss what I liked and didn't like about Lelo's Mona 2. I'll do it in a more pro's and con's sort of style for ease.
Cons;
The handle. They put a little flap on the battery charging port but if your fingers slip a little, you knock it out and during use you might not realise it or while washing it (happened twice to me!). The other con I have is the somewhat pointy head, I wish it were a tiny bit more broad.
Those of my two biggest cons.
Pro's;
Mona is definitely making me question the whole hating the Lelo line of toys. She does have power (lots of rumbles and no buzz)and presents a challenge to my beloved Vr6.(Uber personal note: use Mona on your clit and The Big Boss or Vr6 internally for a mind blowing play time)
The shape is lovely and my favourite part of Mona is the rigid g-spotting. No bending here just apply more pressure where you need it. I am tempted to pick up Elise 2 for it's thickness.
My clit, I have come to feel that it has become part of the "clit of steel brigade". I used to only be able to get off using the Vr6. I have found that I have been reaching more and more for Mona because I find I can get off easily with Mona's shape and intensity and does not have a wimpy clit arm.
If Lelo would change the recharge-flap to be a little more sturdy, I'd have given Mona a full five star rating. But as it is, this is something that I feel very passionately about. It is advertised as a fully waterproof toy and this is something I disagree with. You cannot get carried away for fear of the flap coming loose. And because of this, and this alone, I am (with regrets) forced to give Mona a three star rating.
I feel I should say this if there is room. I would suggest Mona over the current G4 line from Fun Factory, over Uma and over most of the Vanity line. I am seriously looking into buying Elise 2 because I would like to have Mona's intensity in a toy that is a rigid 1.5" in diametre. I would and have recommend Lelo's Mona 2 to friends and those who ask. It is a great and a lovely toy... just that recharge flap!
And that brings our review to an end. Please tip your waiters on the way out.
This product was provided at a discounted price in exchange for an unbiased review. This review is in compliance with the FTC guidelines.

Thank you for viewing
Mona 2
– sex toy review page!