One Little Egg
The Teneo Uno is a neat little egg with an entire rainbow of brothers and sisters; you'll have no trouble finding your favorite color. While this tool is designed to help you with your Kegel exercises, keep in mind that the optimal word is 'help' here: as with any exercise regimen, no effort = no results.
Published:
Pros:
Makes doing Kegels on the go easy
Easy to clean
Cons:
Undetectable internal weight means you have to do more work
Is it just me, or is the Teneo Uno reminiscent of a miniscule dragon egg? Especially with all the fun colors! Okay maybe it's just me; it doesn't take much to get my fantasy nerd imagination going. Moving on...
Use:
The Teneo Uno is a vaginal exerciser designed to help you with your Kegel exercises. The idea is that you insert it and wear it as you go about your day, and the little internal weight moves around, stimulating your muscles to clench. I have to say though, it's not quite as easy as all that. This is because, while a good idea, the weight can't be felt while inside. At least, not by me. I can feel it in hand, but its rattling is much more subdued than the Luna Beads. It's slightly bigger than the regular Luna beads too, so if you're not comfortable with larger sizes, the Luna Beads or the Luna Beads Mini might be better suited for you. I happen to own the regular Luna Beads and the Luna Beads Noir (same size as the Minis), so here's a comparison of those with the Teneo Uno: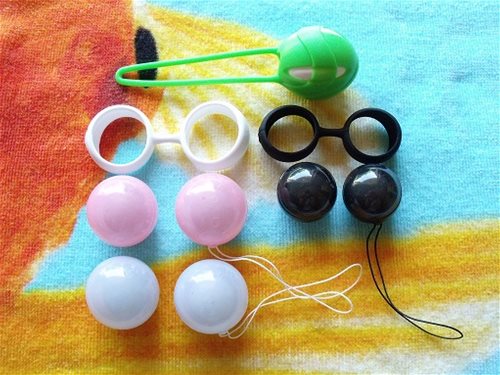 Though the sensation isn't quite as intense, I still like the Uno. It's great for something to pop in if you don't want to worry about or don't have time for choosing weights and wresting the balls into the holster like you have to do with the Luna Beads. This means there's a tradeoff though; you have to actively squeeze your muscles with the Uno if you're actually expecting results. Not only is this because you might forget about it because you can't feel the internal weight, but since it's on the bigger side, you don't really have to work to keep it in.
Cleaning/Packaging:
Since the Teneo Uno is silicone - with a little plastic showing - care is pretty easy. A note on boiling: I'm not sure if boiling it is the best idea because of the plastic ball the silicone is covering. If you do want to boil it, I would suggest putting it in a strainer in the pot so that it doesn't come into contact with the bottom. But what I do is put it in a bowl and pour boiling water over it, letting it 'steep' for about three minutes. Though for daily use this isn't really necessary, as antibacterial soap and warm water will be all you need. A 10% bleach wipe-down will also work.
The Teneo Uno came packaged in a small cardboard box. Nothing very fancy, but it doesn't bother me since I don't keep any of my packaging. It could be used for storage, but it's not very sturdy and will likely get crushed easily if carelessly stored.
Final Thoughts:
I would recommend the Teneo Uno if you want a Kegel exerciser that you can just insert n' go with. Just keep in mind that it's a bit on the big side and that you actually have to focus on your vaginal workout; the internal weight isn't going to be doing the work for you.
This content is the opinion of the submitting contributor and is not endorsed by EdenFantasys.com

Thank you for viewing
Smartballs Teneo uno
– vaginal balls review page!