Strengthen the awesomeness of your vagina.
I love the Teneo uno. This is my first ever vaginal exerciser. It's perfect for beginners and advanced alike. I was worried about it being too big, but when I actually used it. It was perfect and wasn't even nearly as large as I thought it was going to be. With so many reasons with how working your vaginal muscles can help you, I don't see why every woman doesn't own one.
Published:
Pros:
Size, Weight, Silicone, Beginner Friendly, Cute
Cons:
Texture
I don't know much about vaginal exercisers. I've never really used one before, never even heard of them before Eden. I think of myself as a newbie when it comes to things like this. Hopefully I'll start using them more. This would be the first REAL vaginal exercisers I've ever used.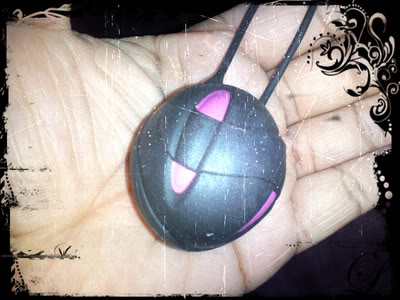 When I first received the fun factory teneo I was excited only because it was something new. Most people buy vaginal ball weights to help strengthens the muscles in the vagina. I've even met a couple of women who just used vaginal ball weights because they just like the weight of them.
So, Why? Yeah, why do we as women use vaginal exercisers? We use them to help with kegel exorcises, and using vaginal exercisers (weighted) are just the next step up from doing kegel workouts with out anything. What are the wonderful reasons us women choose to do kagle exorcise?
o Improving your enjoyment of love making and the sensations of your sexual response.
o Women with strengthened pelvic floor muscles are more likely to be orgasmic and have a more satisfying sex life.
o Support a healthy pregnancy, successful birth and minimizing any post-partum problems.
o For pregnant women these exercises help the body to cope with the increasing weight of the baby. Healthy, fit muscles pre-natally will also recover more readily after the birth.
o Minimizing problems with urine leakage or 'urinary stress incontinent
Personally those are all good reasons enough for me to work out my kegel muscles, so now enough about why we do them and let's talk about the teneo, but above are my reasons for wanting to try them. When you receive your teneo uno it comes inside of a small box. The box does have a window so you can see the teneo uno in full view, but because it isn't a vibrator or scream out sex toy. I think giving this in public wouldn't be such a bad thing. The box that the teneo uno comes in does have a lot of information on it. It has more information than most boxes I've ever seen. You can keep the box and use it for storage, or you can toss it if you like. It is a small box so it wouldn't take up much space.
When you open the box you will notice your teneo uno sitting inside of a plastic casing. When you pull the plastic casing out you will notice that the teneo uno also comes with a sample of their toy fluid lube. The lube is perfectly safe to use with the teneo uno and any other toy because it is water based. You also get a folded up booklet that has information on other items in the fun factory line.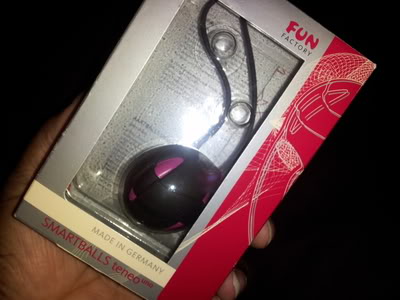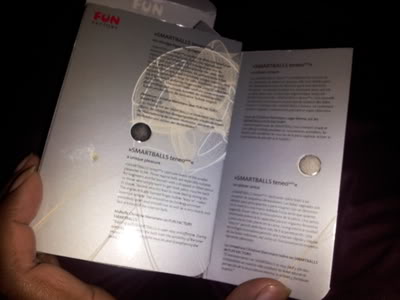 Experience
The first thing I notice once I had the teneo uno in my hand. I was surprised by the weight of it. It was much heavier then I had thought it was going to be. It weight about 0.4 of a pound. I was also surprised by the size of it. I thought it was going to be smaller. The teneo uno has a Circumference: of 4 3/4" inches and a Diameter of 1 1/2 inch. The second thing you notice about the teneo uno is the texture. The texture reminds me of the top crust of an apple pie, the crisscross pattern. The texture is enough to notice when you are using it. I do wish that it was a little smoother, but it isn't enough to make most want to stop using it. The other thing you notice is what looks like a finger indentation at the very top. This finger indentation makes holding on to it much easier.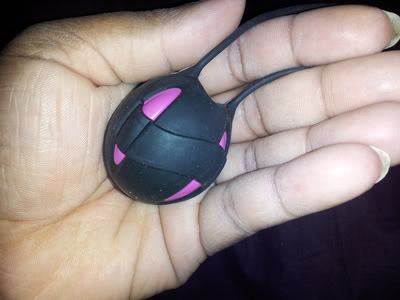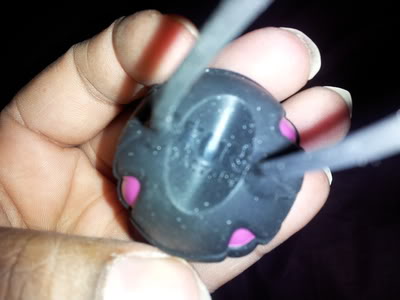 The teneo uno is made out of silicone, so you can only use water based lube. With the uno you will be using a great deal of lube when using this. The large amount of lube makes for very easy and comfortable insertion. I can say that the uno can be a little uncomfortable. I've had moments when I didn't like the uno, but with a good amount of lube, like I stated before, I was able to use it without pain. I'd recommend taking your time when putting it in.
Once the uno is inserted, you can lay back and relax and work your vaginal muscles while lying on your back. You can also get up and walk around, although some might find that a challenge at first. Once you become for comfortable with the uno sitting inside of you, you can do all the walking around you want. If you don't want to lie down, you can always just stand in place and work your muscles.
There is what looks like wrist band. When inserting the uno you should be sure to leave this hanging out of the vaginal opening so that you can remove it without complication. One the uno is covered with lube, it can be hard to grab on to.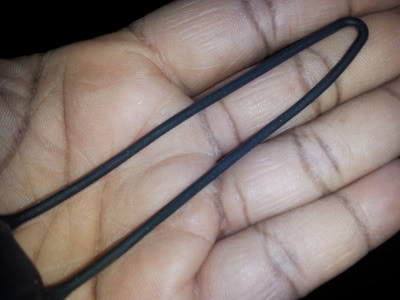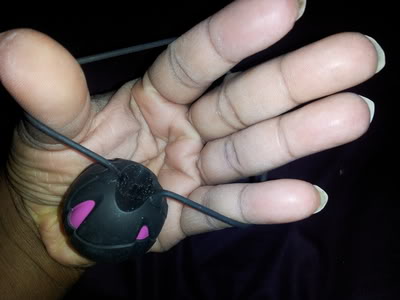 When cleaning you can wash it with mild soap and water, but because it's silicone you can also boil it for about three minutes on your stove top. You can also wash it with mild soap and water, or your favorite toy cleaner. When you aren't using it, you can place it back into the box or in your toy box. Traveling is perfect with this. You can just place it into your pocket and head out the door.
Here are some workouts you can do with the Teneo uno(or any vaginal balls)inserted .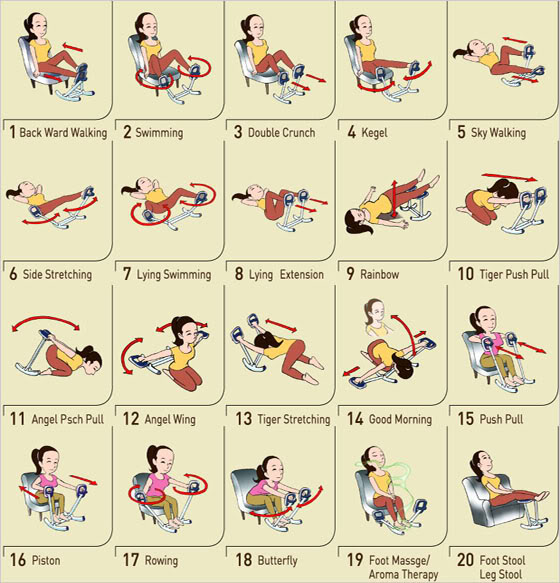 This content is the opinion of the submitting contributor and is not endorsed by EdenFantasys.com

Thank you for viewing
Smartballs Teneo uno
– exerciser for vaginal muscles review page!