You're my Number Uno
In a drawer full of Kegel toys, I find myself reaching for this one quite often. It's cute, easy to use and comfortable to wear. If you're looking for a great first Kegel Exerciser, this one will make you smile!
Published:
Pros:
Great Color Choices
Comfortable
Size Will Work for Most
Cons:
None
The Teneo Uno is a single ball Kegel exerciser from Fun Factory. With it's sleek design and cute color combinations, it's certainly appealing visually, and its ergonomic design makes my anatomy smile as well. This Kegel ball is inserted vaginally, and stays there. While it's in, and you go about your normal daily routine, you squeeze and release your Kegel Muscles around the ball. There is a weighted ball inside the Uno, which rolls around and gently reminds you to do your exercises.
For those who may not know, strengthening your Kegel muscles can lead to stronger orgasms, reduce incontinence, and return muscle tone and tightness after childbirth. To find out how to exercise your Kegel muscles, try stopping your urine mid-stream. The muscles you're clenching are your Kegels. To use any Kegel exerciser, you clench, hold and release those same muscles. Start slowly and build up to more clenches that you hold for a longer amount of time. It really does make a difference!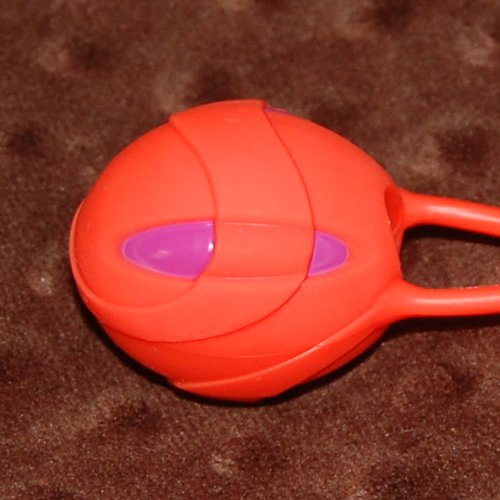 The Uno is made of silicone, so it is non porous and body safe. The ball itself is smooth, but has the appearance of an inner ball covered in a stylized cage of silicone that is a different color than the inner ball. The outer cage, or shell, does give it some texture, but once it's inserted I couldn't tell. The silicone cage has a matte surface, with a slight amount of drag to the surface. There is also a small depression between the ends of the cord, designed for you to rest your finger when you insert the toy. The cord itself is thin, stretchy and flexible, but sturdy enough to do it's job. The ball measures 1 3/8" in diameter, and the cord extends 3 1/2" from the back of the ball.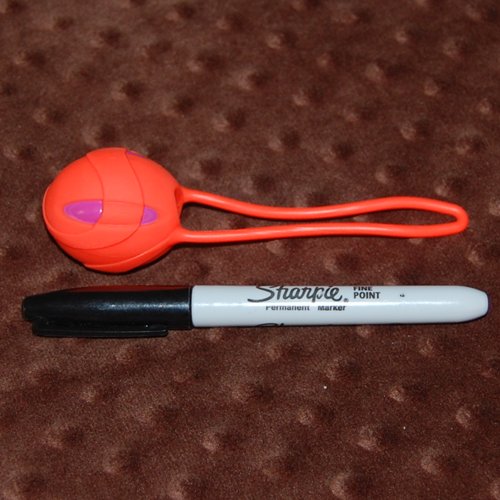 The ball inside the Uno that moves around and causes it to rumble is pleasant without being distracting. I wouldn't say it causes pleasure, but it does remind me to clench, hold and release. The movement of that internal ball can't be heard by other people as you go about your day. It does seem noticeable to me, but after polling many people I'm convinced that I'm the only one who is aware that I'm using the Uno when it's in.
Inserting the Uno is easy and painless. It slides right in and stays put. I have no fear of it slipping out or being pulled in too far. As you clench and release, the Uno will move up and down slightly, but that is what it supposed to happen. When you're done doing your workout, you pull gently on the retrieval cord and bear down slightly. The Uno will come right out.
Cleaning the Uno is easy. Between uses you can wash the toy with soap and water or your favorite toy cleaner. Should you wish to sterilize the little guy, you can boil it for three minutes or place it in the dishwasher on the top rack. Please use only water based lubes with the Uno, as silicone lubes will damage the toy. It does help with insertion to place a drop of water based lube on the top of the Uno before you insert it.
The Uno comes in a plastic clamshell encased in a cardboard box. Fun Factory does provide instructions for use. It's a bit awkward to get it settled back in its place, so it isn't the best for storage. I keep mine in a small toy pouch, but you could use a small plastic bag to store it.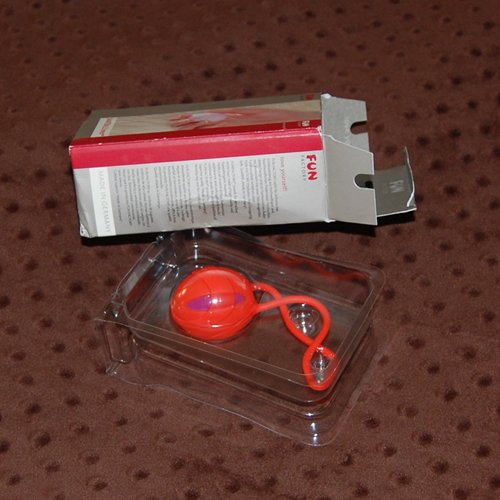 Experience
I have a lot of Kegel exercisers, but this one gets used quite a bit. I love the fun colors and the design of the Teneo Uno. It's large enough to remind me to clench, but not so large that I find it uncomfortable or distracting for long term wear.

I wear Kegel toys when I grocery shop, go for walks, clean the house, do laundry or any other activity that is fairly mindless and will give me a few seconds at a time to hold and release. I also use Kegel toys when I sit and type up reviews, as it's a perfect way to take a break and think of what I want to type next.

The retrieval cord on this particular Kegel toy is comfortable and easy to use. On quite a few other toys, I have to really work to position the cord in a way that isn't going to irritate or rub me the wrong way for extended use. The cord on the Uno is soft and pliable, and the silicone warms to your body temperature so it doesn't feel cold or awkward. I forget that it's there, and externally can't feel it much at all.

I also own the Teneo Duo, which is two balls the size of the Uno, connected with a small strip of silicone. They are great as well, but I find the Uno a teeny bit more comfortable for long term wear so I tend to reach for it more.
Follow-up commentary
7 months after original review
This cute little guy is still a regular in my rotation of Kegel toys. No issues or complaints to speak of.
This content is the opinion of the submitting contributor and is not endorsed by EdenFantasys.com

Thank you for viewing
Smartballs Teneo uno
– exerciser for vaginal muscles review page!