Teneo uno, to have to hold one.
While I found this particular ball to be too light for my needs, I would go back to Fun Factory for my kegel toys without any hesitation. This toy is wonderfully designed, especially the notch that makes it easy to insert. If it had a bit more weight, it would be a perfect toy.
Published:
Pros:
Great design, awesome colors
Cons:
Too light
Smartballs Teneo Uno is my second go at a kegel exercise toy---while I feel this one is higher quality than my other, I don't think it was as successful. Though I may note that this is my first attempt at using a single ball rather than the double, which may in the end have something to do with it.
This easy to use, stylish, vaginal ball is made by Fun Factory. It is made of Silicone and is 4 3/4" and 1 1/2" in diameter. From tip to tip it is 5", when you break it up the cord takes up most of that length at 3 1/2" long. The cord is attached well, and doesn't give the feeling it'll break it off when tugging at it, though after reading, I seen a few other reviewers did have a problem---so to be safe be gentle while pulling this out. What I liked best about this particular design is the finger notch at the bottom of it, this really aids the insertion process. Also, you aren't locked in one color design---Smartballs Teneo come in a very wide variety of colors for you to choose from.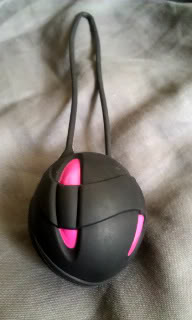 When I initially took this out of the silver and red cardboard box it came in, I could feel the insides of the ball shaking around. It is easy to put in with a little water based lube or even saliva, and goes in like a tampon. Luckily they are generous enough to provide a packet of water based lube for your first time use in the box. They recommend using it for 5 hours a day, for 4 weeks. These can be worn during your every day activities---I like using them while I clean the apartment. After the 4 weeks they recommend moving up to the duo, which I sadly don't own but the idea is to move up in weight to train your pelvic floor to strengthen over time. This is similar to your every day gym activity, you don't start with the 10 lb weight, you start at the 5. But since I had a hard time feeling this one, I feel like I might actually have better luck with the duo or just a heavier kegel toy.
Experience
You cannot hear the toy from the outside during use, even if you could the noise the toy makes when just shaking it around in your hand does not immediately scream "Noise? It must be coming from her vagina!" With the other pair I have I felt it most when just standing still, the weight would register and I would squeeze to pull them up---thus omitting the pleasuring feeling and strengthening my pelvic muscles. With these I didn't really remember I had them in unless I really thought about it and remembered to do my kegels, and even then, the feeling was there but not as powerful as an experience.

I found it easier to put in then take out---it was easy, but made a bit of a mess while pulling it out. Since the body of this ball has a ton of ridges cleaning will take a little longer. I have a mini brush I use from a travel kit, to clean my toys that are peskier---I initially tried use a wipe but it took too long to really get everything out of the ridges. To store it, it goes in a baggie like many other toys that don't need their original box. It would be pretty neat if Eden sold pouches about half the size of their regular toy pouches for toys like this.

Because of the weight issue, I can only rate this toy a 3. Which is hard for me to do, because it really isn't a "bad" toy. I just think this particular one didn't do it for me in the end.
This product was provided free of charge to the reviewer. This review is in compliance with the FTC guidelines.

Thank you for viewing
Smartballs Teneo uno
– sex toy review page!