Working Out the Lady Bits!
Do it for your sexual health, increase the strength of your PC muscle, make orgasms better, stop leaking when you cough or sneeze. I believe these are a few of the great benefits from using the Uno ball. The ball itself can provide some pleasurable sensations while it vibrates in you vagina but the end result is what it is all about.
Published:
Pros:
Discrete
Good for your sexual Health
User friendly
Retrieval cord
Stop leakage!
Cons:
Seems Large
Makes you pee more frequently
The Teneo Uno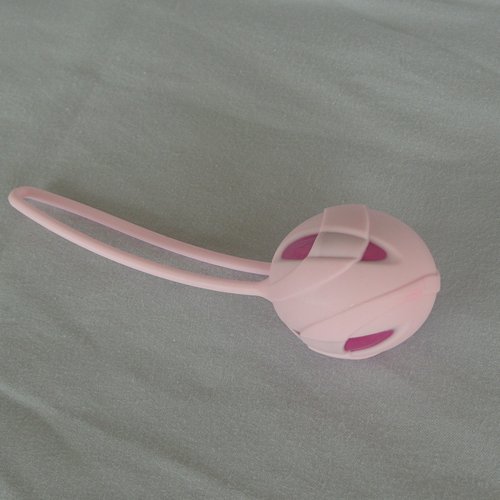 Use
The Uno is vaginal excersizer. Sorry guys, these are for the women. The ball is for increasing your PC muscle strength, and increasing vaginal tone. For women only! When you perform your Kegals it does the same thing but this is more effective since you have a feed back system. Meaning you have a ball that you are trying to keep in. It gives the muscles more of a workout. Why work out your muscles you ask? Because having a stronger muscle makes sex better, can increase your orgasms. You can wear these vaginally while you have anal sex to increase stimulation for you and your partner. And as us females have babies and get fat and get older we can have issue with bladder leakage especially when coughing, sneezing, running or just from breathing!! Hey if you have had a baby, these can help you to increase your tone and get your vagina back in shape. Please make sure that you have been cleared by your OB before inserting these please.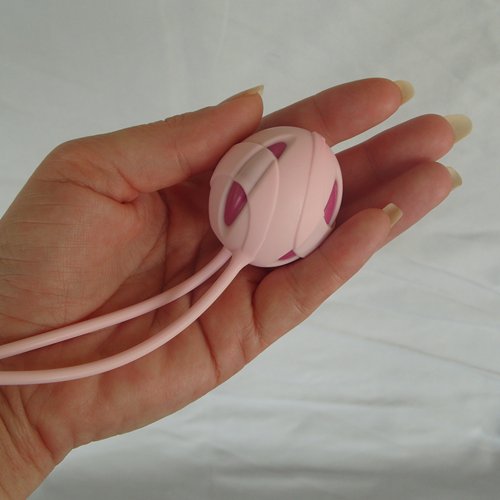 The Uno has a ball inside of the larger ball that moves around and vibrates when you move around. These vibrations stimulate the pc muscle to start contracting.
Material/Texture/Care
The Uno has an inner ball of plastic and an outer wrap of silicone material. It is completely waterproof.
The outer casing of the Uno is made from Silicone, 10 on the Eden safety scale. The inner ball is made from plastic, 8 on the Eden safety scale. Both products are made from food safe materials, hypoallergenic, latex and phthalates free. Silicone products interact with silicone lubes, it can ruin their finish so be sure to only use water based lubes with the uno. The silicone is easy to clean, you can use antibacterial soap and water, toy sprays, Eden wipes, although the wipes may not be able to clean it properly due to the ridges on the silicone wrap. You can boil the uno, put it in your dishwasher, wash it with a 10% bleach solution. Be sure to rinse well after you use the cleaning solutions. Despite that is it silicone it doesn't collect any lint or hair.
Design/Shape/Size
The Uno's total length with retrieval cord is 5 inches,the insertable ball area is 1 ¾ inches long and 1.5 inches in diameter.
The uno ball is a small egg shaped ball with the silicone wrap on it. The wrap has raised areas that go both around the longer end and around the entire circumference of the ball. The swirl,they are not straight. Connected to the ball area is a retrieval cord that is approximately 3 ½ inches long and sturdy. There is a small dip at the bottom of the egg that is perfect for your fingertip to sit when inserting the ball. When you hold the Uno in your hand and shake it you can feel the inner ball move around and vibrate inside of the outer shell.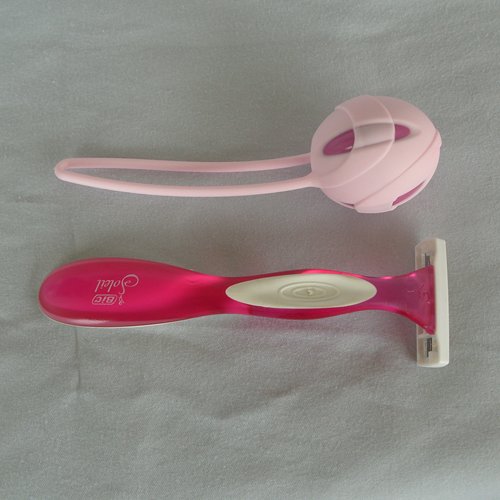 Storage
The Uno is small enough to store just about anywhere. I keep it in a little bag in my drawer. Since it is silicone you need to keep it from other silicone toys so the finish doesn't get ruined. I keep them in a plastic baggy.
Discrete
The Uno is small and it doesn't look like a sex toy, but it does look like some type of a toy. Be sure to keep these away from children or you may have some toddler running around with it in their mouth or even your dogs. It is travel friendly and you can even wear it while traveling. I wear them quite frequently especially if I know that I will only be gone a few hours. I do keep a plastic baggie in my purse if I feel the need to remove before I get home. This is actually my favorite to wear when I take my husband to his Dr's. appointments.
Packaging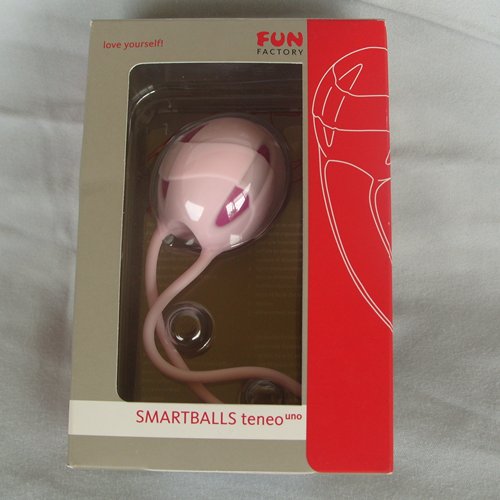 The Uno comes from Fun Factory in a neat looking grey colored box. The box contains information about the Uno and the benefits from using it. You also receive a sample of their water base toy fluid.
On the box and on a package insert it explains: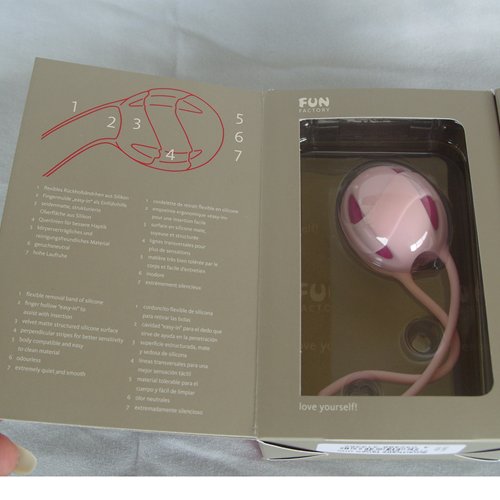 Flexible removal band of silicone
Finger hollow "easy in" to assist with insertion
Velvet matte structured silicone surface
Perpendicular stripes for better sensitivity
Body compatible and easy to clean material
Odorless
Extremely quiet and smooth
Experience
This is very interesting, I purchased the Uno because I believed that it was a step up from my ben-wa balls. Actually there is no issue with working to keep the Uno in like there is with the ben-wa balls. I simply put it in and away I go. For those concerned with loosing the balls this one has the retrieval cord. I can 't really say one way or another which of the vaginal excersizers works better. I have been using both for months and I can tell a difference in that I no longer sneeze and leak urine. This alone is a great reason to use them. My vagina seems to be stronger per the husband. I believe that they do work. I would suggest these to beginners.
Follow-up commentary
4 months after original review
This one is great for working out the Kegels! I would suggest for all. For those worried about things going missing these have the retrieval cord. Yes the Kegel exercises do really make your orgasms stronger and really do help to stop the coughing and peeing!
This content is the opinion of the submitting contributor and is not endorsed by EdenFantasys.com

Thank you for viewing
Smartballs Teneo uno
– vaginal balls review page!