I Always Knew Velma Was Freaky
Though the sex in this movie isn't always awesome, and I have a lot of complaints about some of the performers, it's still a really entertaining, good quality parody that I'll be keeping in my collection and would recommend to almost anyone.
Published:
Pros:
True to the original, great cinematography, funny dialogue, good acting, some anal
Cons:
No memorable sex; spitting; BUSHY pubic hair; annoying moaning and baby talk
Scooby Doo: A XXX Parody is a live-action porn parody of the cartoon, Scooby Doo, from New Sensations and directed by Eddie Powell. This movie is geared mostly towards heterosexuals and hetero couples, as all the sex scenes involve male/female pairings, aside from the one female/female scene. As far as porn parodies go, this is definitely the best I've seen yet. It has some really funny moments and is pretty true to the cartoon (though, I will admit, the cartoon was not one of my favorites as a kid). The cinematography is excellent, with very Scooby-esque music in the non-sex scenes, decent music in the sex scenes, and good lighting and camera angles. The acting is fantastic by porn acting standards, and all the characters are played well. We never actually see the movie's namesake, Scooby Doo, but that's probably good. I don't care to see Scoob get laid.
Plot
The movie opens with Shaggy waking up in bed after a long night of partying and sex, to find that Scooby Doo is nowhere in sight. He enlists the help of his friends, Daphne, Velma, and Fred, to find out just where Scooby has disappeared to. Along the way, we find out that Daphne and Fred are trying to get pregnant, and Velma is a bit less prudish than she seems (and a lot more into Shaggy). The four friends unravel the mystery while having loads of sex with each other along the way. Will they ever find Scooby Doo? You'll have to watch the movie to find out because I hate spoilers!
Cast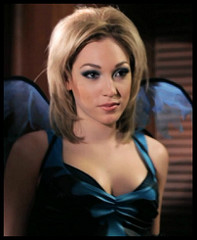 Lily LaBeau (Sindy)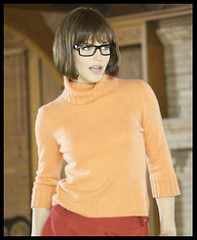 Bobbi Starr (Velma)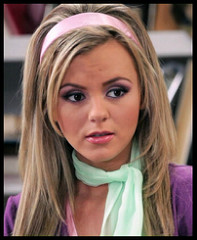 Bree Olsen (Daphne)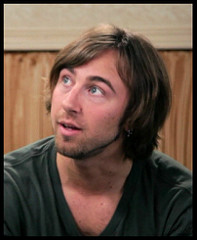 Chad Alva (Shaggy)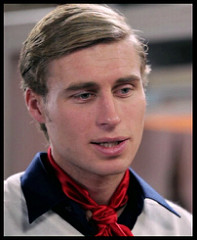 Michael Vegas (Fred)
Sex Scenes
Scene 1
: Sindy and Shaggy -- Shaggy meets Sindy at a party, and she invites him upstairs. There is generic rock music over the whole scene, which I actually kind of liked. This scene was one of my favorites because Lily LaBeau seems legitimately into the sex, rather than acting like she's enjoying it. It's a pretty typical sex scene, though; the only really memorable thing (in a bad way) is the annoying oral Chad Alva gives. It doesn't look pleasurable at all, and at one point he just thrusts his pointed tongue in and out, and she acts like, "Wow, that's amazing!" It's not. I did, however, get a kick out of him saying "Zoinks" during a blowjob.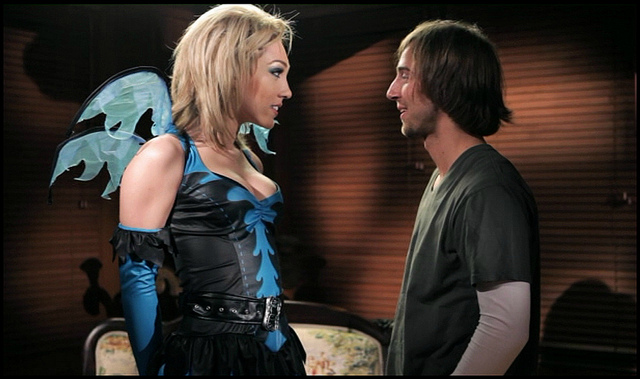 This scene has oral for both (including spitty, gaggy blowjobs and annoying tongue-fucking) and sex in several positions, and ends with a comeshot on Lily's face.
Scene 2
: Daphne and Fred -- This scene, along with all the ones after it, has okay porn kind of music over it. Nothing too distracting, but nothing awesome. I would've liked this scene better if Bree Olsen hadn't ruined it completely. She baby talks through the whole thing. Seriously, the WHOLE thing. I assume she's just trying to do an impression of Daphne during sex, but she fails miserably, and it's unbelievably annoying. Plus, she has a distractingly hairy pussy. I don't mind some hair, but this is really bushy and unruly. Michael Vegas apparently learned his oral skills from Chad Alva, as he does the same annoying tongue fucking thing. This scene does include anal, however, which almost makes it worth watching.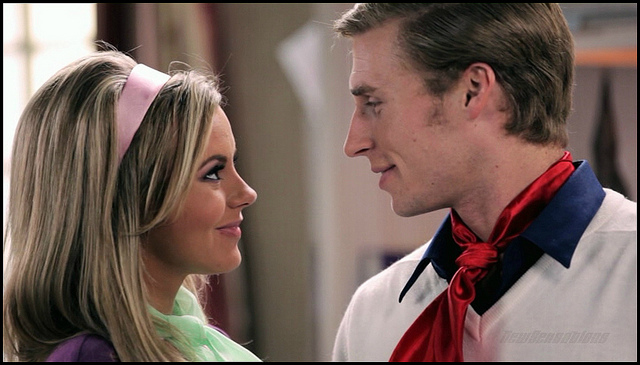 Includes oral for both, rimming, 69, anal fingering, several positions, and anal, ending in a comeshot on Bree's face and mouth.
Scene 3
: Velma -- This scene is just "meh." I enjoy masturbation when it's believable, but this isn't. Bobbi Starr sits on the toilet and fingers herself, but she looks really dry and has to lick her fingers several times. Plus, she also has a really hairy pussy. It's a little unsettling. I didn't enjoy this scene in any way. I desperately wish more porn would involve toys. But, alas, this isn't one of them.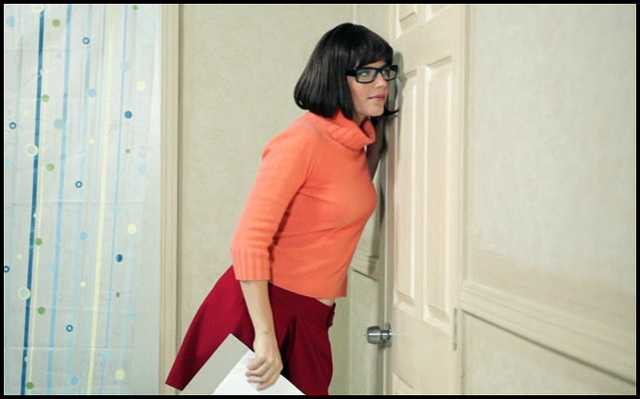 Scene 4
: Velma and Shaggy -- This scene is okay, but not memorable. I really didn't enjoy how Bobbi Starr moans and screams but isn't at all believable. There's just something about her performance in this movie. She doesn't look into any of the sex she has, and it's like she has to make up for it by being annoyingly loud.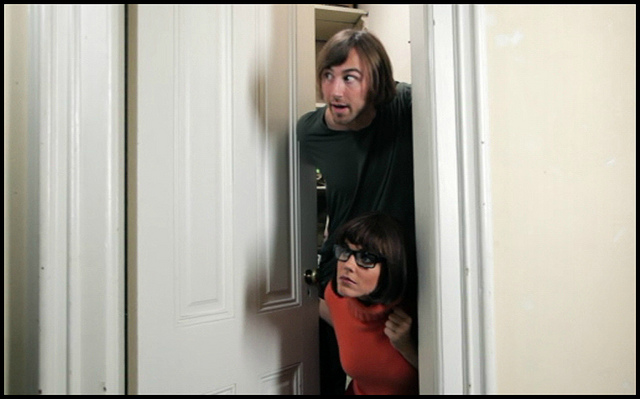 Includes gaggy blowjobs, and sex in several positions, ending in a comeshot on Bobbi's pubic hair and tummy.
Experience
(continued from above)
Scene 5
: Velma and Daphne -- I'm generally not too into lesbian scenes, so I may be a bit biased here, but this scene was not too thrilling for me. If it involved toys, it would be completely different and way more awesome, but as it is, it's very fast-forward-able. It doesn't help that the most annoying performers in the movie are the ones having sex here. There are actually several mentions of hair, and at one point Bobbi actually says, "It's so furry," to which Bree replies, "It's my furby." Wait...what? Is this their idea of dirty talk? I have no idea, but it doesn't do anything for me. Bree occasionally looks like she's getting into it, and Bobbi says, "Jinkies" once, but that's not really enough to save the scene.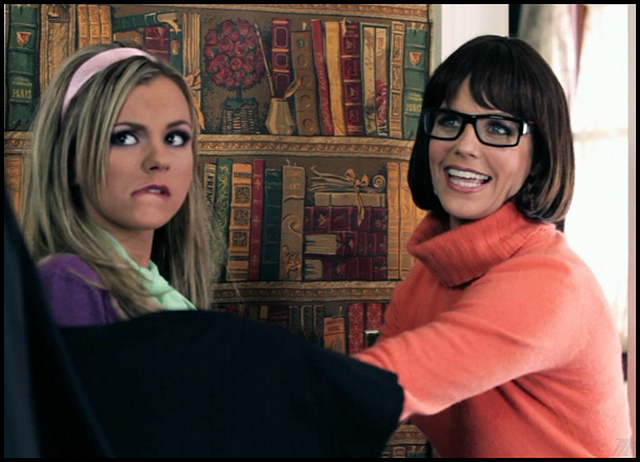 Includes oral for both, 69, fingering, and tribbing; both claim to come several times, though I doubt it.
Scene 6
: Daphne, Velma, Shaggy, and Fred -- This scene is a little different in that it involves a four-some. It's not an awesome scene for me, but it's not bad. I feel like it runs a little long, but I have that opinion of most porn scenes. That aside, it's nice to see everyone getting it on with each other finally, and this scene even has more anal!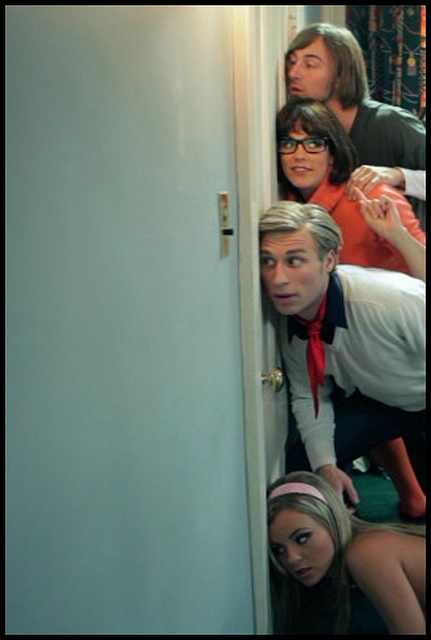 Includes blowjobs, vaginal sex in several positions, tit-fucking, and anal between Michael Vegas and Bree Olsen. The scene ends with Chad coming on Bobbi's face, and Michael coming on Bree's face.
DVD Features
This movie comes in a two-disc set, with the Disc 1 being the movie and Disc 2 being the special features. The case is somewhat discreet, as neither the front nor the back show any nudity, but the title makes it pretty obvious what it really is.
Disc 2's special features include:
-25 minute Behind the Scenes featurette
-Party version with all the sex scenes taken out
-33 minute bonus scene with Bree Olsen and Erik Everhard
-Outtakes
-Photo Gallery
-Popshot recap
-Trailers for other XXX parodies
-Web Trailer
-Company Info
-Special format compatible with iPod
Verdict
As much as I complain about the annoying moaning, baby-talking, and general blah-ness of the sex, I really enjoyed this parody as a whole. The non-sex scenes were really entertaining and Scooby Doo like. Some of the dialogue is actually pretty hilarious, and this movie could be fun for just about anyone to watch, whether with the sex scenes or without. The quality of the acting, costumes, lighting, and camera-work were all impeccable. So while I may mute or fast forward through some of the sex scenes when I watch it, I'll be keeping this movie in my collection.
This product was provided free of charge to the reviewer. This review is in compliance with the FTC guidelines.

Thank you for viewing
Scooby Doo XXX parody
review page!