Zoinks, Jinkies, and Scooby Snacks!
Eighty-six those Scooby Snacks because Scooby-Doo is missing! What's even worse is however will these four friends find him when they can barely make it past the door without their horny, sex-craved selves jumping each other? Hm, wait, maybe that's not the worst thing. In fact, for me it was only the interesting sex that kept my attention throughout this less-than-spectacular parody. And any Scooby fans need to know up front that no, there's no bestiality. Scooby isn't even IN the film.
Published:
Pros:
Variety in Sex (Both Vanilla and Non),
Some Funny Dialogue,
Plenty of Bonus Features!
Cons:
Facials,
Very Weak Plot,
Furry Genitals,
Annoying Voices!
Plot & Content
Jeepers! It's a Scooby-Doo parody! One more X-rated homage to a classic children's cartoon. Perhaps it's a little disturbing what people do with old Saturday morning cartoons but, hey, every kid grows up eventually and it's only a matter of time before sex is incorporated, right? So this adult version does have a plot, as weak as it is. And yes, it's very weak. It's mostly as a way of explaining why we never see the title character (after all, porn has come a long way but not so far that it can pay for CGI animation for a feature length adult movie). And as for the sex, it's actually a good blend of the vanilla and kinky. There's vanilla hetero pairings, anal sex, woman-on-woman, and even a group scene.
Now I feel it a fair time to explain that I'm not, nor have I ever been, a huge Scooby-Doo fan. As a child, I found myself constantly changing the channel to anything (news, weather, QVC) from Scooby-Doo. I don't know if it was the slow plot or the very 70s animation style but it wasn't my cup o' tea. So this porn parody had a lot to make up for. Keep this in mind, if you will.
Cinematography & Acting
The cinematography is mostly very well done. The angles, lighting, and framing are great even though the cuts and transitions are less than perfect. Though, the acting is just so-so with me. On the one hand, they're playing already ridiculous characters with even more humor but it also detracts from the arousal level for me because it crosses from funny into annoying more than once. But this is definitely an individual preference.
~STARS & SCENES~

Opening Sequence & Intro
The film opens with a short, but funny, scene before going into the opening credits and theme song, which become somber. It's definitely a more serious introduction to a Scooby-Doo parody than I thought it would be.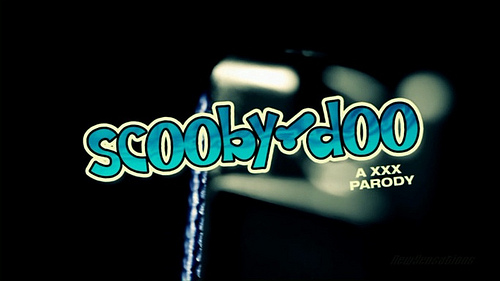 1st – Chad Alva & Lily LaBeau
The first scene starts a little strangely for me. It only features one actual Scooby-Doo character in a very non-original-Scooby-Doo scene. It was almost as if it was a last minute addition because they couldn't come up with another pairing or opportunity for sex with the original characters. Maybe it was because I had just reviewed the Flintstones parody, which blew me away, but this seemed odd. But there's an extensive blow job, some cunnilingus, and plenty of different penetration positions. I particularly love the rock music playing in the background.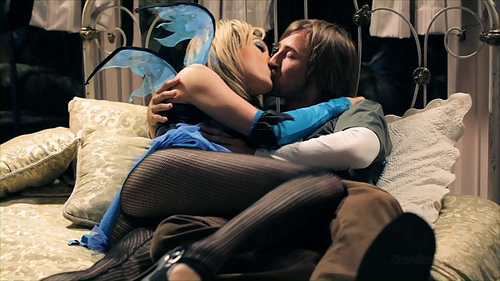 2nd – Bree Olson & Michael Vegas
Fred and Daphne decide on an impromptu romp as a perky and very cheesy song plays in the background. I had always been greatly annoyed by these two characters and the mentally slow interpretations of them aren't any less so. Funny, yes, but I found myself only able to deal with them in small doses (or on mute). She is
very
chatty and whispers in a child-like voice during much of the scene (seriously, just mute it) and there's plenty of dribble and spit. What else? Well, there's rimming, 69 position, and even anal! I know, right?! Totally not vanilla, especially for Scooby-Doo! But I didn't much appreciate the close-up which revealed some vag pimples/blisters/whatever they were.
Oh and isn't Daphne supposed to be a redhead/strawberry blonde???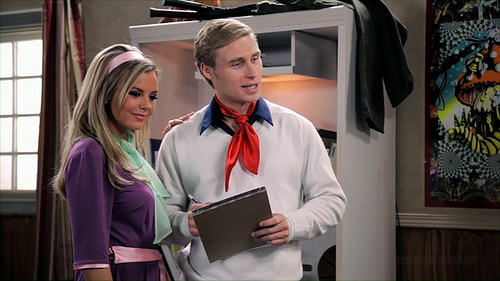 3rd – Chad Alva & Bobbi Starr
This scene is unique in that it starts with a solo scene. Yes, my pervy ladies and gents, some masturbation! It actually had some pretty awesome camera angles and positions and ended in comedy. Not bad!
But then the sex starts with horrible (on purpose though) kisses. Don't worry, that leads into the standard beginning – a blow job – which actually doesn't last as long as others in this film. With the switch over to penetration though, you can tell the cuts weren't done very smoothly, though it'll only stick out to those trained or looking for it. And her mouth annoys me when she moaned because the expression on her face and her lips look fake! But at least she doesn't talk as much as Daphne.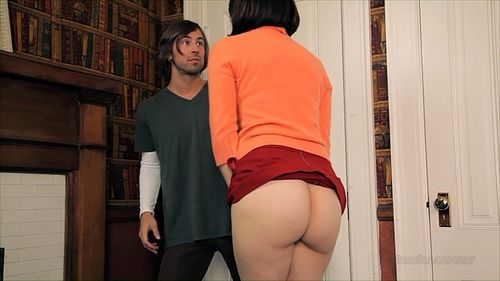 4th – Bree Olson & Bobbi Starr
This is the token Daphne and Velma pairing that I'm sure plenty of grown-up Scooby-Doo fans have considered. And what was a background detail before becomes very evident in this scene. The women in Scooby-Doo are not clean shaven. Personally, I don't like the completely bare, prepubescent look. But it being neatly trimmed and tidy is definitely what I would have preferred to the furry look these women have. But honestly, it's not that bad and there are much worse in other films.
Experience
In this scene, there is a little oral, plenty of manual stimulation, some tribadism, and the 69 position returns for another go. I have to say that this is one lesbian scene that didn't do too much for me.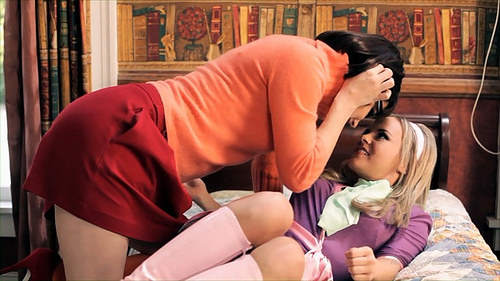 5th – Chad Alva, Bobbi Starr, Bree Olson, & Michael Vegas
Making sure to never bore, this scene features all four main Scooby-Doo characters! There's two simultaneous blow jobs, the "pig roasting" position, a creative 4-way 69, rimming, anal, and partner-sharing, all on a very large and very bouncy bed. There was plenty of action to follow as the camera panned and cut fairly well between the participants.
Besides hoping that the person who sleeps there washes their sheets, I was surprised once again at how non-vanilla Scooby-Doo turned out to be. If nothing else, I have to give it credit for not being predictable in the sex department. I think that's the only thing that saved this film from a low 2-star rating for me.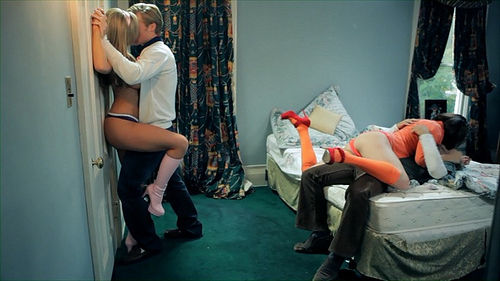 DVD Features and Bonuses
2 Disc Pack – Feature Film and Bonus Features
111 Minutes
Widescreen 16:9 HD Format
No Regional Coding
No Condoms/Protection Used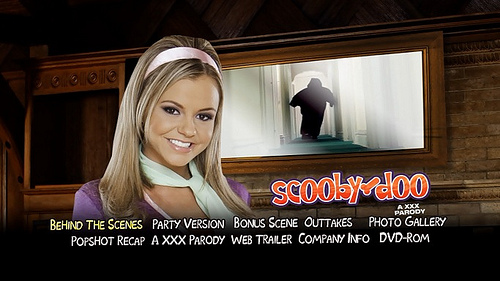 There are quite a few bonus features to enjoy in this DVD set, as you can see. But I'll only go over a few of them, as most are fairly self-explanatory.
Party Version
– 31 minutes of just the storyline
Bonus Scene
– With Bree Olson & Erik Everhard
Popshot Recap
– Just all of the money shots from the film.
Favorite Dialogue
"Somebody's pregnant!"
"Somebody is clinically retarded."
"Sticks and stones."
"Don't tempt me!"
This product was provided free of charge to the reviewer. This review is in compliance with the FTC guidelines.

Thank you for viewing
Scooby Doo XXX parody
review page!