Soft Scrubs (Milk and Unscented)
Venus's aromatic body scrubs will gently slough off your dead skin cells as you wash, leaving behind softer, refreshed skin. The range of scents includes everything from unscented to fruity or floral fragrances, offering something for everyone.
Published:
Pros:
Not tested on animals, gentle, unscented really is unscented
Cons:
I'd prefer a slightly "grittier" formula for easier exfoliation.
I don't know about you guys, but Winter usually leaves my skin looking pretty dreary. By March, I'm ready to up my skin care routine a little so I won't scare small children away when shorts weather rolls around. Venus Body Scrub is an exfoliating bath product that is made to help slough off dry skin cells to give you smoother skin without the dullness. This scrub is made by Venus Laboratory and comes in a whole array of tasty scents from green tea to pineapple tangerine. I chose to try out the unscented version first. I tend to be allergic to a LOT of scented bath products, so I get really excited when I find unscented anything! I figured that if I tried this and liked it, I could always try out one of the scented versions later, since they really are hard to resist!
The bottle of body scrub was separated from the rest of my order by a little plastic bag, which had been wrapped up in the brown shipping paper to insulate it from my lingerie- a nice touch in case anything leaked. My bottle had a random piece of tape stuck to it, with what looked like the corner of a post-it note, as if there had been a note stuck to it, but I'm pretty sure this is a super limited edition feature, so don't be sad if yours doesn't come with the same awesome accessory.
The first thing I noticed about the bottle was that it looked quite a bit different than I expected. First, it was more liquidy than I expected. For some reason from the pictures I was expecting a less watery formula. (That's neither good nor bad, just different than the picture I had in my mind.) It was also a bit smaller than I expected. I'm one of those people who can read "8 oz" as the size (which is what this is) and have no idea if that's the size of a flea or an elephant. As you can see above, the bottle is about the size of my hand, which I think is pretty average as far as hands go.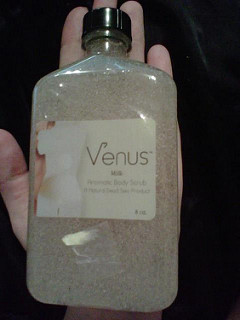 This is where I admit to being a total nerd and spending the next minute or so tilting the bottle this way and that, watching the contents resettle as the air bubble moved around. It's like a weird mix of shaking a snow globe, watching a lava lamp, and watching the waves rearrange the sand as they hit the beach. Either way, it's oddly zen. Only when I went to open the bottle to check out if it was truly unscented did I notice that mine said "Milk" on the front instead of "Unscented". Oops! I sent a note to customer service and they quickly shipped out my correct scent, so I'll talk about both!
The Milk and unscented scrubs are made with a clear base, but have thousands of tiny white and black particles suspended in it. It made me think of the salt and pepper dip I like to dip fries in, which I suppose makes sense since sea salt is one of the main ingredients. (Fun Fact: When I first tried to type that sentence, it came out "salt and pepper dip I like to dip friends in...". Don't dip your friends in salt, it's impolite.)
The bottle has a sticker on the front with the brand and scent names, and a picture of *something* that I've been trying to figure out. I think it's supposed to be a statue (like the Venus de Milo) filled an image of with whatever the scent is, so in this case just a milky white for Milk, pale blue for unscented. There's a weird patch of what appears to be flesh color to the side of it that confuses me. Anyway! The back has a clear sticker printed with the ingredients and notes that this is made in the USA and not tested on animals (yay!)
The ingredients for both scents: dead sea salt, pumice, aqua (water), tea lauryl sulfate, propylene glycol, carbomer oleth 20, glycereth 26, fragrance benzophenone 4, methyl paraben, propyl paraben, imidiazolidinyl urea, triethanolamine, disodium edta.
May contain: fd&c yellow 5, fd&c yellow 6, fd&c red 33, fd&c blue 1. (Note- I don't think the Milk or Unscented contain any of these since they're clear, but I could be wrong.)
A couple of notes about the ingredients: As you may have noticed from the list, these products do contain parabens. For more info on those, check out
this helpful thread
from the EdenFantasys forums. If you're unsure about your sensitivity to the ingredients, you should test this on a small patch of skin first.
Experience
The bottle has a black plastic twist-off cap that's secure enough to prevent leaks, but not tough to open. I appreciate that it has little notched grooves to give you something to grip onto if your hands are slippery when you're trying to open it. I did notice that there's no protective seal that shows the bottle hasn't been opened before. I guess that's not totally necessary, since this is an external use only product, but it's always nice to have that little extra assurance your item hasn't been tampered with.

Another nice feature of the packaging is that although the plastic is flexible enough to bend a little if you give it a good squeeze, it's pretty sturdy, so you can drop this in the shower without it breaking.

Lucky reader, you get a review of two scents for the price of one in this review! The milk scent is pretty subtle. There is definitely something "milky" about it, but also a hint of sweetness. I found the scent super familiar for some reason, but it took me a few sniffs to place it. If you've ever made your own soaps with those little cubes of soap base they sell at craft stores, it smells *exactly* like those. I found it to be a relaxing smell. The unscented version really is unscented. It has a VERY slight hint of something that reminded me of hair gel, but for the most part there's no smell at all.

I enjoyed testing these out in the shower, and after a few uses I think my skin may already be a bit softer. The bottle design does make it a little hard to be exact in how much you're pouring out, but I did like that I could easily open the cap with wet hands. I do wish that this was a little more gritty; I like my body scrubs a little more "scrubby". If the amount of salt (and other solid parts) was about doubled, it would be perfect. That's just my preference, though. Those with sensitive skin might appreciate that this is a very gentle scrub, in terms of grittyness- it's not going to leave you raw.

The milk scent was light enough that even I didn't find it irritating, and I only caught a slight whiff of it on my skin after my shower. If you like strong scents, neither Milk nor Unscented will probably float your boat.

I'm thrilled that neither scent made me sneeze, and will be trying out some other Venus products soon!
Follow-up commentary
4 months after original review
Since my review, I've also tried the Green Tea and Mandarin Mango scents. Unfortunately, I wasn't a fan of either; they both have what I would call a "harsh" scent to them- strong and a bit chemically. The green tea smells nothing like tea, and while the Mandarin Mango smells vaguely citrus-like, it's more like sticking your nose in a pile of orange Starburst than an appealing fruity scent. Keep in mind that I'm super pick with scents, though, and definitely favor more mild fragrances.

I still love the Unscented and Milk scrubs, though! I'm down to the last inch or so of the Milk, so I've ordered another bottle. I've found that the Unscented also comes in handy for when I'm testing a new product in the shower and don't like the scent! It's great at removing anything scented that you want to get off quickly.
This product was provided at a discounted price in exchange for an unbiased review. This review is in compliance with the FTC guidelines.

Thank you for viewing
Body scrub
review page!