Wax quick, cools quicker...
This candle is perfect as an aphrodisiac massage candle or just an excellent smelling candle for any room in your home. If you are looking for hot candle wax, this item may not be for you, but if you are looking forward to a nice massage, this wax may be right up your alley.
Published:
Pros:
Perfect massage candle that rubs nicely into skin, easy clean up, smells amazing.
Cons:
Wax doesn't stay hot, drips down side
Upon arrival, after removing the plastic bag from around it and removing the lid, it can be instantly smelled. This candle is by far the strongest smelling candle I have smelled in a long time. After lighting it, it does not take long for the smell to fill the room. I initially tried mine out in my bedroom and within 30 minutes, I had a plenty of wax, and my room smelled delicious. Without even lighting it, I bet it could make your room smell nice if left open. Mine is Mangosteen, and this candle in particular smells like fruity sex to me. It has a twinge of spice, but smells mostly like citrus. It claims to be an aphrodisiac, and both the smell and the feel of him massaging the oil into me really got me into the mood.
Before lighting it, if you touch the wax, it is hard and not oily. After lighting it, and once a little puddle had formed, I stuck my finger in the wax. It dries pretty quickly on skin, but is very oily and easy to rub into skin. The package tells you to let cool for 30 seconds and then pour into hands before massaging into skin. Me and my spouse like the heat and we poured directly onto skin after the 30 seconds were up. We were surprised by the lack of heat, and when trying again, we will not wait the 30 seconds.
Use of wax is made slightly difficult and messy. It will run down the side after pouring. It was easy to clean off of the end table, but the next time we use it, I plan to put a notebook or old magazine underneath it after pouring. As for cleaning it from skin, it may or may not be necessary. After we did the deed, we fell asleep, upon awaking the next morning, my back did not feel oily, but my partner said his did and he hopped in the shower. A quick rinse of his back and he said it felt much better. His skin is naturally more oily than mine, and that may have been part of his issue.
A plus to this product I would like to mention is how quickly you get a big puddle of wax inside. I took pictures of 10 minutes in and 20 minutes in, and that is all we needed. The wax turns into liquid pretty quickly compared to other candles. Also, after using once or twice, you can scrape the excess from the sides and put it into the middle, these pieces will melt as well and you can have more wax.
This product is paraben free, cruelty free, natural, and petro. deriv, free.
Ingredients:
Glycine Soja Wax, Hydrogenated Vegetable Oil, Vitis Vinifera (Grape) Oil, Laminaria Digitata (Algae) Extract, Garcina Mangostana(Mangosteen) Fruit powder, Fragrance
10 minutes in: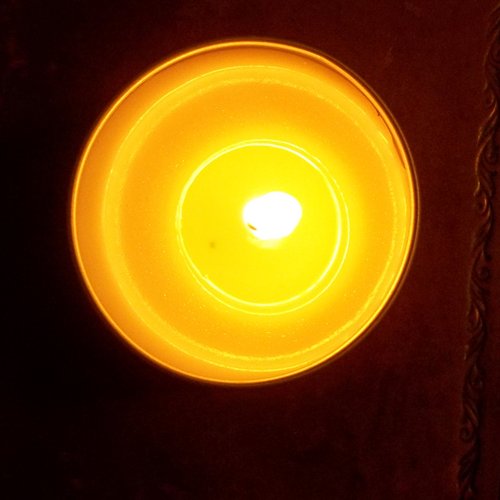 20 minutes in: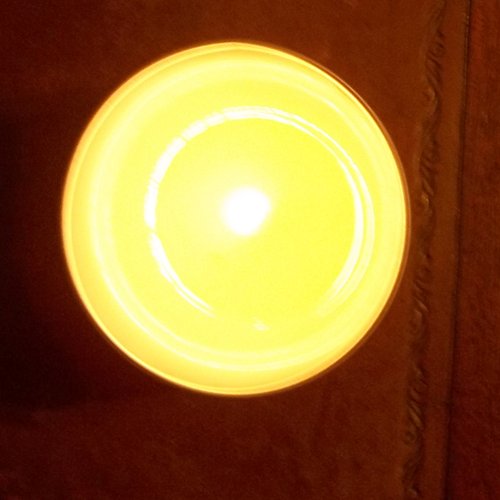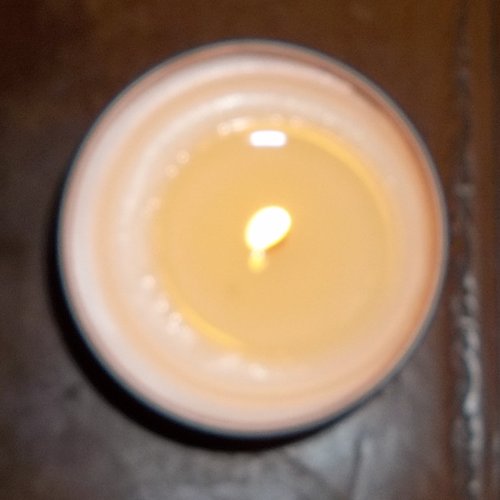 Wax spills down side: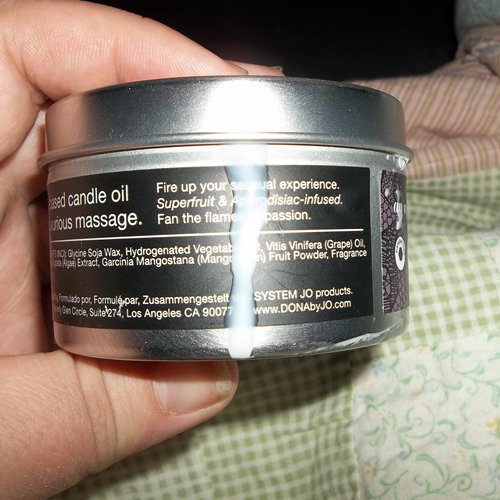 Exterior candle: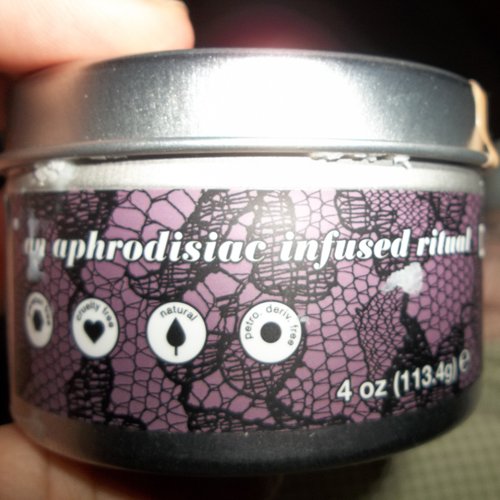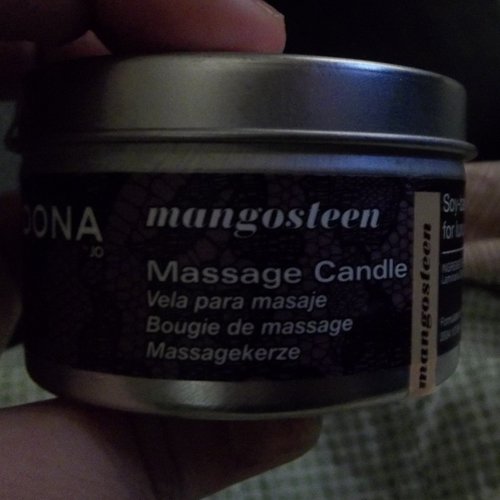 Bottom directions: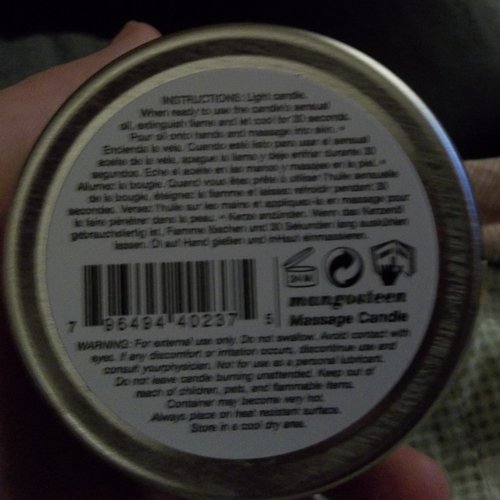 On fingers: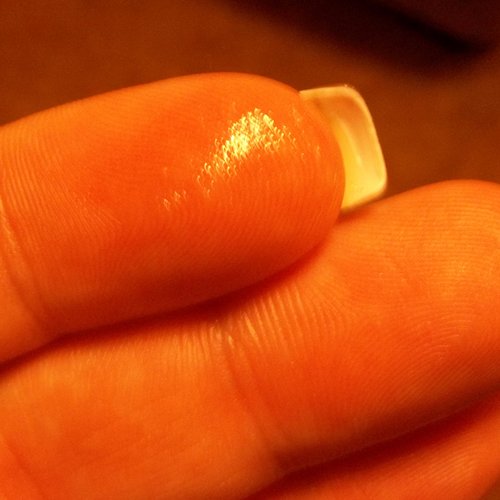 After rubbed in: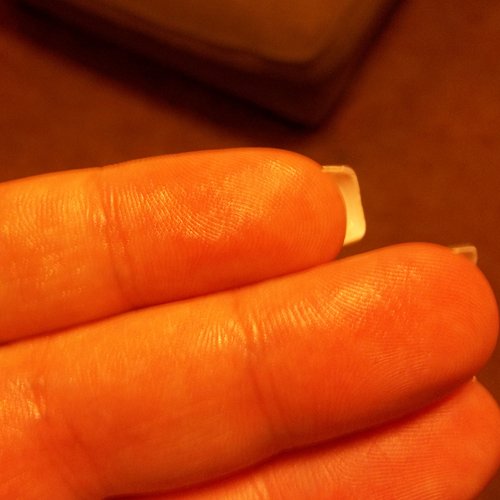 Follow-up commentary
1 month after original review
The death of a candle usually doesn't bother me. But the loss of this one makes me sad. Me and my fellow have had a lovely time using it and I am super excited to have received another from a an Eden friend, this time in Blue Lotus.

I would also like to note that as you get closer to the bottom of the candle, when the wax level is really low, it has a hard time puddling and you can't get as much wax out of it. But even then, it still smells delicious.

I highly recommend this to anyone looking to give or get an awesome massage!
This product was provided at a discounted price in exchange for an unbiased review. This review is in compliance with the FTC guidelines.

Thank you for viewing
Dona massage candle
– body massage candle review page!