Amazing Storage, Cheapo Lock
Have too many toys to store in your panty drawer anymore? Need a place to put all those bottles of lube so no one will see them? The Devine Playchest by Devine Toys/AfterCare is the solution for you if you don't mind the price tag it carries. With a removable divider, mesh pockets and elastic straps for storing things this box will work its hardest to keep things for you. Just lock it up to keep prying eyes out of your stash!
Published:
Pros:
+Amount of storage
+Sleek and stylish design
+Removable divider
+Sturdy construction
Cons:
-Cheap lock and keys
-Price
Use:
The Devine Playchest by Devine Toys/AfterCare is best used to store any and all of your sex toys and accessories, barring that you don't have a massive collection. Although with the two color options, Midnight black and black with pink trim, you could always use more than one playchest if it doesn't all fit in one. Not only can you use this to store sex toys, you could put almost anything in this handy storage box like clothing for an overnight stay, your giant makeup collection or if you're a bath and body products hoarder this box would be great to organize all those bottles. The possibilities really are endless as to what you could store in this box especially since you can lock it up so no one can get into it.
Material:
The Devine Playchest has a Faux crocodile exterior and smooth pleather trim, key cover, handles and locking strap. The inside is fully covered in a satiny material and the entire box is black except for the silver colored metal hardware: Hinges, lock, keys and ball chain the keys are on. There are also three mesh pockets and two stretchy elastic bands for holding smaller items included.
All the pleather and metal is smooth and shiny and the faux croc is shiny but definitely has a noticeable texture to it; you can feel it when you run your hand over it. The satin on the inside of the box has a slight sheen to it and it's also smooth to the touch.
There were no scratches, scuffs, pulled threads or any other quality issues and this only smelled like new luggage when it arrived. It does dissipate once it's been aired out for a while so it's nothing to worry about. If it bothers you too much I guess you could put a little sachet or pouch of some good smelling potpourri kind of thing inside the box until the new luggage odor has a chance to lessen.

Design:
This toybox is designed very much like a train case and it measures at 15" long and 8" wide. The split lid is 15" long and each side is 6" wide and 4" tall. On the inside of each lid section is a mesh pocket for storing smaller items like small plugs or bullets. Each lid section is also attached to the box by some heavy duty silver colored hinges measuring about 2" and there is a sturdy handle on the center of each, for a total of two handles. These handles line up with each other when the lid sections are closed up.
Inside the box is a 14" long, 5 1/2" tall divider with two Velcro tabs that are about 1/2" wide so you can move it around to wherever you want it or take it out all together. On the divider is a 5" long and 3 1/2" wide mesh pocket for holding little vibrators or batteries. Also there are two 4" long elastic band sections to help hold up bottles or smaller vibrators and the other side of the divider is totally blank.
The storage space inside the box measures 15" long, 8" wide and 6" deep and there are five little metal "feet" on the bottom; one for each of the four corners and one directly in the center. Around one handle there is a ball chain that keeps the two keys held together under a sleek and shiny covering. Also, the lock is a push button sliding style clasp with the keyhole right on the push button part and the locking strap bears the logo of Devine Toys on the back where it is attached to the box.
The entire box weighs about five pounds when empty so it will become quite heavy once fully filled, depending of course on what you fill it with.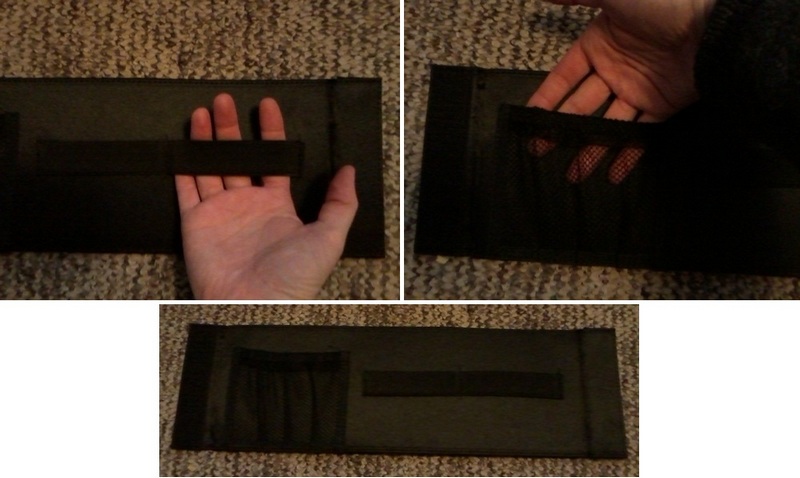 Performance:
The Devine Playchest is best used to store sex toys and accessories and it really holds a lot of them in there what with the few mesh pockets and elastic straps for holding bottles upright. You can keep all your chargers and batteries in the box too along with your toys so you always have them on hand. Also, since this locks you won't have to worry about others getting into your stash.
Using the box for storing other kinds of items is definitely possible and there are an endless number of things that you could choose to use this for. The only things that obviously won't fit in this box are larger items like more than a few pairs of shoes, hangers, big pillows, etc. Papers and some books will fit in this box quite easily so it could be used as a nifty travel bag too.
Experience
Care and Maintenance:
The faux croc and pleather material of the box can easily be cleaned by wiping it down with a damp wash cloth and a mild soap if necessary. The inside, satiny material can be cleaned using a damp wash cloth as well but be sure to let it completely air dry before putting anything in it that way the material won't get ruined.
Storing is very simple since this is really discreet and locks up to keep prying eyes away from your stash. Just leave it wherever you deem safe or keep it in your closet if you are worried about questions from others about it.
Packaging:
The Devine Playchest only came in a large plastic bag that had its one open end taped shut. Beyond that this was just inside the usual brown box Eden uses for shipping; so very minimal but effective.
Here are a few photos of what you could put inside the Devine Playchest: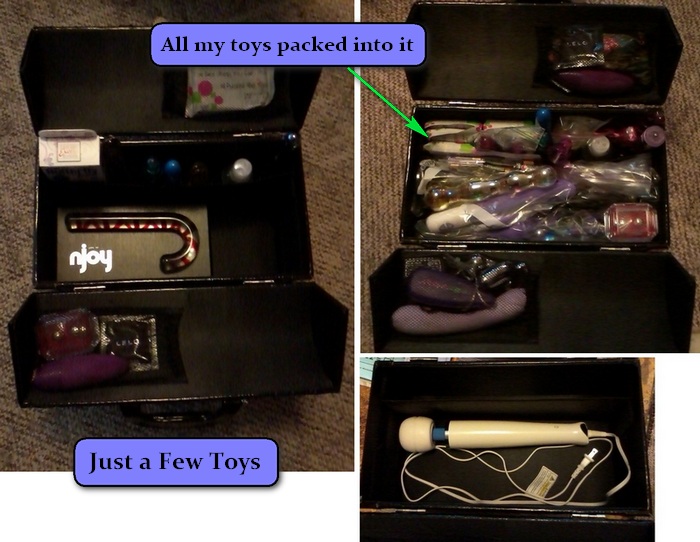 Inside my Playchest are the following items:
1. Wendy Williams Anal Kit
2. Je Joue Uma (w/charger)
3. Hitachi Magic Wand
4. Njoy Pure Plug Medium
5. Njoy Pure Wand
6. Mood Seductive Rabbit Vibe
7. Another Purple Rabbit Vibe (Not from EF)
8. Lelo's PicoBong Ako
9. Medium Clear Anal Plug (Not from EF)
10. Edenfantasys Multispeed Bullet
11. Icicles No. 4
12. Icicles No. 24
13. Lighted Shimmers Glider Vibrator
14. Icicles No. 8
15. Clitoral Pump (w/TPR attachments)
16. Five packs of EF Toy and Body Wipes
17. Amethyst
18. Gold Laced G
19. Blueberry Bliss Vibrator
20. Sapphire Falls
21. Pink Allure
22. MiMi (w/charger)
23. Sweet Spot Buzz Snackbox Vibrator
24. Blossom G
25. Sweet Candy Cane
26. Reflections Amber
27. Sliquid Sea (4.2 fl. oz. bottle)
28. Gold Kegel Balls w/case (Not from EF)
29. Sample Pack of Lelo Personal Lubricant
30. Batteries (AA and AAA)
31. Textured Glass Dildo (Not from EF)
32. U-shaped Double Penetration Dildo (Not from EF)
How much it weighs with all 32 of my items stored inside: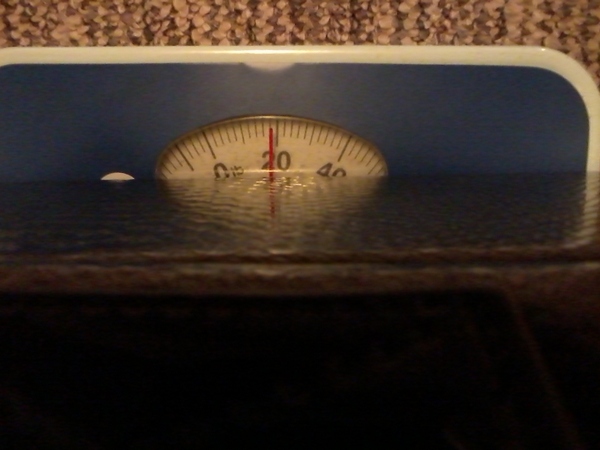 To be totally honest I love this storage box, it's probably the best solution to my storage issues as of yet. The only thing I would change is the cheap lock and keys; I feel like there's almost no point to locking the box because it's so flimsy just like a diary lock. I used to pick those things open all the time with a bobby pin when I lost the key. Other than that this box is so worth investing in and it really holds a vast amount. My whole collection, the 32 items, fits in this box with no problem and there's still some room to spare.
Follow-up commentary
2 months after original review
I still love my Playchest and haven't had any problems with the handles tearing or separating or any scuffing, etc. It's in great condition even with weighing over 20 pounds. Only thing is I need another one, I'm out of space!
This product was provided at a discounted price in exchange for an unbiased review. This review is in compliance with the FTC guidelines.

Thank you for viewing
Devine playchest
– storage container review page!