Devine Design, But Needs Tweaking.
The Devine Playchest is a great piece of equipment for storage of anything. From toys to makeup or lingerie, or anything else that can fit, you can store whatever you desire in this discreet case. But don't plan on storing anything that needs the lock, just in case.
Published:
Pros:
Great for storage of anything, good design, adjustable interior wall.
Cons:
Lock doesn't work, expensive.
I have read plenty of reviews talking about the Devine Playchest: it's fantastic, spacious, discreet, and functional. I have also read that the locks don't work well. I purchased one anyways because the lock isn't as important to me as the organizing and storage is. I'm glad it isn't, because I would have been sorely disappointed.
**Design and Size**
This chest reminds me some what of a small treasure chest. It is 15" long, 10" high, and 8" deep. This provides plenty of room for many different luxurious treasures that one may have. The split cove shaped top folds open to reveal a spacious, roomy interior with an adjustable/removable "shelf". This shelf has an elastic band and some small netting along it to provide extra storage space for smaller things, like mini vibes or pocket rockets. It is attached to the inside of the chest by a velcro strip and can be adjusted to organize the rest of your toys inside. It can also be removed if you just want to use one large space instead of two smaller ones. Either side of the top has small netting on it as well to hold even more things.
Here is the chest next to my bookbag, to help with size comparison.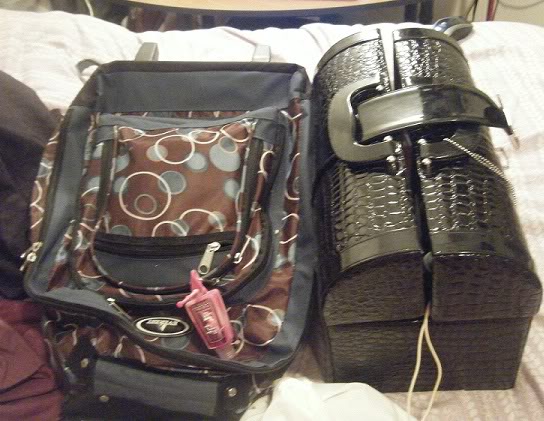 A thick faux strap threads through the handles of the chest and locks into a clasp on the front of the chest. This is where it is supposed to lock, how I don't know because mine doesn't. Well, it does (kind of) but I can get it open without the key. The front lock simply presses in and you slide it up in order for it to unlock. I can do this with my finger. Now I took the key and tried to lock and unlock the chest but nothing happened, and I can still get it open either way.
**Material and Care**
Devine is made of
faux leather
and it has some what of a leathery smell to it (which I looove). The handles are thick and durable, and a locking strap threads through them to the clasp on the front where the chest can be locked. More on that later.
Faux leather can be cleaned with warm water and soap and a toothbrush. It can be wiped clean with a microfiber cloth as well. It doesn't seem to collect any lint and dust, so I don't think that cleaning and care will be too big of an issue.
**Functionality and Performance**
Now this definitely holds a lot for its size, and it is perfect for someone with a lot of toys, makeup, lingerie, BDSM gear, or anything else that can fit inside of it. I didn't pack mine to the brim, but I did see how many things I could fit comfortably inside of it. I had a total of
32 things: 19 vibrators, 4 dildos, 3 sets of vaginal balls, 2 bottles of lube, 2 paddles, my fairy wand, my flogger and a cock ring.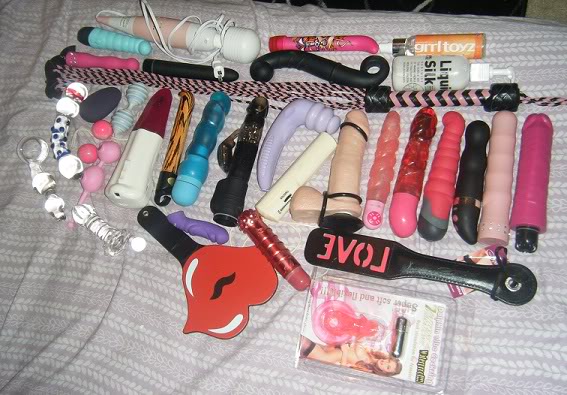 Now I can be pretty OCD with my stuff, and I was trying to organize it nicely so that everything had some space. A lot more can fit inside of this if you play your cards right.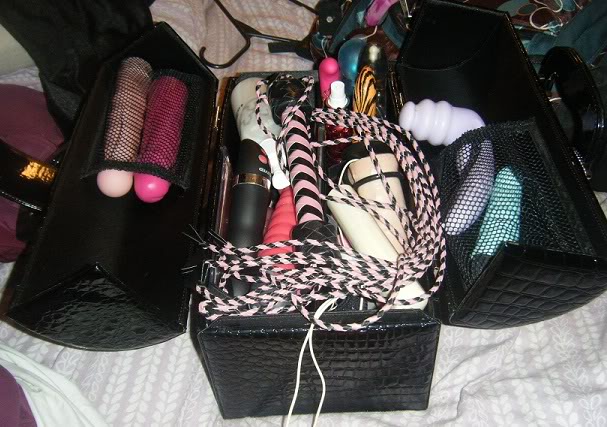 So I conclude that this is still a great chest, but I think you are taking a gamble on the lock when you purchase one. I'm sure Eden would be willing to work with someone who really wants a good lock on theirs, but I wouldn't recommend getting this if that is the biggest concern you have with storage. I also feel like it could be a bit cheaper.
This product was provided at a discounted price in exchange for an unbiased review. This review is in compliance with the FTC guidelines.

Thank you for viewing
Devine playchest
– storage container review page!