Simply Devine
If your sex toys have outgrown your nightstand, take a look at the Devine Playchest. You can store a moderate collection of sex paraphenila in style. It's roomy, lockable, and travels well. It's a bit pricey but may be just what you need.
Published:
Pros:
Stylish
Holds many toys
Travels well
Cons:
Flimsy lock
Pricey
Closure strap loops through handle
The Devine Playchest is a wonderful storage option for your toys. It reminds me of old fashioned train cases. It is small enough to carry. The handles are a clutch style that are easy to hold. The only concern when carrying it is how heavy it is. My husband thinks the black one looks like a doctor's bag. As such this is excellent for travel. You can pack up your favorite sex toys, lubes, and massage oils for a weekend away. Of course it could be used to hold other things as well.
Technically this review is for the black with pink accents, but I have both.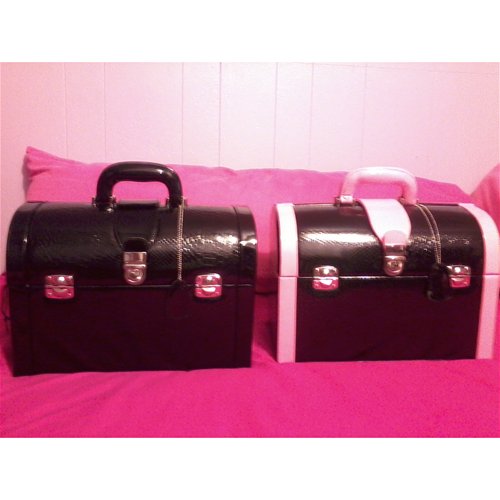 Both cases feature a faux leather crocodile print exterior. It is glossy and wipes up very easily should it get soiled. The inside has a satiny fabric. Both cases also have metal latches, hinges, and lock. The accents on the pink case do brighten it up and give it a feminine look. The pink trim runs down both edges. It is also pink on the handles and the closure strap. I am not a girly girl, but I do like this design. The pink adds a splash of color while still remaining classy. The midnight black is a bit more classic and easily blends into more decors. I like the Midnight Black the best. I imagine that most men will appreciate the midnight black more.
Inside the case is a removable divider splitting the case into two separate compartments. On one side of the divider are two elastic holders and a netted holder. That's nice if you have items you want to stand up. It would be perfect for lubes or massage oils. If you prefer you can leave the divider out and just have wide open space. I left the divider in both of my cases although I haven't used the holders on the dividers. There are additional mesh pockets on the top of the case. The top of the chest is rounded. It attaches significantly higher than the sides of the chest which means you can pile items higher than the sides. It really is quite roomy especially with the ability to pile items on top.
I have only two complaints about this chest. First the lock is pretty flimsy. It is the same as you would find on a child's diary. Any one determined to see what was in the case could pick the lock very easily. Second the flap that closes the case has to go through the handles. Sometimes they just have a mind of their own and don't want to through the opening. To be sure, that's just a minor irritation. Overall I like the design very much.
Experience
The big question is how much can it hold? When I first got it I thought it might not be big enough for what I had. However, I was very pleased with how much they did hold. It just seemed like no matter how much I put in there was still room for just a little more. I found it could easily hold around twenty toys even with some of them in original packaging. I took pictures a few weeks ago.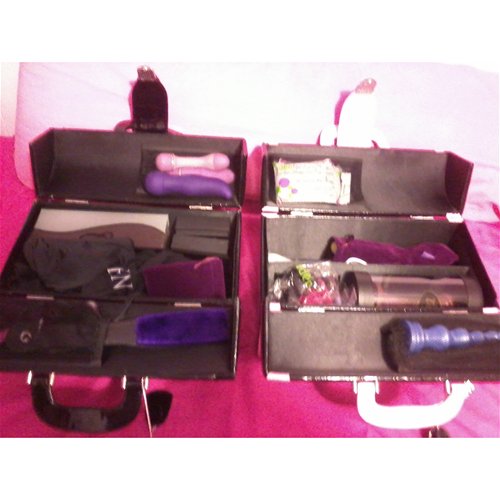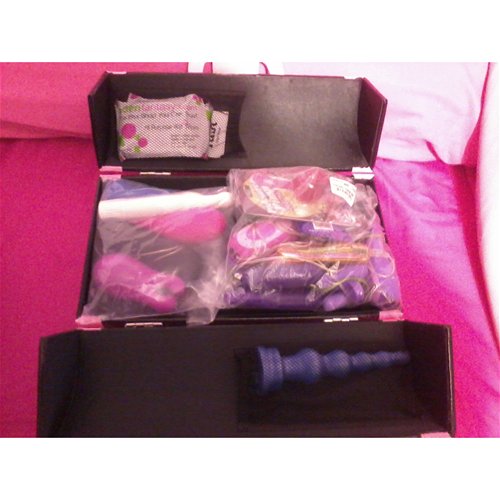 I have since rearranged a tiny bit. I have taken out some of things in the picture and added others. Currently this is what is in the pink/black case.
1. Mustang in orignial canister
2. Goddess Handle in original packaging
3. G4 Tiger
4. 3 Plugs from Beginner Anal Kit
5. Bimini Ocean
6. G spot Commander
7. Vaginal Balls
8. Tantus G-spot Dildo
9 Acute
10. Charmer
11. Echo
12. Groove
13. Harmonia
14. We Vibe
15. Sweet Embrace
16. Dream Massager
17. Black Magic Super Bullet
18. Posh
19. Clitoral Hummer
20. 3 Eden wipes
The picture shows two plastic bags on top. One of those is still in my case. The other contains about 10 rarely used bullets and finger vibes. I decided it just made it to awkward to use. While everything fit, the chest was full to the brim. It was just an additional thing to take out when looking for something in the bottom of the case. So while it fit, I found a place elsewhere for it.
Here are the contents of the Midnight Black Case
1. Fling Ergonomic Two Finger in box
2. Ergonomic One Finger in box
3. Lelo luna balls in box
4. Jopen 1
5. Jopen 2
6. Jopen 3
7. Jopen 5
8. Jopen 5.5
9. Jopen 6
10. Jopen 7
11. Jopen 9
12. Life
13. Salsa
14. Mimi
15. Layaspot
16. Dream Massager G
17. Cute G
18. Diamond Fairy
19. Fur Slapper
20. Lelo Sensual suede whip
21. Fear No Evil Feather Teaser
This box isn't as full as the other and the items were easier to organize. So it's a bit easier to get exactly what I need from this case.
I am very pleased with my two playchests. They are a stylish way to hold my growing collection.
This product was provided at a discounted price in exchange for an unbiased review. This review is in compliance with the FTC guidelines.

Thank you for viewing
Devine playchest
– storage container review page!