Not worth the price
This is a big, black, box with some nice dividers on the inside. However, for the quality, especially given the price, I am not impressed. It's big and bulky, but it fits a fair chunk of my collection. Still, I don't have the means to keep it out of sight, and that is where visual appeal counts against it. Overall, if this was cheaper it might have been worth it, maybe, but right now I can't say that it was.
Published:
Pros:
Visual appeal, adjustable dividers inside, fits a fair amount of things,
Cons:
EXPENSIVE, lock is difficult and cheap, big & bulky, poorly put together...
I both like and dislike this playchest. It's pretty big and bulky, I was shocked by the size of it when I opened the box. It came wrapped in plastic, like so.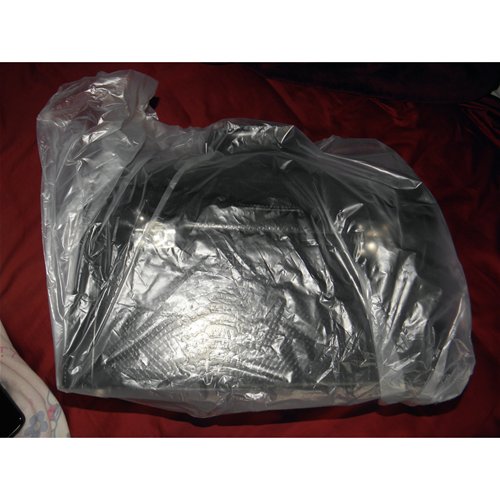 Here is a stick of deodorant in one of the top sections, to give you a sense of scale and how much space these have.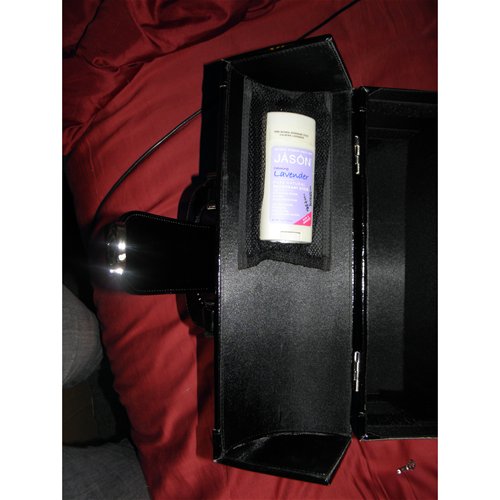 One issue that I had with this, instantly, was trying to get it open! That is a big problem obviously. I honestly started to worry about whether I would have to send it back, and if I would even want to go to the trouble of exchanging it for another one or anything like that. I fiddled with the lock for honestly about 15 minutes before I could get it open. At first, I was worried that I had thrown away the keys, but they come on the outside, attached don a ball chain, hidden inside of a little black patent tag that matches the exterior. All frustrating! Hunting the key, then messing with the lock. I don't even think I will be able to keep this locked all the time, which kind of defeats the purpose of buying such an expensive locking storage item. But who wants to have to play with a lock forever when they want to play with their toys or their partner? I CERTAINLY DON'T. This really bothers me, because this is quite expensive for it to not even have a decent lock on it. Plus, the key is tiny and difficult to manage.
One thing I love about it is that it has dividers and little netted sections to keep things in. The divider in the middle can be adjusted to better fit your collection, or taken out entirely, as it's kept in with Velcro.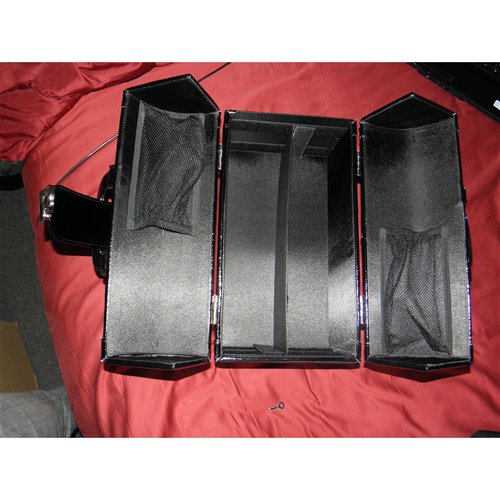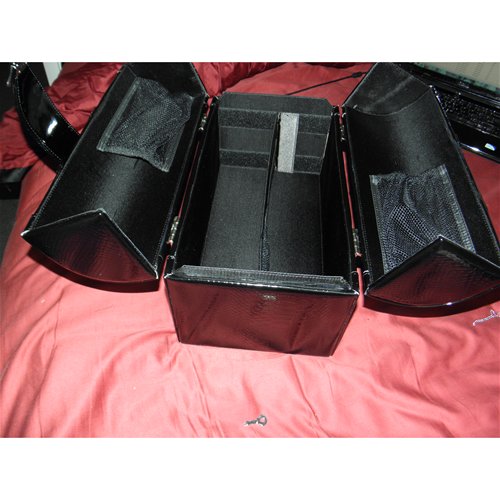 Though, the Velcro is what showed me how poorly put together this chest is. I was moving the divider in the middle and the inside wall of the chest peeled up! It went back down, every time I let go of the Velcro, but really?! Again, it really bothers me when I get excited for an expensive product taht I have to save up for, only for it to be less than ideal quality.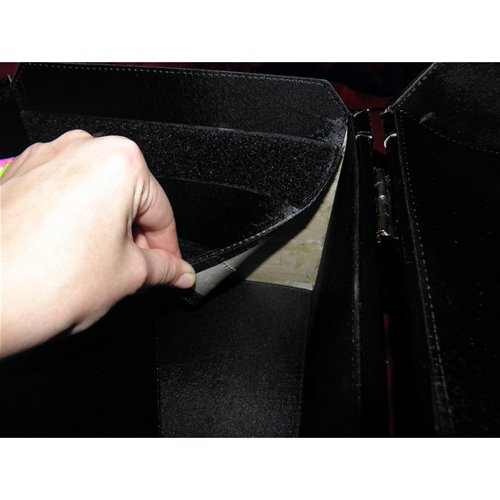 Also, I then noticed that right above that, the same flap on the inside, I can see where it's glued in and it just doesn't look neat or properly made.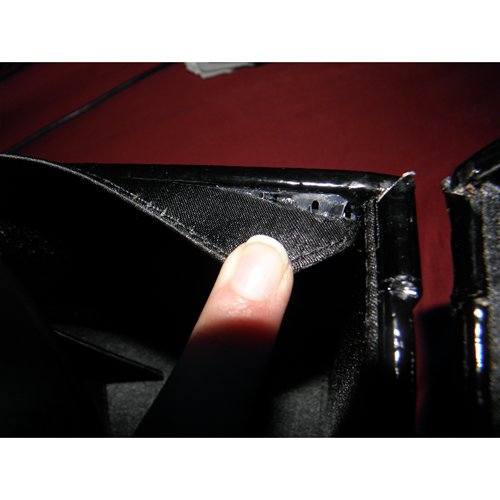 This is both good and bad for roommate living. It's good because it will keep your stuff out of sight, and locks. However, as I said, the lock is difficult. Also, you'd have to keep this out of sight if you don't want your roommate asking "Hey, what's in that big shiny black box?" Some might thinks it's makeup or something, and take it upon themselves to check it out.
Also, I'm not sure I can really call this "travel friendly". It's pretty big, but it kind of looks like a piece of luggage. Consider that once it's full of toys and gear, it will be fairly heavy. It's only 5 lbs when empty, but mine probably weighs about 15-20 now that it's full. If you have a problem lifting thins, you might want to keep that in mind.
One thing I was wondering was if this would use the same key as the
Devine corset box
, which I just got last week. It does not. Here are their keys, the key for this box is on the left, the corset box key is on the right (disregard the key with the black cover under them):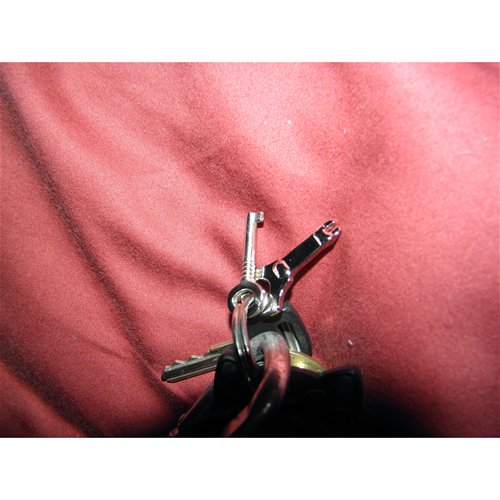 This does fit a fair amount of stuff though. It does not fit everything I have, but it fits a fair amount.
Here it is totally filled: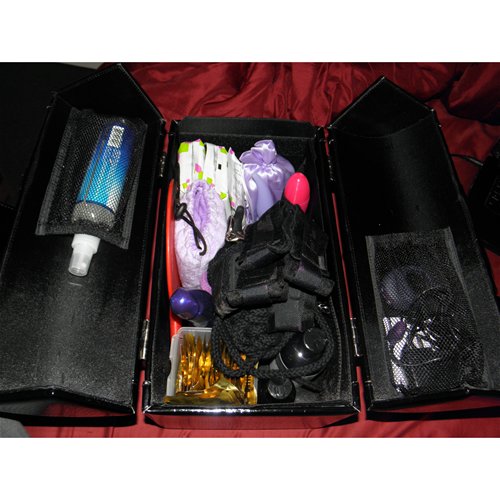 In it I have 5 packs of Eden wipes, a paddle, a Vibrating Champlette, a We-Vibe II (in it's pouch, with it's charger), Eden Fantasys Beginner Anal kit, Picobong Ako, a small Don Wands padded pouch, Hog-Tied set, Sportcuffs, 32' of bondage rope, a 4.2 bottle of Sliquid Naturals, an 8.5 oz bottle of Sliquid organics, a high intensity bullet, and a little divider (that I got a pack of 3 for $1 at a dollar store) that contains between 20 to 24 Magnum Ecstacy condoms. On the dividers in the top, one contains an 8 oz bottle of Before and After toy cleaner, the other holds my purple Mio ring and charger.
Experience
The Playchest fits a lot than the Devine toy box. Here it is compared to the toy box: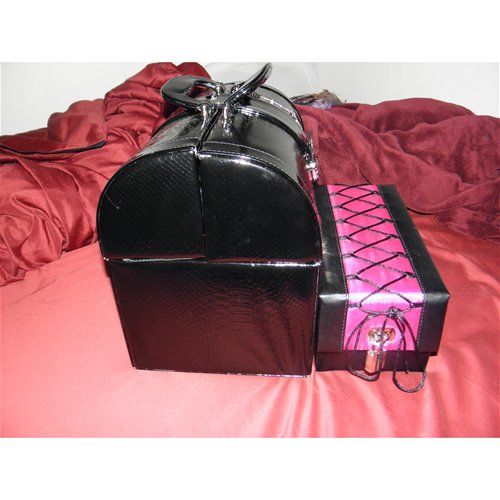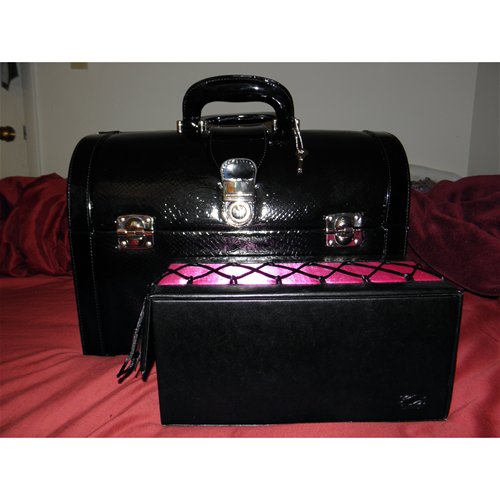 Again, this thing is big and bulky! It's 10 inches tall, factor in another inch or so due to the thickness of the handles that stick up even when they're as flat as they'll go. It's 8 inches wide, 15 inches long. One of my friends saw the picture of this on the product page when I told her I had ordered it and said "WHY is it so expensive?! And...it's not even that big!". It's big. Don't be fooled, it's pretty damn big. The catch 22 is finding a place to keep it, and the fact that it still won't fit many advanced users collections in full, or probably even half of their stuff. I have seen some people on Eden saying that they could just as easily use a makeup train case for storage. While this is true, I have a generic train case from Caboodle, it is smaller than this is. Still, those are about $20 at most, so they would be more cost effective, though you wouldn't have as much room in them or as much space overall.
Also, because of the size, this will not fit under a bed unless you have some serious risers holding your bed up an extra foot or more. It's tall, it's wide, and even storing it on it's side, it's still large. For me, like so many people, keeping toys near the bed is convenient. Honestly, some under-bed storage bins would be a hell of a lot more convenient - AND CHEAPER - than this is. I have to keep this either in a closet, if I want it out of sight, OR directly beside the bed, in plain sight where inevitably EVERYONE that comes into my room will ask "HEY WHAT'S THAT BIG BLACK BOX". Not going to lie, that annoys me a lot. If I want to be convenient, it has to be kept by the bed, can't even fit under it or out of sight near it. If I don't want anybody to ask about it, and want to make room for it somewhere else but inconvenience myself, I'd have to keep it in the closet. I'm kind of tempted to get rid of this box...It was expensive, and I don't know where to keep it that will suit my needs.
I had a lot of hope for this, but I guess everyone was right about the price. There are MANY cheaper, more discreet alternatives to this. I just might end up putting this on
Eden Classifieds
soon!
Oh, and I give it 3 vrooms because of the sounds it makes. The material is patent, so it makes sticky patent sounds when opening it. Plus, the sound of the look rustling when you struggle to get it open. I'm sure it could be heard through the door of my small room, even with the fan going. I doubt it's anything my roommate would question, but still, there are sounds.
Follow-up commentary
2 months after original review
I want to say that I've started to like this more, since I keep a good portion of my toys and gear in it, and I've added a lot more things to the collection since I got this chest. However, I still think this could be A LOT better, so my opinion of it hasn't really changed. I am still disappointed with this in a lot of ways. I can't get over the quality of this thing, or lack thereof. Especially, given the price! For the price of it - which, I will admit, is too high - I expect high quality, something that is put together perfectly. This is far from that, it has a lot of issues in the design. For one, the lock is a huuuuge issue, so I have never even bothered to try to lock it since this review, too much of a hassle. The lock has been an issue from the moment I got it, so is closing it. The top part of it, the two sides don't fit together properly, they never have. I noticed that when I got it, and I remember somebody pointed that out in the comments of the review. There are a number of other issues that I have with this, but I've already listed many of them in the original review.

I'll be honest, this is not worth the price. It's really not. Don't buy this, go out and pick up some under-bed storage boxes, or a case to keep in a closet, or even a bedside dresser. Seriously, this costs $109.99. For that price, you could by a new nightstand to keep your toys in! Don't waste your cash on this. The lock is a joke, the price is insanely high, and the quality of it is totally poor. Skip on this.
This product was provided at a discounted price in exchange for an unbiased review. This review is in compliance with the FTC guidelines.

Thank you for viewing
Devine playchest
– storage container review page!