My very own pirate's booty Playchest!
While the Devine Playchest is absolutely worth the money in my opinion, it does have a few faults. It isn't the storge bag to end all storage bags, but it is a great storage option especially for those that have a huge collection and no storage space. This is a wonderful traveling option especially if traveling with lubricants. Though made to store sex toys, the Playchest doesn't necessarily have to store naughty things. It can be used to store anything you want!
Published:
Pros:
Holds a lot, Patent shiny finish, Little compartments and dividers, Cute, Travels well
Cons:
Expensive (but worth it), More colors would be awesome, Locking system can be difficult
What is this?
The Devine Playchest is a large and well made option for toy storage. Many people, like myself, use cheap plastic bin containers to hold our sex toys. While there are many storage options on websites like Eden, most of them are on the small side. This would be an okay choice if you had a tiny collection. However, that is not the case for many toy users out there. A lot of people have a
huge
collection going on, and their collection gets bigger every month! This wonderful company has made us toy hoarders a large and in charge toy storage container! I would honestly buy more of these to use as traveling suitcases. I am a light packer, so two of these would easily be enough room to carry all of the clothes and bathroom stuff that I would need. It would also take up less room than a giant suitcase, which is perfect for me because I have a tiny Mini Cooper and we all know that those cars have very little trunk space. Plus, this thing is more stylish than any suitcase I have!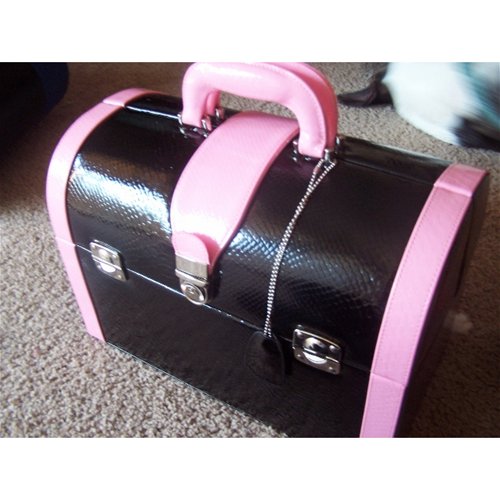 Material/Cleaning and Care:
So the Devine Playchest is made from faux-leather. This material pretty much has the same qualities as leather, but it is more friendly to those who do not like using products made from animals. Faux-leather is very strong and is capable of suffering a lot of abuse before it falls apart. It is resistant to tears and water, so it makes the perfect travel companion. It has a smell when it first arrives, but it isn't anything overwhelming. It goes away after a few days. It kind of smells like a new suitcase or luggage set would. It definitely does not smell like chemicals or anything like that. The faux-leather outside has a croco-embossed type of pattern to it. It is raised, so you can feel all of the little bumps. It makes the storage container look more polished and stylish. People will not automatically assume that this is a sex toy storage bag. It is way too pretty. Strangers will probably think it is just one of those really expensive over sized travel bags. To top it all off, the Devine Playchest has a shiny finish to it. It makes the surface really slick, so any water or other fluids that gets on it will quickly roll off. This isn't to say that the container is water tight. If dunked in some water, I have no doubt that water would find its way inside of it. It also makes cleaning the chest very easy. If you spill something on it, simply wipe it off and go on about your day. I have yet to get a scuff mark on mine, but I have heard that this is a pretty common occurance with this chest. I wouldn't let that deter you though from buying one of these. It is really well built.
The inside is made of a combination of elastic bands, elastic netting, and another material that I am not certain about. It really reminds me of nylon for some reason. Anywho, the pouches located underneath the top of the Playchest is constructed of elastic netting. It is super stretchy and allows quite a few things to be stuffed in there. There are multiple pouches like this in the chest. There are also attached elastic bands that allows a bottle of lube to be slid in. These are located on the side of the divider. This allows any lubes or other items to be always sitting upright. The elastic bands prevent the items from tipping or falling over and therefore leaking or spilling. Genius right? The inside of the chest is lined with a material that feels very common. I guess that is why it reminds me of nylon. It is somewhat silky to the touch. If anything were to spill or leak in the inside, I would simply spot clean the area with a damp washcloth. You could also use a toy wipe of you have any at your disposal. The divider can be removed if the user prefers it that way.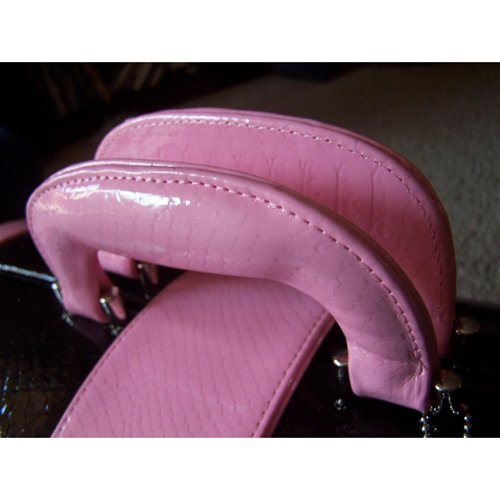 Measurements:
Length- 14 3/4"
Width- 8 1/4"
Height- 10 1/4"
Experience
Lock and Keys:
The Devine Playchest does have a locking mechanism. However, this lock is very cheap and flimsy. It could easily be picked or broken into. Fortunately, I do not have children or anyone else to lock my toys from, so this isn't such a big deal for me. I know it will be for others though. The chest comes with two keys that are hidden in the attached black tag. It is nice that the keys are able to be hidden, and it is also a plus that the keys are attached to the chest as a lot of people have trouble keeping track of their keys. The lock and keys remind me of those flimsy ones that can be found on diaries or journals. I am sure if privacy is a huge issue that you could find a way to attach a more sturdy lock onto the chest. In my opinion, this part is the cheapest quality of chest. Everything else is extremely well made. The lock is sewn onto the pink strip that goes underneath the handle. The lock is then inserted into the slot that is located on the front of the chest. You will know it is closed securely once you hear the lock click into place. It was extremely difficult to get the lock to click for the first couple of weeks as the strip of pink faux-leather was very rigid and stiff. Over time and use, it has softened up and become more flexible. I also packed this thing as full as I could get it, so that also played a factor in the whole closing situation.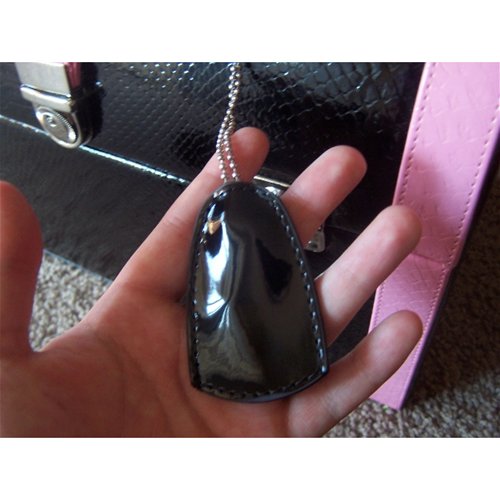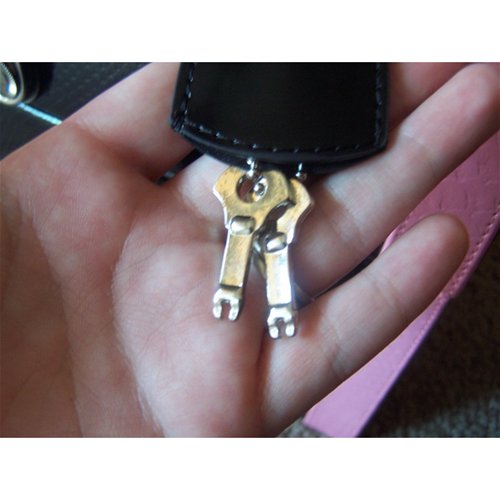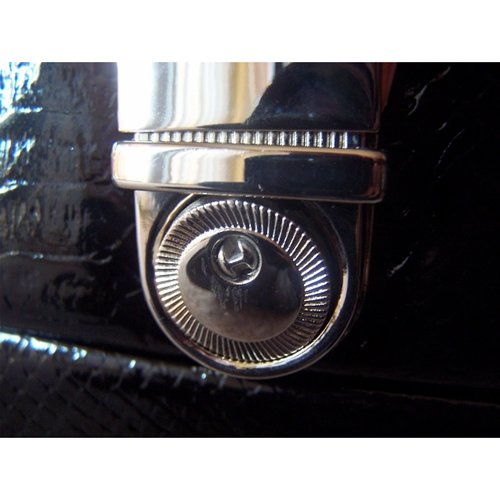 Items in Chest:
Swirled Blue dildo with pouch by Don Wands
SSA Glass dildo with pouch
Cobalt Wand by Pyrexions in original packaging
2 Xhale Glass dildos in one pouch
Moon Plug by Xhale Glass with pouch
Violet Moon Plug by Xhale Glass with pouch
Smart Wand Large by Lelo with pouch
Fairy Mini Wand with pouch
Rhapsodia anal beads by Close2you with pouch
Flexi Felix by Fun Factory
The Big End by Doc Johnson
Love Pacifier Advanced by Cal Ex
Vr9 by Jopen
Phallix dildo with pouch
Smart Wand Medium by Lelo in pouch
Bloom by Leaf with pouch
Jollet by Jollies
Vr3 by Jopen
2 packages of Eden wipes
Weighted Nipple Clamps by Cal Ex
Passion Bullets Slim and Mini-probe with control pack by Cal Ex
Black Magic bullet by Doc Johnson
Xtreme Pack G-spot bullet with control pack by Edenfantasys
Impulse multifunction hyper bullet by Cal Ex
Egg Ecstasy with control pack by NMC Ltd
Bedroom Kandi Kandi Kisses by OhMiBod
Silicone Finger Bunny by NMC Ltd
Butterfly Clamps by Spartacus
Multispeed basic vibrating bullet by Edenfantasys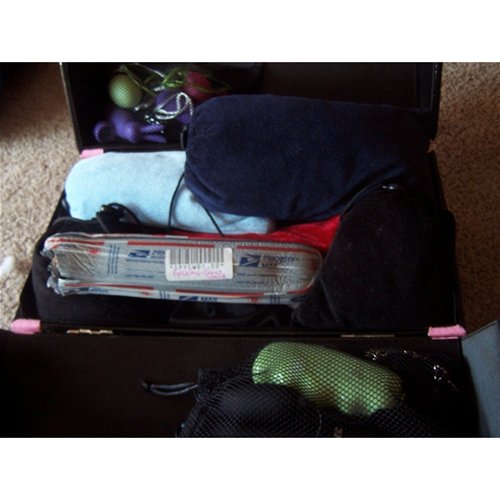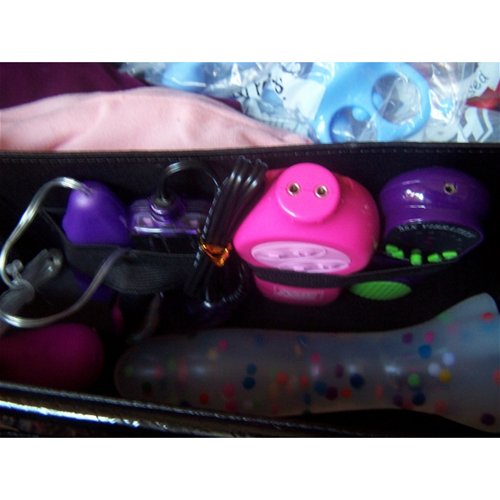 This product was provided at a discounted price in exchange for an unbiased review. This review is in compliance with the FTC guidelines.

Thank you for viewing
Devine playchest
– storage container review page!