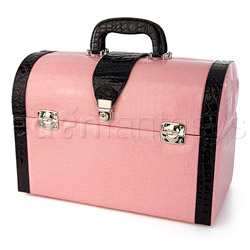 Devine playchest
Storage container
by DevineToys
Wonderful Storage
This chest is probably best for those who don't absolutely have to have locking storage since the lock can be a bit finicky. It does hold quite a bit of stuff and looks absolutely adorable while holding all of your things. If being able to lock isn't your number one priority, snag this if you can find it.
Published:
Pros
Adorable, Holds a lot of stuff, Locks
Cons
Price, Lock can be finicky, Discontinued
The Devine Playchest is a pretty awesome little thing. Well, maybe not so little, but still. There wasn't much packaging that came with, just a plastic bag, which was really nice. It also doubled as a small garbage bag so it didn't just get tossed. At least alone anyway.
The chest is moderately sized, certainly not small but not overly huge either. The curved doctor's bag design of the top lets you stack extra stuff up so that you can have things stand taller than the side wall and it'll still close very nicely. It came in 3 different designs, mine is mostly pink with black accents along the edges, the handles, and the securing strap. Everything has a crocodile type look to it, with irregularly sized scales all over the place. The pink has a neat painted effect to it too. There's a nice sheen to the material, and if you were to get anything on it you could simply wipe it off with a damp rag. The only downside to the material is that it also likes to sort of stick to itself, especially in humid situations. It hasn't been too bad, but on a few occasions it's taken a few extra tugs to get it open.
It's a total of about 10" tall with the bottom box portion being 6" tall and the curved top being about 4" tall in the middle. The base dimensions are 8" wide by about 15" long. On each of the long sides there are two hinges that allow the top of the chest to open outwards. From the backside there's a strap that goes across the two halves of the top and underneath the handles. It's about 2 1/2" wide and about 13" long including the clip that goes into a clasp. This is the locking mechanism, and it's pretty finicky. It works a lot like a seatbelt, where you insert the clasp, it clicks, and you press on a center button to release the clasp. Once you have it all settled you can lock it with the provided key. Insert key and twist to the right to lock it, twist to the left to unlock it. I'd like to tell you that it's super easy and totally awesome, but it's not. It may become easier to use with more use, but while I was successfully able to get mine to lock and unlock, I had a difficult time doing it and won't be locking it anymore. Getting the clip out can also be a little difficult, and I've found what seems to work best is pressing down on the button with one hand and pulling the strap from the top. These things affect you the most if you do definitely need to lock your storage or if you're getting into the chest often, but again, extended use may make things easier to maneuver.
The inside of the chest is pretty roomy. Inside the base is about 5 3/4" tall, 7 1/2" wide, and 14 1/4" long. You can have this be one large space, or you can take advantage of the included separator and split yours into two sections. It's almost 1/4" thick, hard, very sturdy, and secures on each end with velcro that also holds well. The top sections are shaped like pie quarters, and each have a pouch that can be stuffed with goodies. Each pouch is stretchy, "secured" with elastic at the end that sort of closes down on anything that might want to try and escape, and is about 7" long and will accommodate being stretched to at least 7 1/2".
The possibilities for what this thing can hold are almost endless. I purchased mine to hold our "kinky" things that we didn't really have a place for elsewhere. It's currently holding most of our collection; at least all of the stuff that we could both find and fit in there anyway. It wouldn't fit our
crop
, but it did hold pretty much everything else.
In the following pictures you'll see it holding our
Do me doggy style
kit,
sling
,
door swing
,
little leather flogger
,
liquid latex
,
Prince harness
, and the three dildos we use most with it; the
Please
, the
Flare
, and another dildo from Tantus. Not pictured are the cuffs from our
under the bed restraints
, our
paddle
, and our
Acuvibe
. Even with
all of that
stuff in there, it's filled up to just about the top of the bottom part with a little bit of room to stack above it or add to the pouches.
*********
*********
*********
Experience
I snagged this on a buyout when I learned that we wouldn't be carrying it anymore. Unfortunately at that point I hadn't found out that it wasn't on Devine's website anymore and feel a little silly reviewing something that probably isn't available for sale anywhere anymore. That being said, I do still really enjoy this little chest. It does hold a bunch of stuff and while it doesn't exactly blend in, it doesn't stick out in a way that says "I hold naughty, naughty things" so I'm ok with that. For me, it doesn't really matter if the lock works and while I tested it before I started filling it, I've left it unlocked since. My overall opinion is that if you want the size but don't necessarily need the locking ability and you have the money and can find this, go for it. Otherwise there are definitely cheaper options out there for discreet and lockable storage.
This product was provided at a discounted price in exchange for an unbiased review. This review is in compliance with the FTC guidelines.
Thank you for viewing
Devine playchest
– storage container review page!