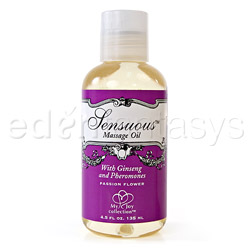 Sensuous
Oil
by Kingman
The Scent of Heaven, in a Bottle
Sensual Massage Oil is full of natural goodness, made from rich, fine Hawaiian oils and natural herbal and floral extracts. It's a warm, sweet, nutty scent that is neither sugary nor fake. It lasts for a long, indulgent massage and absorbs into the skin fully, leaving no greasy residue. Excellent for any application.
Published:
Pros:
Amazing scent, soft, sweet, natural, no petroleum, parabens, glycerin, long lasting.
Cons:
None
I have a lot of massage oils and lotions and potions. They're kind of my "thing". I use them incessantly as not only massage aids but in place of lotion or in my bath/shower. Of all the massage oils I've tried, Sensuous is my favorite.

It's loaded with natural ingredients, which is a big plus. Mineral oil (petroleum) based products and my skin do not get along so I always look for products that are food based oils; nut or olive or seed oils. This one is that. It's ingredients include sweet almond, safflower, sesame seed, avocado, jojoba, macadamia nut and kukui nut oils. All of these oils are both light (compared to petroleum based oils) and yet rich and luxurious. They provide moisture and a long lasting slickness yet absorb into the skin, leaving it soft and silky but not greasy or coated.

Sensuous Massage Oil also contains herbal extracts, vitamin E and oriental ginseng. Good stuff like rose hip, Hawaiian white ginger, juniper berry, evening primrose, jasmine, sunflower petals, rosemary and lavender. It sounds like an odd mix, like it might smell a bit weird, but the exact opposite is true.

Beyond how well this oil works -- and it does, in all applications -- what I love most about it is the way it smells.

It's soft, almost like vanilla. At the same time, it's nutty but not that fake nut smell you often get. It's sweet, but not like food or candy or sugar. It's a natural sweetness that surrounds you and engages your senses in the most amazing way. Despite all the floral additions, it has no flowery smell at all -- at least not in the way we normally smell floral scents. It does, perhaps, smell like a sweet tropical paradise.

I can't even find the words to explain it.

Perhaps it's the pheromones, as Sensual Massage Oil also includes them.

All I know is I will certainly, definitely, positively be ordering more of this stuff. It leaves my skin so soft I could weep with joy touching it. It sinks in, vanishing with no oily sheen. It makes for an excellent and long lasting massage. And it makes me feel so very, very good when I use it.

And the scent.

I cannot say enough about the scent.

It is like the scent of a sensual heaven, bottled up just for me.

Clean up, if you feel the need, with soap and water. This oil is non staining, not tested on animals and body safe. Use with condoms is not, however, recommended.

The bottle is also not very travel friendly as it is plastic with a flip/press top cap and they tend to leak.
Follow-up commentary
3 months after original review
So I tried my damnedest in the review to describe the scent of this and I think I failed. I'm bad at that. But I wanted to point out that I found something you can find in the stores that smells super, super close. In fact, I bought it just to go with this, just because it smelled so similar. It's called Skin Milk and you can get it at... oh geez... Kmart, Walmart, Target, all those big stores. It's in a opaque plastic bottle shaped like an old fashioned milk bottle.

Not to advertise that stuff but if this stuff interests you but you're curious about the scent... next time you're at Teh Walmarts take a whiff of the Skin Milk and you'll know whether you would like the Sensuous Massage Oil.

I still do. A lot. Every time I use it it makes me feel good. I sniff myself compulsively and obsessively. It's... heaven... in a bottle.
This product was provided at a discounted price in exchange for an unbiased review. This review is in compliance with the FTC guidelines.

Thank you for viewing
Sensuous
– oil review page!