When "Ooh" turns to "Ow!"
I've loved just about every product by Fun Factory that I've had. Unfortunately, I really didn't like this one and due to a reaction, I'll never be able to use it again.
Published:
Pros:
Reduces friction
Cons:
May cause a burning sensation
And so I continue my tests of several lubricants. This time up is Fun Factory's Toyfluid, which they tout as being ideal for sex toys. However, like all erotic products, one person's dream product is not ideal for everyone.
Let's start with the ingredients of this water based lubricant:Aqua, Glycerin, Ethoxydiglycol, Guar Hydroxypropultrimonium Chloride, Hydroxypropylcellulose, Citric Acid, Benzyl Alcohol / Methylisothiazolinone/ Methylchloroisothiazolinone. Those that are prone to infection will probably note the glycerin content.
Toyfluid reduces friction effectively like most other lubricants on the market. It is also very runny but easy to spread across toys and skin. Whether you like that or not depends on your particular preferences. You can see in the photo below how the viscosity stacks up against some other lubricants. Clearly, although Toyfluid is pretty drippy, it's not as drippy as some other lubricants.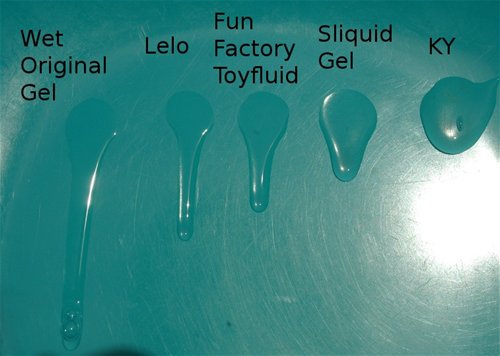 If you are familiar with my lube reviews, you know that I like to do a little experiment in which I take a small amount of lubricant and rub it between my hands to see how long it lasts and if there is any residue left over. Here's a brief comparison of Toyfluid to Lelo and Wet Gel.
Lelo: Sticky and soapy* after 30 seconds of rubbing. Very sticky after 1 minute. Mostly gone and left a very sticky residue by 1:30. 
Wet Gel: Reduced amount and soapy at 30 seconds. Lots of friction at 1 minute. Gone and leaving a slightly sticky residue by 1:30.
Fun Factory Toyfluid: Very soapy at 45 seconds. Sticky at 1 minute. Very sticky residue left at 1:30. 
*By soapy I mean bubbly and slightly sticky. Think putting liquid hand soap onto dry hands and rubbing. Similar effect. 
And now on to actual use. I'm sorry to say that Toyfluid is just not going to work for me. I placed some on my Comet G and tried to use it. I found that it does pretty effectively reduce friction, as the Comet G is a toy that has a lot of drag. After about two minutes, I had a sensation of what felt like a cross between burning and ice on a small portion of my labia. I stopped using it and tried to clean up, figuring that I was having a reaction to something in it. A few minutes later, the cold burning had spread to my entire labia. Even though I wasn't in intense amounts of pain, I did decide that I should probably never use Toyfluid again, especially since the burning lasted for quite a while afterward. Talk about a mood killer.
At this point, I've reviewed 5 different water-based lubricants (KY Jelly, Wet Original Gel, Lelo, Sliquid Organics Gel, and Toyfluid). Out of all the water-based lubes I've tried, Sliquid is still my favorite. I wish I could go back and give it a better rating now that I've tried so many others. Although Sliquid does not last very long and may need reapplication, it's ingredients are better for the body and have never given me a reaction.
This content is the opinion of the submitting contributor and is not endorsed by EdenFantasys.com

Thank you for viewing
Toyfluid
– lubricant review page!