2 Minutes to OOOOOOOHHHHHH
Oh yes, I had to do it. I couldn't be satisfied with just two members of the Je Joue family, I had to go for three. She had a very big reputation to live up with her sisters UMA, and MiMi. She did not fail. As a matter of fact she has climbed the ranks to My 2nd top toy with the 1st being Uma. I literally got my package and ran to my room. Upon insertion it didn't even take 2 minutes and a few button pushes to start her curving and I was gasping. The curing neck is an awesome feature.
Published:
Pros
Wonderful Velvety silicone
Rechargeable
Powerful
Waterproof
Warranty
Flexible
Cons
Weird feeling when you bend her neck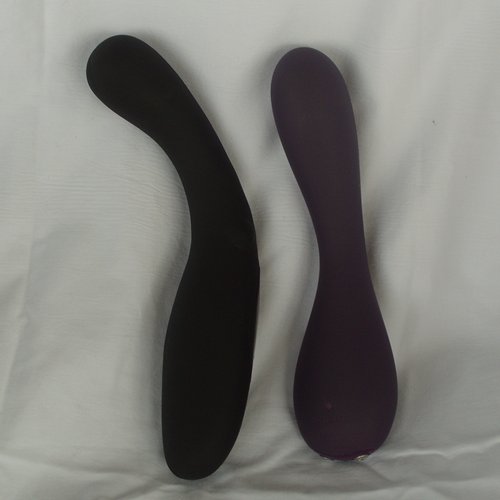 Introducing G-Ki
G-ki has a different job than that of her sisters. Her job is a combination of her sisters job and she has other special abilities. She has a totally different shape and she has a bendable neck that other toys just cant do!
G-Ki is a dual purpose clitoral and G-spot vibe. You can insert her and use her as a straight g-spot vibrator or bend her neck and rock her to hit both your g-spot and your clitoris. Or can just use her "head" to stimulate your clitoris. You can thrust her, you can rock her. She isn't intended for anal play but I bet with a very careful partner and her neck bent that she could be used in this manner. She doesn't have a wide base so please use caution. The doctors don't typically return the toys they remove from your rectum so I would hate for this to be thrown in the biohazard bag. (Yes, I do know this I am a nurse who works in the ER!)
G-Ki is different from her sisters. Uma and MiMi are both a hard plastic with the silicone overlay. G-Ki has a spongy type feel to her head. She is squishy and soft this way she doesn't injure your innards.
G-Ki comes dressed in the same sleek sexy matte silicone that her sisters wear. Surprisingly, this silicone isn't the lint magnet that most silicone toys are. Silicone has an Eden safety scale rating of 10. She is hypoallergenic, nonporous, latex and phthalates free. She comes in Purple, Lilac, Rose, and Black. She is smooth and silky. No textures present. She has no odors and no I didn't taste her. G-Ki can go swimming and go to the shower as she is completely water proof.
She does have two areas on her right side that are soft push type buttons are the best way to describe them. One is located towards her head.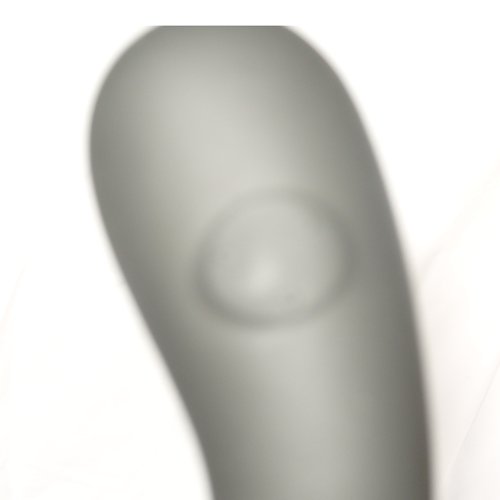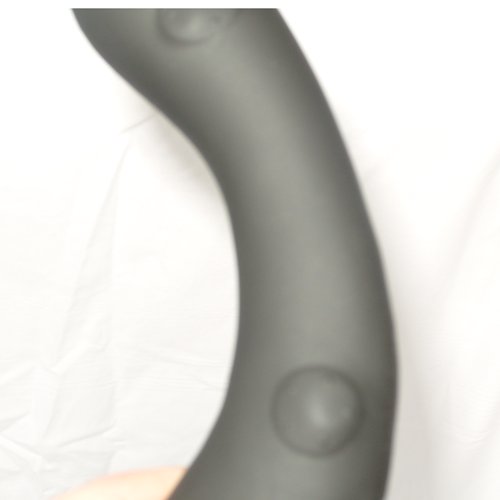 The other is located at the top of her body. These are where you push in while putting pressure on her head end and she begins to start to curve. This is her unique and special function. She curves to form a perfect "fit" so she hits you just right in all the spots! One of her Cons is the sensation that you feel when you are bending her neck. She kind of POPS. I get worried that I am hurting her but, she still performs perfectly.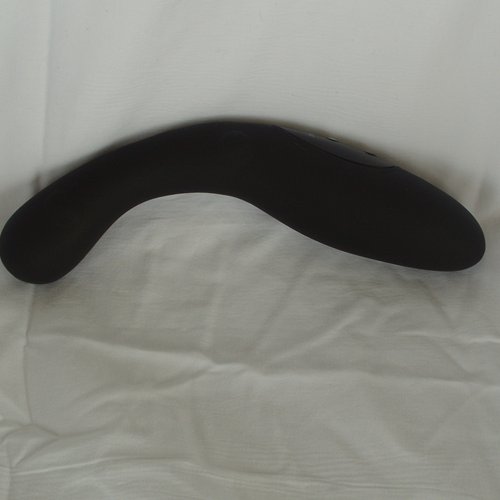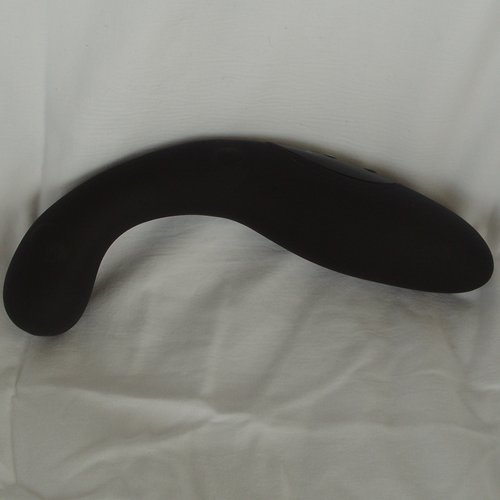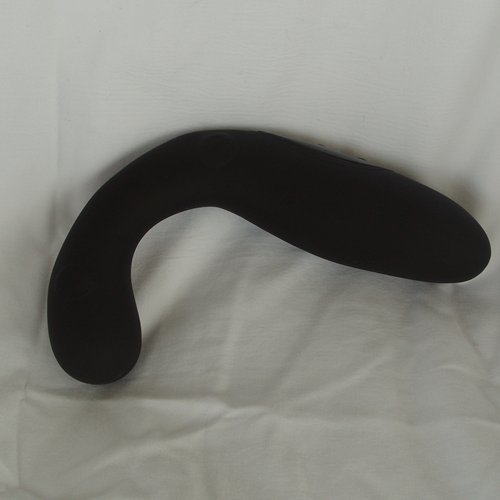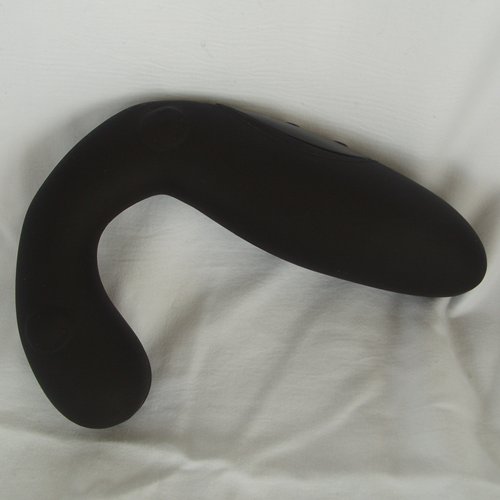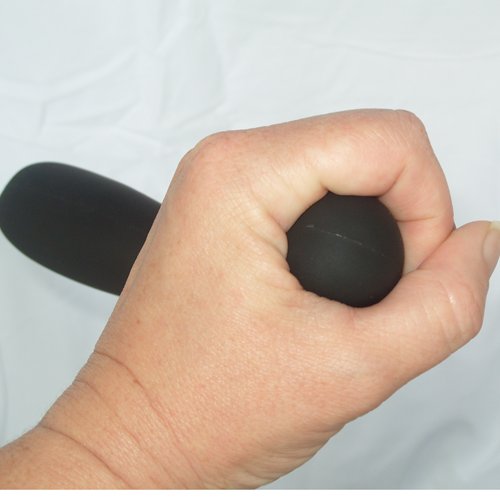 G-Ki is 9 ½ inches long with an insertable length of 5 ½ inches. Her head is 2 inches in diameter and her neck tapers to a diameter of 1 ½ inches. Her body or handle area has a diameter of 2 ½ inches.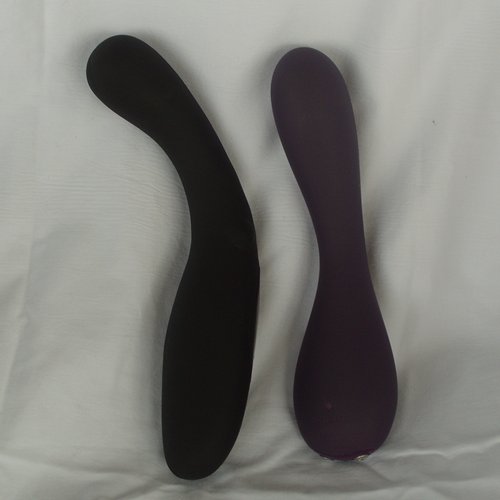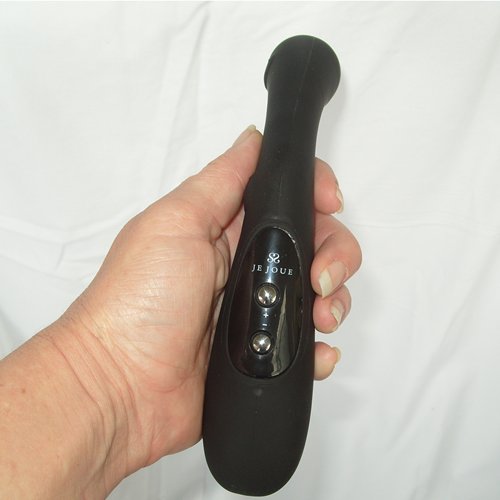 G-Ki has her control panel located in her body area unlike her sisters who have their controls on their bottoms. But since she doesn't have any real bottom this would be quite impossible. G-Ki's controls are also different from that of her sisters. She has a + button and a - button. You simply push the + button to turn her on and to start cycling up the vibration settings and the vibration patterns. To turn her off you push and hold the - button. You can also return to your level by pushing the - button if you feel she is going too fast for you or if you liked the previous pattern better then this one. Another sweet feature of G-Ki is that if you turn her off, she remembers your last setting and that is where she will be when you turn her back on.
G-Ki is very quiet compared with her sisters, she can barely be heard above the covers. She packs quite a punch and she is just as strong as UMA and nearly as strong as MiMi. She has deep rumbly vibrations.
G-Ki has 5 different levels of vibrations and 5 different patterns of vibrations. Her vibrations are simply from low to a really rumbly fast you have the five to work your way up to the pulse patterns.
1 .On and Off pulsations
2. Continuous pulsations
3. Rollercoaster's from a low to medium
4. Long strong pulsations
5. Medium pulsations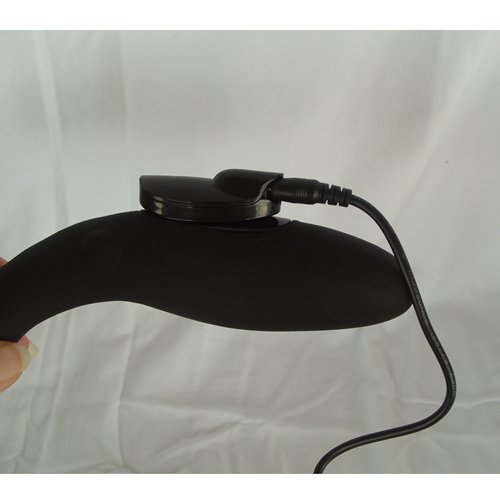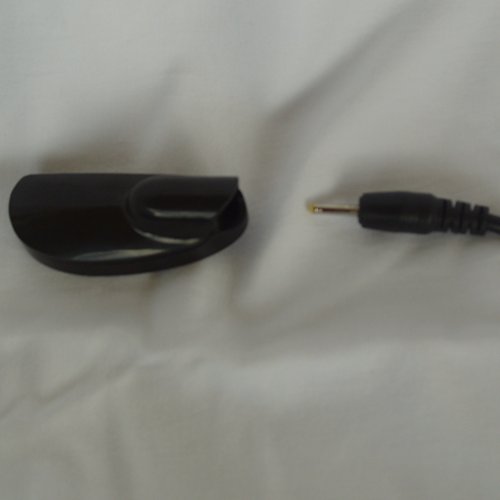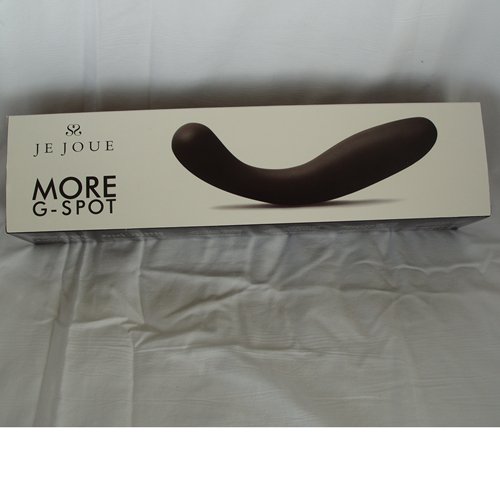 Experience
Continued....
G-Ki is easy to care for, number one keep her away from her sisters and other Silicone toys, she can end up trying to mate and ruin her finish. You must not use any silicone or hybrid lubes as those too can hurt her finish. She cleans up easily with antibacterial soap and water, toy sprays, Eden wipes. You can wipe her down with a 10% bleach solution. Don't let her soak in the cleaning solutions. Her motor doesn't allow for dishwashers or boiling.
G-Ki is concerned about the environment and the costs of using toys, she doesn't take batteries, she prefers to be charged up with her special charging cable. Her charging cable is different from that of her sisters. Her cable is still magnetized, but it has a special oval shaped piece that the cord attaches to via an AC cord. Her cable is 55 inches long. She doesn't come with a charge so you need to plug her in immediately. She takes approximately 2 hours to fully charge. She has a light on the bottom of her control panel that flashes when she is plugged in and charging, the light will be solid when she is completely charged. If you don't have the oval piece positioned correctly she will not charge. Her light is different from her sisters, it doesn't have any markings around it so it really isn't noticeable if it's not on. So if you are like me and didn't position the charging piece properly and just walk off with no blinking light, when you come back in 2 hours to play you will still have a dead G-Ki.

G-Ki is presented in an elegant black box with the Je Joue logo. Her outer sleeve proclaims " MORE G-Spot".
Follow-up commentary
4 months after original review
This one is still a favorite, it is not used as much as Mimi or Uma but it is still high on the list. I am most impressed with all of my Je Joue toys!!
This product was provided at a discounted price in exchange for an unbiased review. This review is in compliance with the FTC guidelines.
Thank you for viewing
G-Ki
– sex toy review page!