G-Ki My G-Spot
The G-Ki by Je Joue is a luxury vibe made for g-spot stimulation. The vibe bends and to couture to your anatomy. The G-Ki is as deep rumbly vibes much like the MiMi, but it is not quiet as quiet. I think this vibe is awesome and I highly recommend it. If you have a g-spot, you should get a G-Ki!
Published:
Pros:
Adjustable, Waterproof, Rechargeable, Silicone, Deep Vibrations, 10 Functions, Deluxe Packaging
Cons:
No Storage Pouch
The G-Ki by Je Joue is a unique g-spot vibe that adjusts to your anatomy. Unlike other g-spot vibes that stay at one angle, you can adjust G-Ki to meet your specific needs. This vibe is great for experienced users who know what they need and beginners since it is easy to adjust. The G-Ki has two buttons to control the functions. One is a (+) and one is a (-). The (+) turns it on and takes you through the settings. To turn it down just press the (-), holding it down will turn it off. The G-Ki offers 10 different settings. The first 5 are a steady vibration and the 5 settings are the variable pulses, escalations and patterns of vibration.
The G-Ki also offers two adjustment buttons on the side of the shaft. They are raised and when depressed will change the angle of the G-Ki. Just depress them both at the same time and you can adjust G-Ki at the angle you need it. Be careful not to force it to move, you will void the warranty if you break it this way. When the buttons depress they will "click" and each setting will make a small click when it is in place.
This is the G-Ki fully extended.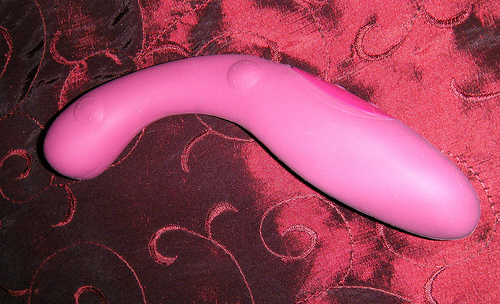 This is the G-Ki fully bent.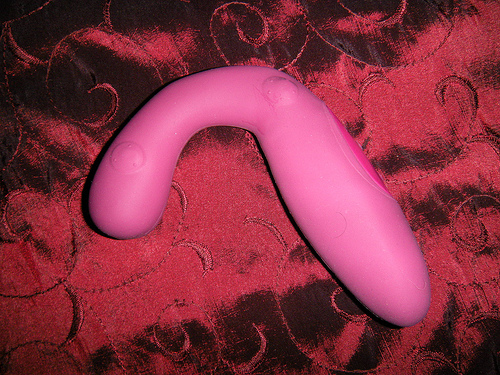 As you can see, G-Ki offers a variation of curve to meet you at your g-spot, where ever in your anatomy that may be. The vibrations on G-Ki are rumbly like the Je Joue MiMi, but not quite as strong. The G-Ki is almost as quiet but the motor and flexibility give the sound a bit more of volume. This toy is very quiet, but not as much as the MiMi. The vibrations and patterns are great for g-spot. You can either hold this vibe on or use thrusting pressure on your g-spot. The G-Ki hits my g-spot every time. I really like this vibe. This vibe can also be used for clitoral stimulation. You can angle this vibe to hit both simultaneously. The G-Ki is also a bit maneuverable, so you can bend it a bit. Just be careful not to get too carried away.
The G-Ki is made of pure silicone which has a lot of flex to it. The G-Ki and is fully waterproof. This means you can take the G-Ki into the shower, tub or pool and it will still work. This also make clean up a snap! You can use a sex toy cleaner, soap and water or a 10% bleach solution to clean G-Ki. G-Ki will work with water-based lubricant. Since it is made of silicone, do not use a silicone based lubricant with it.
The G-Ki is also rechargeable. The recharger is magnetic clip that fits over the metallic buttons. The magnetic charging port actually snaps onto the charger, I did have it come apart on me but it snaps back together very easily. Once you have the charger connected properly, the light comes on the G-Ki. Two hours of charge will give you two hours of play time with G-Ki.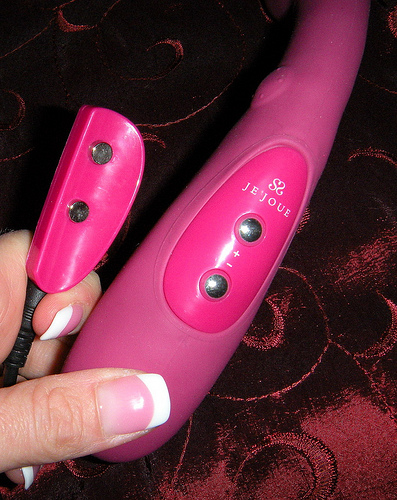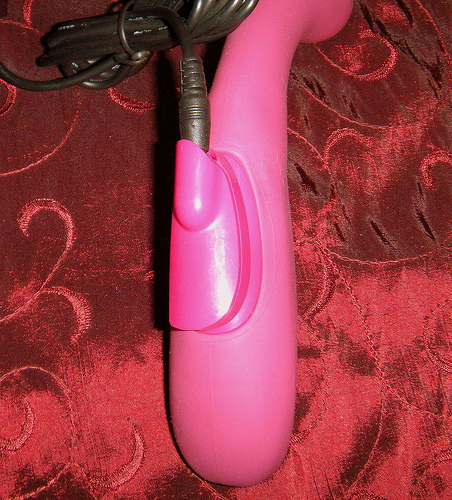 The packaging for the G-Ki is very deluxe. This would make a great gift. The packaging has a foam cut out of the toy and is good for storage, unless like me you have no room for a big box like this. The only thing I
can
complain about is that it does not come with a pouch for storage. Je Joue offers a full one year warranty on parts and labor.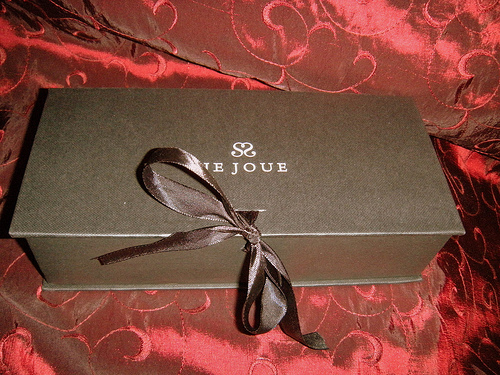 I apologize in advance for the white out on this pic. What you don't see is the warranty and instructions for the G-Ki.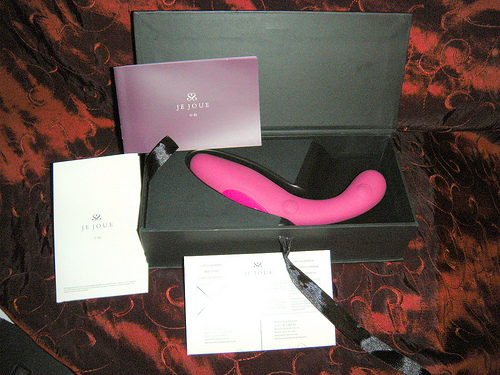 Seriously, if you have a g-spot, you should get a G-Ki. This toy is awesome. Even if you are not sure where it is. A little time with G-Ki will help you to find your g-spot. This toy is pricey, yes, but it comes with a warranty and offers much for functionality. I really love my G-Ki!
This content is the opinion of the submitting contributor and is not endorsed by EdenFantasys.com

Thank you for viewing
G-Ki
– g-spot vibrator review page!