Masturbation made easy! Hands free!!!
Ever hate the fact that you were born with one pair of hands? And that you've got to make a choice and either use one hand to keep your lips parted or to toy with your breasts? It's the pot of gold! Masturbation made lazy. Hands free vibrator!!!
Published:
Pros:
crotch hugger, hands free play time, deep vibrations, waterproof
Cons:
the control panel is easy to use but finicky
Made from nor-porous TPE giving the "curve hugger" a velvety, micro-fiberishy feel and providing a wee bit of drag when in use. His shape reminds me almost of a space ship, with his curves hug your whole vagina. He's four inches in total length, and two and a half from wing tip to wing tip wide. His ergonomic design reminds me of holding onto a computer mouse, with the my index finger on the control panel.
Pro's: his shape. That is the best possible pro. He is a crotch hugger. He hugs your curves perfectly and is the very first hands free toy I've ever met. He not only hugs and snuggles between your labia, but is one of the best shoulder/neck massagers I've felt. The way that curve feels over your skin, and just tucks so perfectly and without needing my hands to hold it there, makes it a wonderful adventure!!! His tip is just pointy enough to provide the most pin point of clitoral stimulation and change the angle slightly and you've got so much more covered area. With his motor near the tip, his deep and thumpy vibrations can be felt through the whole toy but most strongest at the tip. You can lay face down and use him, use him laying down while toying with your nipples and scrolling through an erotic story. He can be totally hands free!!! Better than chocolate is also waterproof up to one metre. Even though he is battery operated, he lasts for over 7hours on a fresh pair. Dedicated on/off button on the tail end. One steady vibration, with two patterns of varying intensity.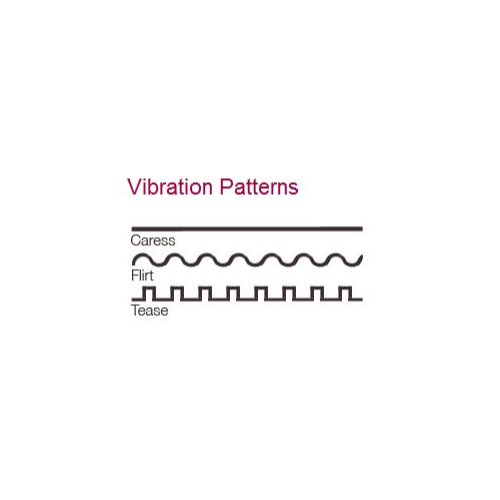 Con's: He's battery operated. I wish he was rechargeable, as the battery compartment is at times finicky and requires a certain angle to get it back on. But once you figure it out, it becomes easier. Better than Chocolate has a touch control slider. It's a novel idea, but for me it falls short. I do like how easy it is to "lock" the toy into one setting, but I find if you want a boost in power suddenly, you have to unlock it, and then slide up to a higher setting. This toy does have a learning curve, and once you figure it out it does become much easier. If you are using it hands free between your thighs without it being locked, you need to be careful as sometimes, your thighs can actually change the vibration patters.
Use: Better than Chocolate is designed as a clitoral vibrator, and works smashingly with the toy held in your hand like a computer mouse, your finger controlling the settings like a mouse roller or as a hands free clit toy. You could insert him just a little bit and massage your vaginal opening, or your anus. But I'm personally not going to try him as an anal toy. You can also use him as a neck shoulder massage. With his unique shape, I feel comfortable tossing him into my purse and using him as a neck massage tool without anyone thinking anything of it.
Lube: Personally, I only use water based lube, but because of the material, you can use silicone lube as well.
Cleaning: Hot water and mild soap and rinse well. Make sure you use a toy brush around the battery cap, the control panel and the Nomi Tang symbol on the underside.
Packaging/Storage: Better than Chocolate comes to you like any other high quality luxury vibe in a hard white cardboard jeweler style box. The box is lined with white satin, and when you first open it, Better Than Chocolate is nestled snugly within. Enclosed in the box is an instruction manual which I would strongly suggest reading to get a better idea of the control slider. One of the things I love about many luxury toys is a storage pouch. His is white satin with a very light bluey grey liner. All of this is in the jeweler like box, and that box is housed in a light cardboard sleeve. I've not yet stored Better Than Chocolate, I leave him out and within reach. When the novelty wears off, I'll be storing him in his pouch. And with his unique design, no one will know what he is really meant for.
Level of Play: This guy provides some deep thrum like vibrations that echos through the whole of the toy. Because of his novel design shape, and the deeper vibrations, the ergonomic design, I feel this toy can be used by all levels. I've yet to use it in partner play, but I do feel that men would love the high techyness of the touch controls to use on their partner.
Experience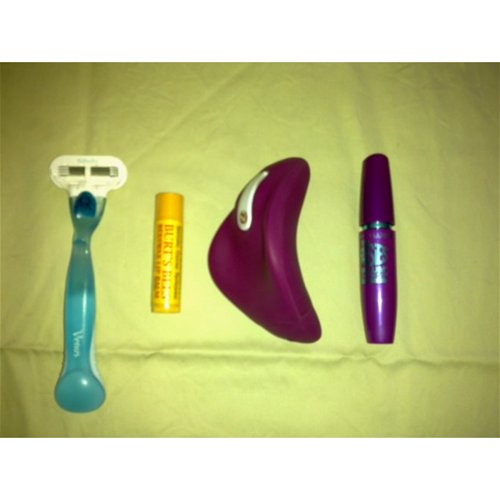 Better than Chocolate comparison picture with (left to right) Venus razor with a regular head, tube of Burt's Bee's Lip cap, Better than Chocolate, and a tube of Maybeline's Falsies mascara. To get a great idea of what he is like, take your middle finger and rest it on your vaginal opening, then let your hand just settle and curve to cup your pussy and mound. That is the whole area that he can cover and you can feel the vibrations through the whole toy.
How to use the control panel: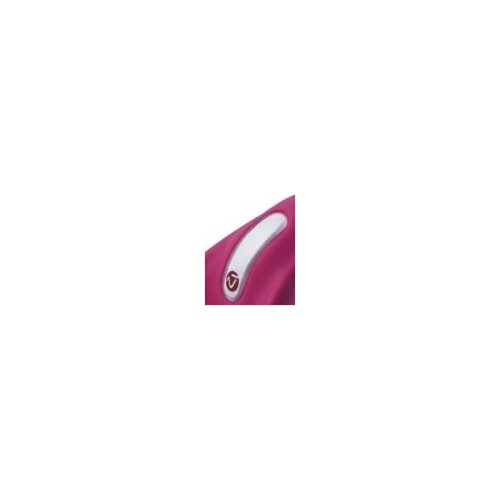 This is what the control panel looks like up close and personal, and in the way you'd see it if you were holding it in your hand.
When you turn it on, the red NT symbol lights up blue. The power level it is first turned on is medium-high and a steady vibration with the NT logo in led blue. To reduce the power, you slide your finger from the top edge to the symbol and the setting is reduced. Do it again to lower it. If you want to increase, just do the reverse.
If you'd like to explore the two programmed vibration patters; with the toy on, holy your finger on the NT logo for three seconds. The instructions say two seconds, but I find three seconds make it work. On this setting called "flirt", you can decrease the wave like patters by reducing the pattern or increasing the patter intervals. Just slide your finger up or down. To explore the second setting called "tease" just hold your finger on the NT logo again for two seconds, and bob's your uncle!!! To lock Better than Chocolate on a setting that you just hold down the top end of the control panel for three seconds and the NT logo will blink red.
To reset everything, just turn the toy off with the on/off button at the bottom of the toy.
What I have loved most about this toy is the ability to play HANDS FREE!!! I write a lot of erotica and read a fair bit too, and one thing I hate is not having enough hands to properly play and scroll or write. With Better than Chocolate, I can slip him between my labia, turn him on and get to writing while he works my clit. Ever just want to watch or read something and just have a hands free masturbation session?
I have found my first hands free vibe! Call it jackpot or the pot of gold.
Okydoky. I am getting a little too into this review and singing it's praises. So I'll stop here!!!
If Nomi Tang takes advice and comes out with a new product line, I'd personally suggest moving to buttons with an LED background light, and making this toy rechargeable. I like the shape and the power settings just the way they are. But then again, I'd never say no to having more power options.
I recently wrote a review on my blog about him, for additional details, and some tips on use, feel free to
take a gander
.
Follow-up commentary
5 months after original review
I still like Better than Chocolate, I just only use it when all my rechargeable toys are out of juice and the power is out. He remains in my Easy to Reach Toy Box, for emergency purposes only. In this
blog post
I compared many clit vibes to the Better than Chocolate.
Toys that were compared:
MiMi
(Je Joue)
Tango
(We-Vibe)
Matryoshka
(Rianne S)
Siri
(Lelo)
Spirit
(Leaf)
UFO
(Fun Factory)
Form 4
(JimmyJane)
This content is the opinion of the submitting contributor and is not endorsed by EdenFantasys.com

Thank you for viewing
Better than chocolate
– clitoral vibrator review page!