Slipperiest little SOB I own...
The We-Vibe Tango has so many great things going for it, but in my opinion the slippery plastic is not one of them. If you love deep vibrations and don't want to join in on the MiMi parade? Seriously, consider the Tango. The Tango is indeed a great toy, just the slippery factor and the pin-point tip just do not work so well for me. All in all, I am glad I bought it and am looking at ways to make him less slippery. Maybe elastics on the end?
Published:
Pros:
He's strong! He's mighty! He's Louis Armstrong!
Cons:
SLIPPERLY LITTLE (insert bad word here)
Wow. Who knew that "slipperiest" was actually a word?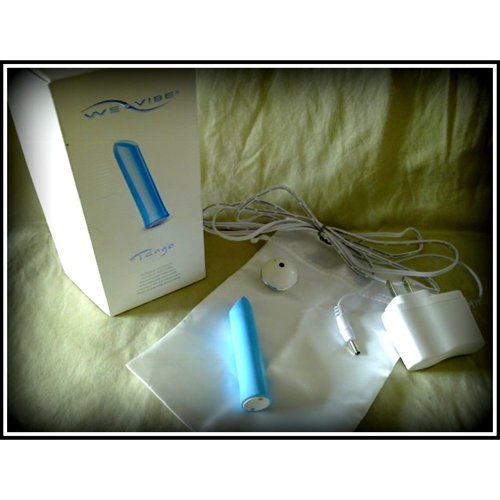 Let's go through the initial impressions shall we?
You get a box, similar quality to Jopen's boxes. Inside you get a really nifty white satin storage pouch which is dual lined and feels like it is better quality than Lelo's pouches. The Tango is rechargeable and you get the power cord which I have to say that I love how the power plug is white. Making it one of the easiest to find! Don't fret my non-North American friends! The We-Vibe Tango is 110V to 240V; but sorry to you Aussie folks. You are going to have to make sure you have yourselves a plug adaptor! The Tango recharges by magnetic contact, so always make sure that you keep the magnets clean (use a toy brush). For about a ninety minute charge you get around two hours of play.
When I first saw We-Vibe's Tango in the box, I was in awe. Sleek. Simple. Artistic. Those are the thoughts that popped into my head. Ok, I lied. Those are the secondary thoughts. The first thought into my head was, "I hope that is lipstick!"
I picked up Tango, and felt him in my hands. Slippery. Hard plastic with a silicone base.
I cleaned him, I plugged in him in till the light went off, then I finally got to turn him on for the very first time.
THE FRIGGEN TOY JUMPED OUT OF MY HANDS!!!
Turns out that my Tango turned on on the highest steady setting! Still, my brain was going a zillion miles a minute thinking about how it might be finally possible that my beloved Jopen vr6 could finally be retired. So let me talk about the settings; the Tango has four steady vibrations, and four patterns.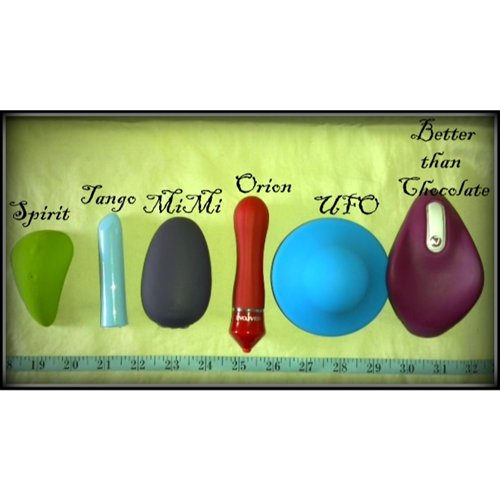 Hopefully, this picture helps give you an idea of the Tango in comparison to other clit vibes.
Let's talk about the vibration intensities shall we? Many might be shocked when I say this, but the Tango is stronger than the MiMi. The MiMi is a little more buzzy and the Tango is a little deeper. On high the Tango is stronger and deeper than the UFO and Spirit. However; I found that the Better than Chocolate on high is about the third steady vibration of the Tango in thumpy vibrations. Out of all the toys you see in the above picture, the Tango IS the strongest. Not only in intensity, but in vibration depth as well.
When you hold the Tango he is pretty silent no one would know you're masturbating unless they were right beside you.
To turn him on, click the button on the bottom. There is only one button and that means if you accidently press the button, you must scroll through every pattern to get back to the one you want. To turn off, just press and hold for three seconds. I do not like how when you turn him off he remembers what pattern or setting you were at.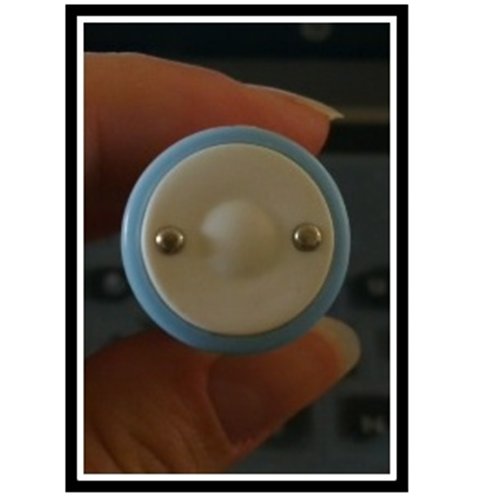 To clean him, use hot water and soap. Pay extra attention to the magnetic prongs at the base of the toy as those can get coated in your juices and lube, and if the magnets do not have total contact, your Tango will not charge.
If you are going to use lube, I would suggest water based so you never need to worry about ruining the silicone base. And because he comes with his own personal white storage pouch you can toss him in there. I wouldn't suggest leaving him out on the table if you've company over, if anyone were to turn him on??? They'd know exactly what his job is.
And before I forget, let's talk about the details I know you've seen the product page, but to make this review all it can be, we need to add it. Lenght: three and a quarter inches Circumfrance: just over two inches and he weighs about as much as a new tube of lipstick. He doesn't smell, nor hold onto scents, and he is tasteless. But why would anyone want to put this powerful little bugger up your nose to smell him is beyond me. I'd cry the vibrations are so strong!!!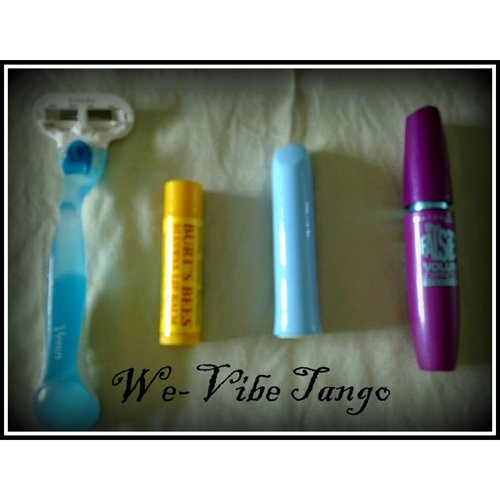 As always, the international comparison... Venus razor with original head, Burt's Bees Original, Tango, Maybelline Falsie's Mascara.
Experience
Let me guess. You are sitting there thinking, "Oh Woman likes the Tango!"

Right?

Wrong.

I love the strength and the intensity and how deep his rumbly vibrations are. I love the feel of him and how he jumps in my hand. I love how if I have him on he just spins in circles he is that strong. I love how the motor is housed right in the tip. I love how he is waterproof. I love how he is rechargeable. I love how strong he is.

But...

I really HATE how my fingers get all tingly when I use him on high. I hate how slippery he is and how the Tango refuses to stay held in my hand as soon as he gets a little lube on him for he slips all over the place. I hate how pointy he is. I hate how hard it is for me to change the settings on the on/off button for I cannot press with the pad of my fingers, I have to use the tip of my fingers. I also hate how I just cannot seem to get off using the Tango (as soon as I get close, I press harder, then my hand slides right down the shaft, the palm of my hand hits the base pressing the Tango HARD into my clit bruising me, and my nails end up going right into my sensitive nether flesh) because of how slippery he is.

Don't cry for me EdenFantasys! The Tango I have yet to learn just how to use him from start to finish without injury, but... at the moment he has become my favourite warm up toy. Then, I reach for my Jopen Vanity vr6 and use that amazingly powerful head on my clit and life is grand!

If I was the one designing the next We-Vibe line, I'd made the Tango out of silicone. I like the drag of silicone toys and the no-sip factor of them as well. I think my dislike of the pin-point head would diminish if he were not so slippery. But then again maybe not. I am slowly learning I just don't like pin-point stimulation.

Yes. The Slippery Tango is my biggest complaint!!!! And because of this, I am only giving the Tango a three out of five. I feel this is a valid complaint as this is a toy issue not a me issue. But I am going to give him a five on the vroom scale simply because he is the strongest clit vibrator I've met! (NOTE: this does not include wands/massagers or internal vibrators)

Here is hoping you enjoyed the review have a fantastic day!!!
Follow-up commentary
2 months after original review
The Tango is still a fun toy and the good news is, he has taken up residence in my Easy to Reach Toy Box. In my review I mention how slippery he is and how small he is. Well, since he is about the same thickness as a bullet, I went out and bought a
sleeve
(Little Secret Touch by Tantus) and use the sleeve on top of the Tango and voila! For a hundred bucks I get Tango and a silicone sleeve, the same price as many clit toys, I've got the strongest clit toy with as much broad headed stimulation as I love and adore!!!
I do plan on buying more of the heads in the future to spice up the toy. The only problem with this is, you need a dab of lube to make it easier to slide the sleeve on and off. As well, the sleeves work better with the head of the We-Vibe Salsa rather than the lip stick head.
I would actually like to see We-Vibe come out with a toy like Salsa or Tango but have a bunch of various heads/sleeves for people like me who prefer broad point stimulation. This is by far the strongest clit toy on the market, but I wouldn't recommend it to people unless they like pin point.
I wrote a very detailed comparison post about
luxury clit vibes
. I compared these toys:
Betterthanchocolate
Nomi Tang
MiMi
(Je Joue)
Tango
(We-Vibe)
Matryoshka
(Rianne S)
Siri
(Lelo)
Spirit
(Leaf)
UFO
(Fun Factory)
Form 4
(JimmyJane)
This content is the opinion of the submitting contributor and is not endorsed by EdenFantasys.com

Thank you for viewing
We-vibe Tango
– slim bullet review page!