Pet Rock with Benefits
The Mimi is all I was hoping for. She's an elegant and deliciously smooth vibrator that is luxurious to the touch. The shape and colour make for a discreet vibrator that looks a lot like a hot massage stone. Beneath the shell, this vibrator is powerful with rumbly vibrations that feel deep-down good. Rechargeable and waterproof with lovely packaging, I am happy to have the Mimi by my bedside.
Published:
Pros:
Deep & powerful vibrations, rechargeable, great shape for partner play
Cons:
Could be quieter, some find the buttons hard to press
One way that the Mimi really appeals to me is that it doesn't scream "Sex Toy!" It's not one of those iconic tried-and-true shapes like the bullet, rabbit or wand. Don't get me wrong, all those others have their places, but sex is a dynamic and changing thing. I get excited when I switch up my sexual routine and sample activities and styles that feel foreign and new. I find the Mimi still holds some mystery. Its face doesn't immediately give away what awaits inside and that is inherently sexy.
What the Mimi does well is act as an external vibrator. It can be used on the clitoris, the genitals, nipples or anywhere else that wants some deep rumbly love. Because of it's shape, the Mimi is more of a broad surface vibrator. You can press the flat side against any body part to feel this. The thinner side also feels lovely and gives a bit more of a focused buzz. Use it like a giant lush guitar pick to strum back and forth on your clit and
try
not to climax. That said though, if you know that you really like super pin point stimulation where all the vibrations are focused on that one special spot, this is not the vibe you are looking for.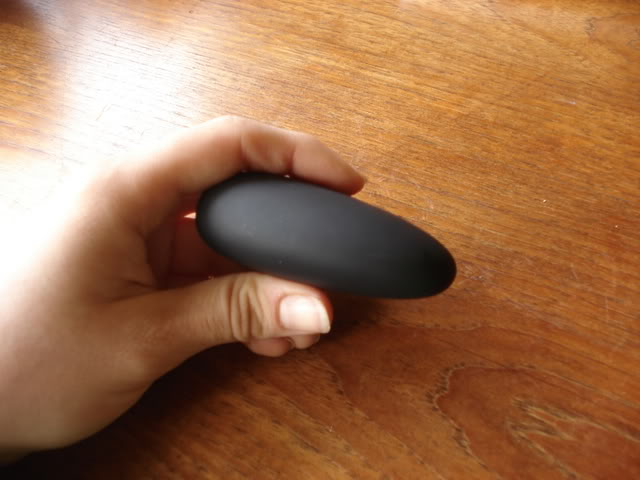 The Mimi is shaped like a flat river stone that's been smoothed from rubbing and tumbling its way down the current. Adding to the effect, it's 100% waterproof so go ahead and bring it to the tub or shower. It's made of plastic and housed almost completely in a layer of luxurious velvety silicone. That makes it a completely hard toy with a beautiful soft texture. It comes in rose, pink, purple and black. I got mine in black and it really looks like a hot massage stone. It's slightly tapered at one end and that end houses the vibrating motor inside.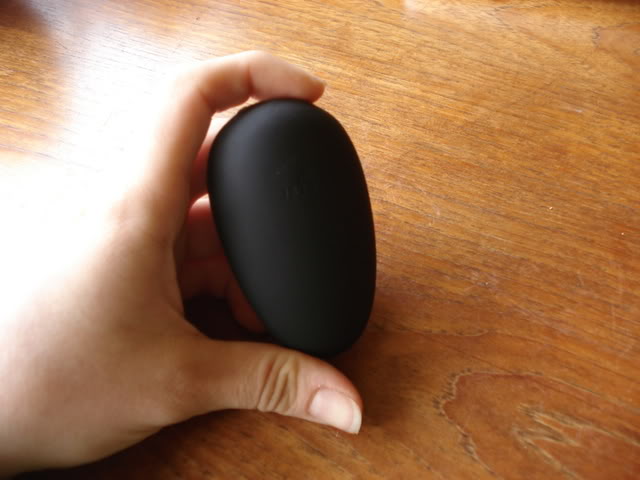 The wider end has two control buttons. These buttons are flush with the rest of the toy. Some people find them difficult to press. I am a person who works with her hands so I have no problem operating this toy. In fact I enjoy the simplicity of design. There is a + button and a - button.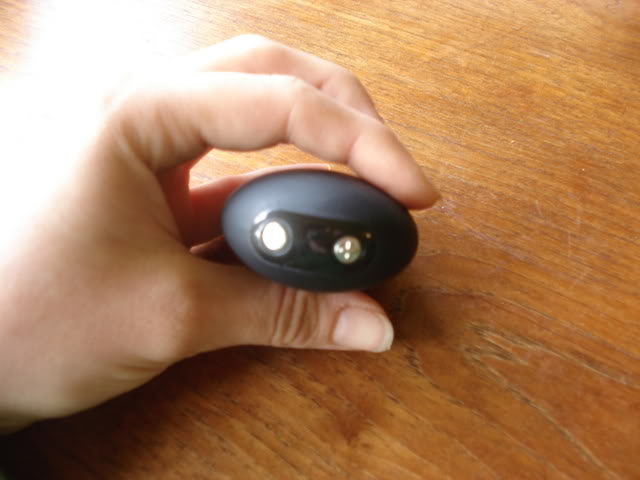 To turn the toy on, press the + button for a couple of seconds. Your hand will be greeted by a gentle rumbling and the tiny red heart shaped light on the side of the toy will turn on. Press the + again to start moving up through the different vibration levels and patterns. The - button can cycle you backwards through the patterns. I love this feature! It's great for teasing yourself or your partner and not bringing on the vibrations too fast and strong. If you press the - button for a second or two, the toy will turn off.
One thing that is a bit tricky is figuring out if you're pressing the + or - button at any given time. As this toy is completely symmetrical there's really no way to tell which one's which unless you look closely for the tiny markings or just give it a try. I suppose you also could feel for the Je Joue logo that's carved into one side of the Mimi and then memorize how the buttons are oriented based on that. I'm not that clever though... yet...
Here is a list of the different vibration levels and patterns:
Level 1
Low gentle rumble - "Yum"
Level 2
Medium gentle rumble - "Ah yea..."
Level 3
Higher medium rumble - This is where I start going "Oooh!"
Level 4
Higher rumble - "Oh goodness!"
Level 5
Highest rumble - "Really? I mean... Wow......"
Pattern 1
Slow pulses on high vibration with equally slow pulses off
Pattern 2
Double time pulses from off to high
Pattern 3
Roller coaster from low to high and back again
Pattern 4
Double time roller coaster
Pattern 5
Ultra cyclone roller coaster
Press the + again and you go back to Level 1. Remember though, you can press the - to cycle backwards through the levels and patterns!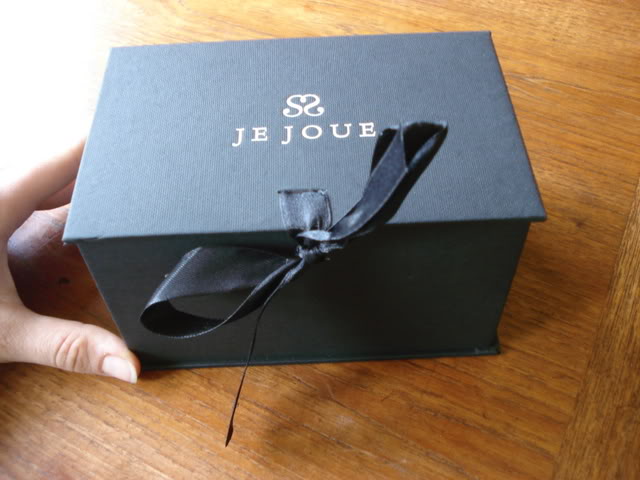 The Mimi comes in a beautiful black box with the Je Joue logo in white on top. It's fastened with a black ribbon. When opened, you can see the Mimi housed in a molded piece of plastic. If you remove the plastic there is an instruction manual with multiple languages and then the charger underneath.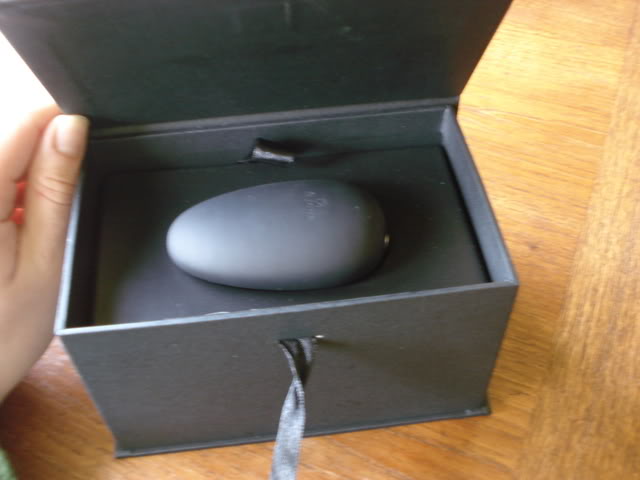 Experience
After reading a plethora of reviews and waiting ever so patiently for the Mimi to come back into stock, I finally ordered one of my own! I am not a beginner vibrator user and have several toys that I already enjoy. That said, I didn't have any vibes that I would consider "luxury vibrators." I wanted a toy that was elegant looking as well as rechargeable, powerful and well-made.
I became pretty damn sure that this toy was the one for me. It was touted by reviewers as being the most powerful and rumbly vibrator of it's kind, compared with the Siri, Layaspot and Nea. Also it's waterproof and looks very good in my opinion.
I'm glad that I had the time to look around and read reviews, because I am really happy with the Mimi. I can press it into my clit no problem because of the hard shell. I love the texture and the way it feels different lying flat or tilted onto an edge. The vibrations feel super luxurious and penetrating and make me a little wet just thinking about them. Plus the storage box is one that I'm happy to keep and enjoy.
Yay! 5 stars!
Technical Stuff - Charging & Maintenance
One of my favourite things about the Mimi is that it is rechargeable. That means no fumbling around for batteries when all you want to do is get it on! To charge just line up the control buttons on your Mimi with the buttons on the charger. They are magnetic so you will feel when they are attached. The attachment is quite strong. You can hold the toy upside down by the cord and it won't come loose, but if the connection is torqued or twisted it can come undone. Approximately 2 hours of charging will give you about 2 hours of playtime with Mimi. Like everything, though, if you're using it on lower settings the charge will last longer. The charger is colour coordinated with whatever colour of toy you get. So if you get the pink Mimi your charger will be pink!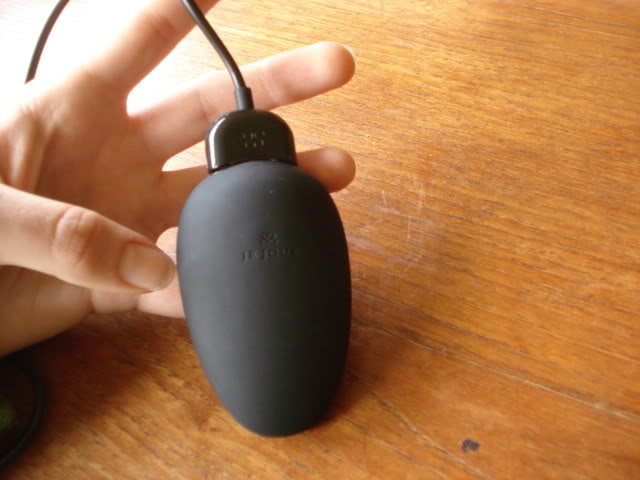 The Mimi is 100% waterproof, so go ahead and run water and soap over it to clean. If you'd like to sterilize your toy, just wipe it down with a 10% bleach solution. Do not boil or run though the dishwasher as this will damage the mechanical components.
Follow-up commentary
4 months after original review
The Mimi is one of my two go-to vibrators. The other one is my Hitachi. I reach for the Mimi when I want something that is not as instantly orgasmic as the Magic Wand. Mimi's one to build up with and tease myself with. She's also great if I'm a little sore from rubbing one out too hard the night before. Her smooth lines and adjustable strength are soothing and arousing at the same time.
This product was provided at a discounted price in exchange for an unbiased review. This review is in compliance with the FTC guidelines.

Thank you for viewing
MiMi
– discreet massager review page!