Such disappointment.
The armor bullet by evolved was a depressing adventure. I normally love evolved, but for this one item, I have to sake a finger at them. They let me down big time. It may work for some people but, it was a massive flop for me. Itis tiny and perfect for traveling, and is waterproof. I just wish I could shake the creator and ask "What were you thinking?" It is perfect for a one-time roll in the hay, not something I would use over and again.
Published:
Pros:
Small, cute, multiple settings,Smooth, perfect for beginners,Water-proof
Cons:
Mines was broken, Kind of loud
I mean I knew it. I just freaking new it. I knew there was going to be a matter of time before I either get a broken toy, or I was going to be let down by evolved. I just did not think it was going to all happen at once. I thought at least it would happen between to different toys at two different times. It was just a heart breaker, evolved it one of my top manufacture companies.
Okay, so when you receive the armor bullet it comes in the same package as the promise ring. It is an exceptionally small black box with a clear shell. It has writing all over the case. The front of the little box has a picture has the evolved logo in it. You can also see the toy in full view. The back and the opposite side have information on the toy. Such as the key point, like it being waterproof and has five different settings. It is supposed to take you from zero to ecstasy in a moment's notice…. I think someone got a little over excited.
It takes a minute to open the box. The top of the box is closed particularly oddly; I could not explain it in a review. It is something that you will have to see in person. If, you do not take the time to open the case you can rip it making it hard to re-close. When you open it, you see the pretty hard velvet box. Inside of the box is the bullet, and it is sitting inside of this thin plastic molded holder. It says that the bullet comes with batteries. I thought mines did not, but you have to remove the molding, and the bullet and at the very bottom is the batteries. You get six of them. The whole casing is reusable, and extremely small. You can just hold it on your hands. You can toss it into your bag without problems.
Okay, so this is where the whole thing gets ugly….
I bet you can imagine. I've had this toy over a month, I wanted to wait. So all giddy like a child I opened it extremely excited, when I first held the toy in my hand. I though gosh, this feels cheap. I thought that does not matter. It took me a minute to figure out where the batteries were. Once I found them, I placed the batteries into the toy all excited. I placed three batteries in and screwed on the top. I SWEAR TO THE HOLY RABBIT FOOT. That this toy, for a split second, started vibrating without the top being closed, or even touching it. I know I'm not losing it. So, I screwed on the top, and when to get started. The damn thing was broken! It would vibrate, but it was stuck on high. It only vibrated on one setting, and it would not allow me to change the setting. I never got to experience the other four setting.
I took out the batteries and placed them back in, thinking maybe I placed them in wrong. Same thing still happened. When I looked into the toy, it seemed to have been carotid, as battery acid had spilled on it. No batteries were in it, when I received it. I was so annoyed, and pissed. I still used it (ha-ha)

The armored bullet does have five different functions. According to other reviews the vibration patterns are as followed.
1: Steady Vibration
2: Steady Vibration
3: Pulsing
4: Faster Pulsing
5: Quick Pulse
When I used it the vibrations were loud. It has a loud buzzing and can be heard through a closed door. Changing the vibrations is done by pressing the single push button at the base of the toy.
Experience
Continued...
The armored bullet is about 2 ½ in length and has a shapely body. The odd shape is perfect for holding it. The end is tapered and somewhat pointed, which makes it perfect or at least suitable for pin point stimulation. The small size of the bullet makes it impossible to insert, and should only be used for external use. You can use to stimulate other external parts of the body.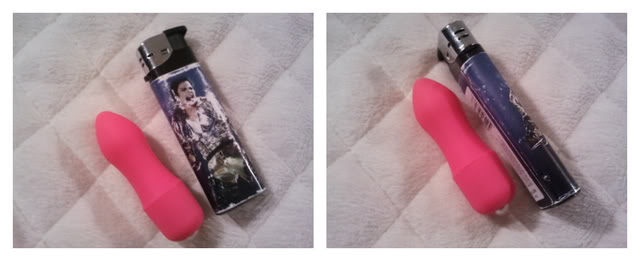 It is made up of plastic which can be used with water, old, and silicone lubricant. You can take it into the bath or shower. It being waterproof makes it perfect for cleaning; you can use soap and water, or your favorite toy cleaner. When using this in water or cleaning, make sure that the bottom is closed tightly. If, it is not you risk getting water into your toy.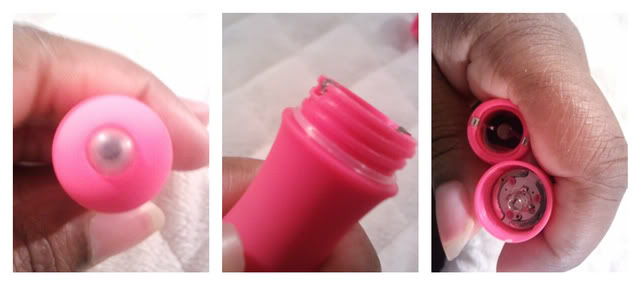 The casing and the toy both are extremely easy for traveling. You can just toss it into your pocket or favorite bag and head out the door. I would not say this toy is perfect for the advanced users, and I'd say it is suitable for beginners who are just getting started. The texture of the bullet is velvet feeling it may require a couple drop of lube. Its the perfect toy for teasing, but it will not take you over the edge.
Follow-up commentary
11 months after original review
This vibrator didn't last too long. It ended up dying out for some reason. It wasn't really good to begin with and I was highly let down because I love evolved. I would never reorder this one. At least the batteries were able to be used on other toys.
This content is the opinion of the submitting contributor and is not endorsed by EdenFantasys.com

Thank you for viewing
Speeding bullets armor piercing
– bullet vibrator review page!