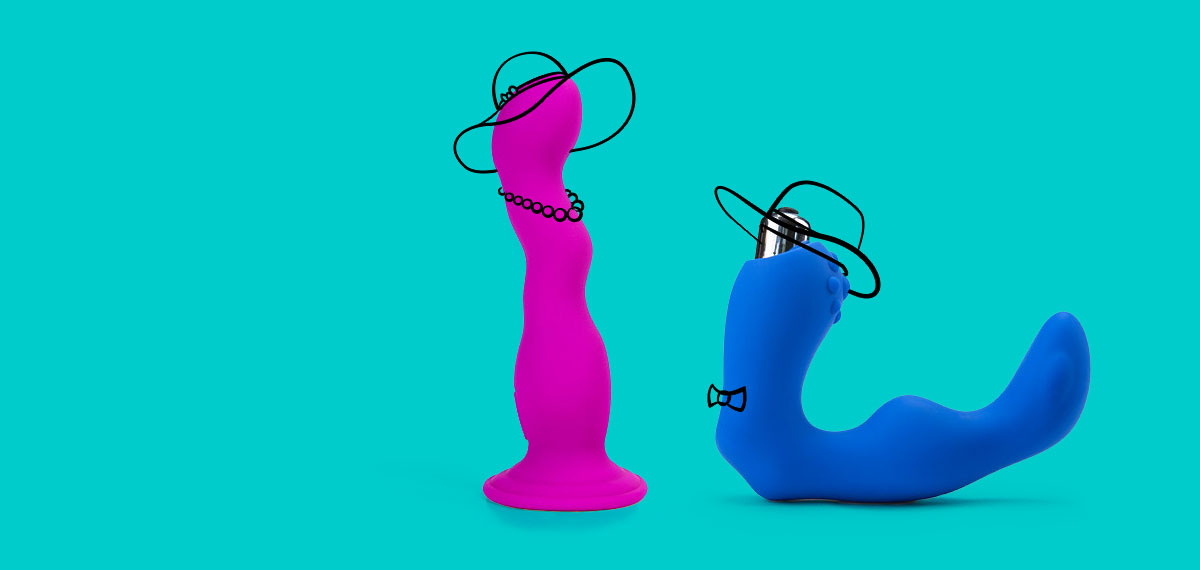 Sex Toys In Relationships: 7 Answers To Questions You Want To Ask
EdenForum Discussions' Summary
"Should our couple use sex toys or not?" "How will toys affect our relationships?" "What should I do if my partner doesn't want to use sex toys, but I do?" These are the questions we hear most often, but the answers may surprise you - in a good way. We've gathered a series of objective insights from sex-positive toy enthusiasts from the EdenFantasys community that will help you make informed decisions and smart toy choices.
Does using sex toys in relationships make me a "Bad Lover"?
While both sexes wonder, this is usually more of an issue for male partners. Men tend to be sensitive about anything that suggests their sexual performance might be lacking, sometimes making the introduction of sex toys more difficult for those who have never used them in their relationships.
Ironically, the use of sex toys in relationships is likely to make men - and women! - better lovers, not worse ones. As proven by the copious positive feedback from our community, sex toys are one of the best ways to unleash sexual potential and a fabulous tool for both exploration and delivering pleasure. So, if learning your "Four Os"- how to delay an O, cause an O, get ready for the next O, and have multiple Os-sex toys are an incomparable teaching tool.
From what we've learned, the best lovers are adventurous lovers. Offering your partner new ways to have fun in the bedroom by adding toys to the mix shows you're confident and willing to go the extra mile to make sure they're satisfied. Is that bad? No way. Is it arousing? Yes! And our forum users agree. See for yourself as they discuss their first-person experiences here.
Toys help you explore on your own, and no one should be ashamed of trying to improve their game.
We polled our community and asked: "Is using sex toys bad for your relationships?" For a stunning 97.8%, the answer was, "No!" In fact, our connoisseurs agreed that sex toys add an extra something special to an already amazing sex life. But what about those 0.73% who considered sex toys a bad habit? Our guess is that they just haven't found the right toy yet!
Does using sex toys in relationships mean my partner wants to replace me?
Okay, step off the ledge. Most people who use sex toys are not looking to swap them out for the real deal. The next time your boo brings a toy to bed, more than likely, they want to seduce you with it or try taking your usual routine to a new level. Our advice? Let them. According to our research, many people enjoy using sex toys with their partner because it lets them enjoy one another even more.
As our forum members will tell you, there are no reasons to feel guilty about using toys solo, either. Even our fiercest toy fanatics confess nothing can take the place of the warm and tender embraces of their SO. Enjoying toys once in a while is totally different from preferring them to a partner. Don't believe us? Read this discussion and lay any doubts you might have to rest once and for all.
Sex toys in our relationships are a wonderful addition to our sex life. They help us enjoy each other even more than we would otherwise! He sees them as his allies, and so do I.
How can I convince my partner to try sex toys?
As we said, guys can be intimidated by sex toys, but once you explain what a nice addition they can make to your sex life, it should be easier to break the ice. But be sensitive. For instance, bragging what a big bang you get from that huge dildo probably isn't the best idea. Introduce the idea of using sex toys slowly, and always respect your partner's feelings and wishes. As one member of this discussion advises, when you feel your partner is ready, playfully suggest testing out a small couple-friendly toy together.
EdenFantasys recommends:
Your partner will likely feel more relaxed if he knows he can control the situation and the stimulation. If you're just starting out, let him hold the toy and try it on you.
My advice would be to start with a small clitoral vibrator, something like a bullet. It also might help if she lets him control the toy, if he's using it on her it's still him giving her pleasure.
Couple's delight
Another great idea one of our members proposed is to shop for your toys together:
I think the more involved he is, the more likely his worries will eventually lessen and perhaps disappear altogether.
Some of our members' tips are a bit more drastic-sounding, but no less delightful. If the idea of BDSM play is intriguing - even if you haven't tried it yet - as described one of our members in this discussion adding sex toys in the heat of a sub/dom session is a natural, exciting extension of rough play.
My wife only used to like using toys on me, until I tied her up (consensual BDSM play) and made her climax several times with a Hitachi Magic Wand! Now she likes vibrators and sometimes uses one solo!
Rechargeable Hitachi style wand
Rechargeable Hitachi style wand