A learning curve that is worth studying.
This is a toy that is best used for solo play due to the hardness of Stainless Steel. The Pure Wand is crafted to be a G or P-spot magnet and will home in on your spots of pleasure with ease. Plus with some simple care it will last forever and could come in handy when the undead come calling at your door.
Published:
Pros:
Mirror like finish that is ultra smooth, Provides firm pressure, Storage box included.
Cons:
Learning curve can take time. Can hurt sensitive tissue.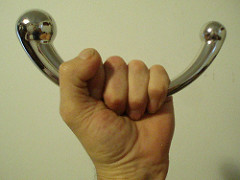 Ahhh, the Njoy Pure Wand. Does it get any better that Stainless? For a guy that has been around steel for the better part of 15 years, I think not. I have cut, torched, welded, manipulated and colored it with heat, fabricated buildings out of it; you could say it is in my blood. Know I add to my list, sticking it in my butt for Pure pleasures.
And pleasure it gives, with cold, hard ease. This finely crafted
Stainless Steel
toy from Njoy is a three pound wand that can be use for many things; it works great for a deep tissue massage, it will find your G or P-spot with ease and, of course, temperature play. Playing with temperatures is where Stainless shines, as it will hold the temperature longer than any other toy material. Furthermore, it will be good to have around for the Zombie Apocalypse that we know will one day come.
There are two perfectly molded ball's for you to choose from; one at 1 1/2" diameter and the other comes in at 1". These are off-set to the shaft so that one side is smooth and the other has a bulge. Connecting these G-P spot magnets is a 9 1/2" (measured along the back) curved, tapered shaft that starts out at 1" (at the large end) and gradually shrinks to a 1/2" and grows back to 5/8" at the small end.
In the center of the shaft, we find the laser etched Njoy name; you can feel it with your fingers but not during use.
The curve is the main reason this toy works so good for finding those pleasure spots so well. Once you insert either end, the balls follow the natural curve of your body with ease and home in like bee's to honey. And sweet it is. This also helps with applying pressure by rocking forward and back or using a "window wiper" type motion. I found this toy not the best for thrusting but some can be done, just be careful of delicate inner tissue.
Stainless Steel is one of the best materials to use for sex toys, it can and will last forever. I cannot think of any thing that will ruin this toy. Any thing you do to damage it can be fixed with some work. Really though just some simple care will keep it shiny and new looking.
You can clean/sanitize any way you wish; boil it, bleach it or throw it in an Autoclave (we all have one of those, right?) Really just soap and water will get almost any bad stuff off this toy, that is the nature of Stainless Steel. Still I recommend some form of sanitizing when you are sharing with another orifice or body. After cleaning dry it off with a soft towel and store in the super nice storage box that it comes in.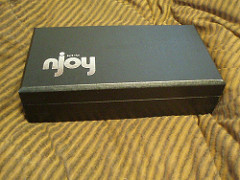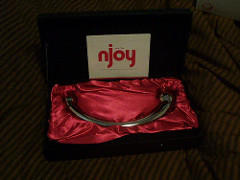 A picture
IS
worth a thousand words, eh?
Inside you will find a nice pamphlet that showcases the Njoy line of toys along with some care instructions.
Any form of lubrication can be use; water, silicone and oil base. You will find that not much is needed.
Experience
I have had this toy for two months or so, it has been a very frustrating time figuring out how best to use it. My goal with butt play is not to have a Prostate O, although that would be nice. When it happens it happens. Rather the extra stimulation and the health benefits of Prostate massage are my main goals. The Pure Wand does that with ease! The frustrating part is that the toy is so smooth that I have a hard time feeling the ridge on the ends. They just glide over the prostate so easily that I really have to concentrate on the sensations to enjoy them.

So I have found that the best use for me is temperature play and the heavy pressure it can give to my Prostate. I really like to use it at room temp for a chilling sensation with the big end, then when it warms up to my body temp I will switch ends and use the small end to gently massage my prostate with some light thrusting and some wiper action. I will switch back and forth two or three times before the time comes to finish. Lubed up the wand can be hard to hold so a spare towel is handy to quickly wipe it down so I can hold it.

I did try this on the wife but that turned out to be a bad experience for us both. For her it would aggravate her sensitive pubic bone and caused some bruising. I felt just horrible for causing her pain. This leads me to recommend great caution during use, whether you are using it on yourself or a partner. It can and will hurt you if care is not used. Use this toy on your self before you let someone use it on you. That way you will know the best way to work it and can tell your partner.

So in the end let me say this, women will probable know if it will work for you. For the guys you need to decide what kind of stimulation works best for the result you are looking for. For either gender, it will provide great pressure to your spots of joy and will provide the best temperature play type simulation. Furthermore, it is just awesome for giving a massage, a bit of massage oil will let this wand glide with ease and give great a deep massage.
Follow-up commentary
5 months after original review
What a finely crafted wand, Purely divine in form and function. Aside for pin point stimulation, I would say the best part about the Pure Wand is the temperature play. I am finding that colder temp's are the most enjoyable. I just love how well the stainless hold the temp, at least twice as long as glass. Furthermore, adding some vibration to the wand with a C-ring really adds a new sensation to the already great feeling toy.


Even with all the washing and drying it still has a chrome like appearance. Even the Njoy logo in the middle still looks great. This is truly heirloom quality toy.
This content is the opinion of the submitting contributor and is not endorsed by EdenFantasys.com

Thank you for viewing
Pure wand
– contoured probe review page!