A Unique, Weighty Anal Experience!
The weight makes this butt plug different from anything else I've experienced, and the quality is top notch. For a stainless steel toy, it's damn comfortable. I enjoy using it during masturbation and intercourse, but it didn't provide much sensation to my partner through my vaginal wall. Aside from that, this is a fantastic plug.
Published:
Pros:
quality, weight, comfortable, a good intermediate size, possible use as anal hook
Cons:
not felt by penetrating partner during intercourse as much as other plugs
The Large Pure Plug by Njoy is a wonderfully crafted stainless steel butt plug. Its surface is completely smooth and it features a shiny, mirror like finish. Thanks to its heaviness (11oz/310 grams), it provides a unique, weighty anal experience. While it may seem intimidating at first, keep in mind that with a diameter of 1.5", it is the same width as the
Tantus Ryder
. Many people opt for the medium. Chose that option if you want, but you may end up buying the large later anyway, wanting something more. I have the small and it pops out sometimes, so I don't recommend it.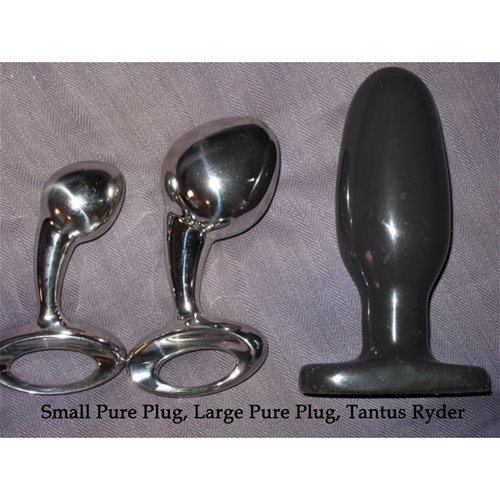 This plug is pretty awesome. The finish makes this plug extremely easy to insert--with a bit of lube, it glides right in. The handle sits comfortably between your cheeks. I prefer it to the bases of other toys because it makes the plug much easier to manipulate. The handle can make the plug serve double duty as an anal hook, which makes me happy. I haven't tried this yet but will be sure to let you know how it goes!
Sitting (even on hard surfaces) is not at all uncomfortable. Despite the hardness of the material, it doesn't feel unnatural or out of place in your butt. I was worried that the heaviness would be overwhelming. It's not. It's just different to what I'm used to--and I like it! This toy makes its presence known without needing to be overly large.
I wear butt plugs primarily during intercourse and masturbation. While I can wear the plug for a couple of hours with no problems, any longer and it starts to get uncomfortable. However, I am not big on long term wear and have yet to find a plug that is comfortable after that time period. So yes, it may very well just be me.
I found that the plug highly pleasurable to wear during intercourse. The weight adds a sensation of fullness irrespective of the size of the plug itself. Unfortunately, my partner reported that it did not provide as much stimulation for him as other plugs (of similar size) have. He could feel it through my vaginal wall while penetrating me. This was a little disappointing, but I am otherwise very pleased with the plug.
During masturbation, I really appreciate the length of the handle. If I am using a dildo vaginally that features a decent base, it comes into contact with the handle, so I am able to thrust with both toys at the same time, using one hand. At the same time, it isn't so long that it blocks my vagina.
Stainless steel is non-porous. It does not retain an ass smell like silicone sometimes can. It can be run under warm or cold water to change its temperature, and being a metal, it holds heat extremely well. It is a durable material, but avoid dropping the plug on hard surfaces or using harsh, scratchy soaps to clean it.
To clean this plug, you may: boil it, use a 10% bleach solution, put it in your dishwasher or use plain soap and water.
In terms of packaging, the Large Pure Plug comes in a sturdy black box. The plug itself rests inside on a bed of pink satin covered foam. It would make a gorgeous gift.
This product was provided at a discounted price in exchange for an unbiased review. This review is in compliance with the FTC guidelines.

Thank you for viewing
Pure plug large
– butt plug review page!