If You Are One Of Those Who Want The Best, This Plug Is For You! You"ll Be OVERJOYED !
When I first got it, I loved it so much had to have it nearly everyday. One night I even fell asleep with it inside me. It's that comfortable !

It's great to use while having sex. Receiving oral while wearing this more than doubles the sensation of her lips/mouth on me. While thrusting her with this inside is super duper. If any of you males have not yet worn one while having intercourse, I highly recommend it ! Only down side is , it will make you cum sooner. At least it does for me.
Published:
Pros:
Great shape, great weighty feeling, feeling of fullness, easy to care for, easy to use, perfect size
Cons:
Can scratch if dropped on hard surface, careful not to fall asleep wearing this
This review was written by this male, OH's pov. It was not tested by OW. I have heard women can use this anally while having intercourse though to heighten pleasure. Suppose to push the penis upward towards the G spot. In any event obviously it will provide for more of a fullness feeling.
I've had this joyful plug for at least 2 yrs and finally got off my duff to write about it.
My favorite feature of this toy is it's shape and weight. I also appreciate the fact it will not retain any odors and a breeze to clean. However I would characterize it more as a pleasuring tool or instrument. I think of a toy as being plastic or silicone. The Njoy Pure Plug is pure medical grade polished stainless steel.
I love the narrow neck. It allows for super long term wear. No thick neck to stretch your anus and cause discomfort. Thick necks also have a tendency to slide out sometimes.
I already had the Dr Johnson's Naughty Mood Large and Classic. I didn't like the long pointy characteristics of either though. Their length also did not fit the anatomy of my rectum. After just a month of usage the tips of both began to get tilted. I decided to give the Pure Plug line a try. I chose the large because I liked the 1 3/4 width of the DJ Classic. The N Mood large was just too small though enjoyable as my first anal plug.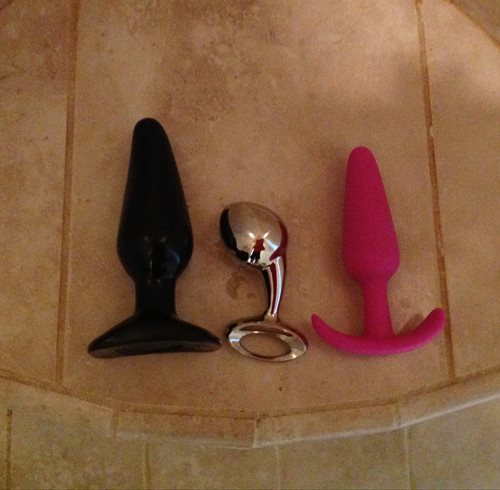 As I generally prefer the best of everything, I decided to research the Pure Plug by N Joy.
The Pure Plug large seemed to be perfect for me. 1 1/2 inch wide, not long and pointy. Sold !
The Pure Plug came in it's own "Bed Like Box". See pic. It is polished and shinny. You can see your own curved reflection if you try. I weighed it and found it to be 11 oz.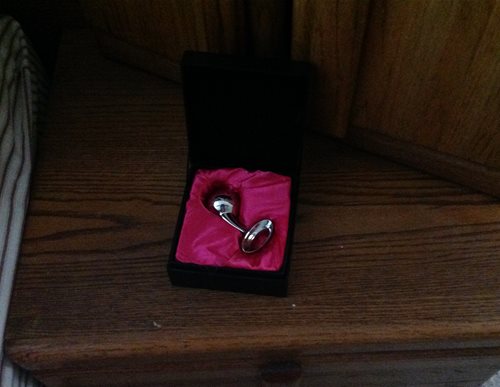 These are the advantages of polished stainless steel : requires less lube, easy to clean, will not retain odors, will last forever. Stainless is also the safest material. Safer than ABS plastic and polished wood. And it is stronger than glass.
One does have to be careful not to scratch it by dropping or scraping it. To really clean this I boil it and let it air dry. I don't use any bleach in fear of ruining the nice polished finish.
Experience
It was pure excitement holding this in my palm. I then swung it by it's shiny handle. After that brief get to know you period, it was time to take it in. I washed it with antibacterial soap and warm water and shook it dry.
I put a few dabs of Pure Silk on the tip and spread it around. Being fearful of it being so hard I put some extra on it and also on my anus.

Down went the shorts and undies, then got on all fours and assumed the entry position.
I tilted the head towards my hole and pushed with the handle gently. It was not going in easily, so applied more pressure. As my anus opened up to accept it I could feel a shocking stretch. As soon as it past the hump it was sucked in with force. My anus and rectum went a little numb as this new intruder sat on my prostate.

Still in the bent over position, I closed my eyes and sucked in as much oxygen as possible til the shock/numbness subsided. Still sucking air, I pulled myself up with help from my hands on the sink. This felt nothing like the Naughty Mood or Doc Johnson. The latter two felt like I had something suck up my butt. The Njoy large not only filled my rectum, it sat on my prostate. It was like nothing I ever felt before.

It was all pleasure and bliss. After wiping the excess lube that scraped off as it went in I pulled up my undies and shorts. With every step I took I could fill the heavy plug rubbing my prostate and insides.
I said to myself," What a wonderful feeling. This is so so goood."

I wore it for few hours enjoying the great sensation. Did house chores, went for a walk, watched TV and of course chatted on the EF forum. Every now and then I would pushed up on the handle to release air pressure building up. Going #1 also was no problem. Actually good kegel exercise as I held it in to do my business.

On ensuing uses I put less lube on it. It being so smooth went in fairly easily.
This content is the opinion of the submitting contributor and is not endorsed by EdenFantasys.com

Thank you for viewing
Pure plug large
– butt plug review page!