The Hope Diamond of Plugs
The large Pure Plug by NJoy is a breeze to wear and a dream to clean up after. It's not too big, and not too small. You won't spit it across the room when you sneeze. I recommend it to any anal play enthusiast!
Published:
Pros:
Can be used with any lube, easy to clean, you can wear it anywhere
Cons:
It might be a bit big for beginners
I want to start this review off with this: oh my god! I adore this plug. I've come to love anal stimulation as a valid form of pleasure only recently. I wasn't a fan before, but only because I had difficulties approaching it with an open mind. Before, the anal region was only for elimination. Nearly all prior attempts at anal play were either painful or just boring. My current partner wanted to explore it for his own curiosity, and I was game. Once we manage to land it, I was hooked. I loved how it made me feel. As a full-time submissive in a Master/slave relationship, it heightened my submissive feelings.
After those experiences, I wanted to give butt plugs a try. I already owned the
Little Flirt
and moved up to the
Ryder
. I was unsatisfied by the after-effects on the Ryder and the lubrication limitations, so I splurged and bought the large Pure Plug by NJoy.
When it arrived, the plug was nestled in pink satin inside of a very classy black box. The plug itself is, surprisingly, not large at all. It is about the size, if not a little less than, of a standard American golf ball.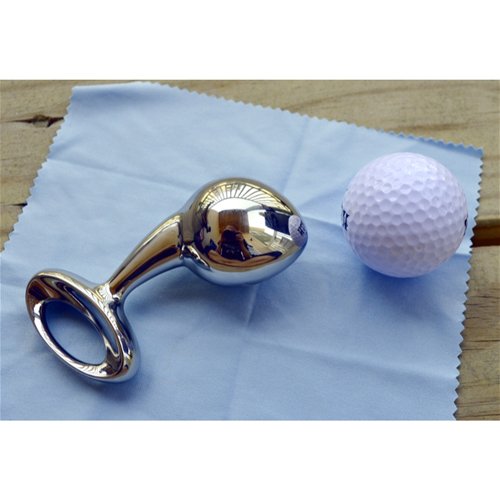 It looks huge in my hand, but keep in mind I have very tiny hands.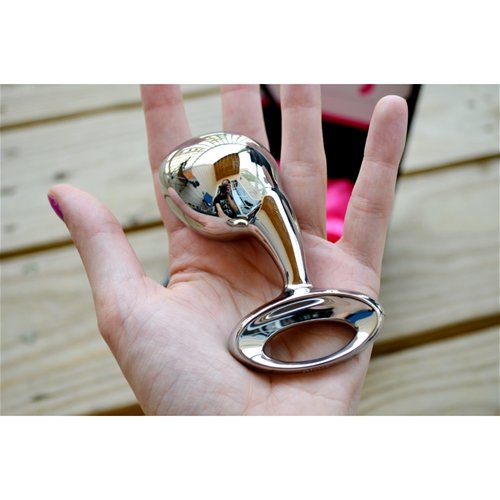 The plug is solid steel, and very hefty. The weight surprised me, but it's not intimidating. It has a beautiful shine to it, along with the NJoy logo engraved on the bottom.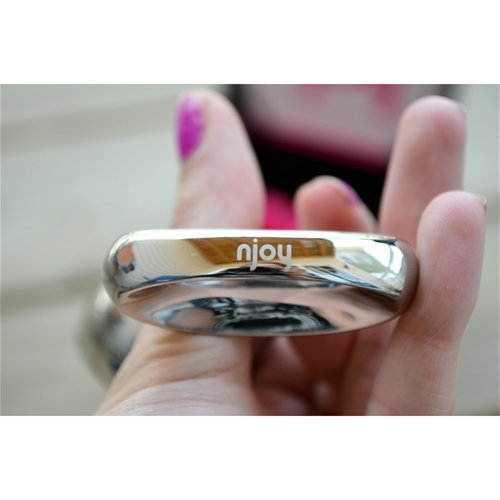 I got out my favorite silicone lube and adequately lubed both myself and the plug. I lined up, and it slid right in. No resistance at all. It settled in and I found the weight to be very pleasant. The handle doesn't stick out far from the body and is generally out of the way. I slept with it in, and it was extremely comfortable. I wore it out to do some errands, and it never once became uncomfortable. I have a skinny butt, and I was worried the handle would bother me as I sat in the chair for a haircut, but nope! I do not recommend wearing it with shorts, though. While the base is close to the body, it's not invisible, it it did shift to one leg of my short-shorts, which made me a little self conscious. It never once made itself apparent, though.
Washing was very simple. A little bit of soap and water, and it came perfectly clean! The box it came in makes for excellent storage when you are not actively using your Njoy Pure Plug. Best. Butt plug.
Ever!!
This product was provided at a discounted price in exchange for an unbiased review. This review is in compliance with the FTC guidelines.

Thank you for viewing
Pure plug large
– sex toy review page!