Pure Delight
The Njoy Pure Plug is one classy plug. It's just about the prettiest work of art you'll ever stick up someone's butt. Besides being super smooth and ultra comfortable, it delivers intense stimulation due to the firmness and weight. It will work for bedroom play or extended wear, and it will last forever due to the high quality material. Plus it stays in! What more could you ask for?
Published:
Pros:
316 stainless steel, ergonomic shape, accessible size, easy to clean, reusable packaging
Cons:
Heavy
I finally realized one reason people gravitate towards harder materials for butt plugs after finding that silicone plugs, while nice and flexible, are capable of retaining odors. Although the harder materials can seem intimidating, I am happy to say taking a chance really paid off with this one.
The Njoy Pure Plug arrived in Njoy's spectacular standard packaging. The sturdy black case has a discreet silver "Njoy" logo on top and opens to reveal a nice styrofoam crevice for the plug to rest securely, lined with pink satiny fabric. This is a great box for storage and subtle enough to sit on a shelf out in the open. I do wish that Njoy would go with a color that is a bit more unisex, like the purple lining that they use for the Pfun and Pure 2.0 plugs, but that's just personal preference. This plug is 3.5" in total length with approximately 2.75" insertable. It weights in at 11 oz (the 1 lb listed on EF refers to shipping weight).
316 surgical stainless steel is one hell of a gorgeous material. It is totally body safe, nonporous, and can be used with any lube you wish. It retains temperature very well and warms up nicely when held in the palm of the hand. The best thing about using this grade of stainless is that it won't tarnish if you don't clean and dry it immediately (like some other metal toys). Who wants to jump up right after orgasm and start cleaning? Major props to Njoy for using such high quality materials.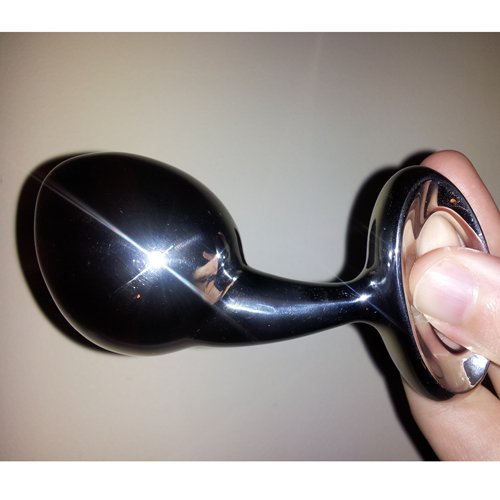 The surface has a slick mirror finish and is just elegant to behold. I don't detect a single seam on this thing. Every edge is comfortably rounded off and the flared base sits very nicely between the cheeks. There is absolutely no give or flex whatsoever. It is an all around hard, heavy, badass plug. That said, insertion is a breeze because steel just glides through. The surface is so smooth that you won't need the gallons of lube usually recommended for butt play. A couple drops will go a long way.
Although this size is listed as "large", the 1.5" diameter is well within the range of most average butt plugs. The size has been very accessible for my partners and myself, and I don't think it's outside the rhealm of possibility for use with a total beginner as long as you take your time and go slow. Folks seeking that serious stretch will want something with a thicker neck. This plug gives a bit of stretch at the beginning, but once it's in, your sphincter can tighten around the slim neck, which helps with retention.
This plug feels great to have in during masturbation, especially due to the weight and firmness. It could also be used during intercourse because the handle doesn't get in the way of vaginal penetration, as long as both toys fit comfortably. If you were so inclined, you could sterlize it and use it as a g-spotter, however on some bodies it may be too short to hit the g-spot or prostate. The flared base is also a handle, which makes the plug very easy to manipulate. The handle could also accommodate a clip and/or serve as an attachment point.
Cleaning the Pure Plug is a breeze. You can wipe it down with toy wipes or use water and antibacterial soap. It can be thoroughly cleaned for sharing by boiling, wiping with diluted bleach, or a run through the top rack of a soapless dishwasher cycle. After cleaning it retains absolutely no smell at all. If boiling or dishwashing, be careful touching the plug afterwards because it will be HOT. Don't clean it with abrasives because they will ruin the beautiful finish.
Traveling with this plug is possible as long as you don't mind an extra 11 oz in your luggage. It gets very slippery during use so I wouldn't recommend using it in the shower. Be careful not to drop it on your toe or a tile floor (the plug will be fine, the tile might not be). There is a chance it might be mistaken for a very upscale pacifier, but otherwise it's pretty obviously a butt plug. The perfect butt plug, in my opinion, and the plug that put a stop to my searching. It's a bit pricy, but a wonderful investment if you've got lots of butt play in your future. Treated properly, this plug will last many lifetimes.
Experience
It took me a bit to figure out how to make this plug work for extended wear. It is very discreet under clothing and the base was comfortable even when sitting, but the weight made me very nervous about having it slip out. I finally figured out that it stays in much more securely if you insert it with the plug's point angled towards the back instead of the belly. It's almost like it hooks into the body when angled that way, and it's very comfortable. I would recommend wearing it pointed that way if you are going to be up and about while it's in. If you are going to just be laying down and stimulating the g-spot, I'd wear it pointing towards the belly. I've never had it fall out pointed in either direction, it just feels more secure for walking around when pointed towards my back.
Follow-up commentary
4 months after original review
This plug is a total rock star in my collection. It's just so smooth and versatile, and when not in use it's just cool to look at and hold. I especially enjoy using the handle as an attachment point, either clipping hardware to it or running rope through it.
This product was provided at a discounted price in exchange for an unbiased review. This review is in compliance with the FTC guidelines.

Thank you for viewing
Pure plug large
– butt plug review page!