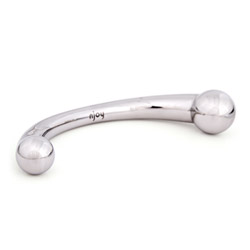 Pure wand
Contoured probe
by Njoy
Pure Magic!
I loved the NJOY Pure Wand. The balance of it makes it so easy to use in so many different ways, and it is so incredibly sexual. I want more of the NJOY line.
Published:
Pros:
Sexual, easy to clean, can be used in a wide variety of creative positions and ways
Cons:
Cold
The
Pure Wand|Pure wand - Steel wand by Njoy
is just great fun. Stop spending money on lots of cheaper toys, and buy one really good toy. This isn't just for women either; it's great for men as well.
I had heard a lot about the Pure Wand and really wanted the opportunity to own one. Once I knew that it was coming, I told several people about it, and I got some interesting feedback; such as, "it's not a toy for beginners."  Well, I'm no longer a beginner when it comes to either sex or toys, but I decided to see what other information was out there on the NJOY. I found a couple of very positive reviews, and one indicated that there wasn't information about how to use it. 
Essin' Em
wrote a review about it
here
. My first step was to experiment.
The first thing that I noticed when I got the NJOY Pure wand is that it's cold. Steel. I'm a wimp, but it warms up nicely with your hand or resting under your leg. I didn't want to mess with hot water.
The second thing that I noticed is it is incredibly well balanced. Despite its weight, you can control its movement with barely any effort at all. This pays off when you play with it, but I'll get to that later.
I've been known to play in cars before, so I wanted to find out if the NJOY was only good when lying down or if it was fun in a sitting up position. Oh my… it's fabulous! That little experiment left me wanting to play with it more and more. I did figure out that it has the nice property that if you can clench your muscles around it, you are actually not able to pull it out.
The next time I could get my hands on it was a few days later in a bed. I was a bit dizzy; that wasn't going to stop me but did leave me feeling somewhat lazy. Here is where the balance of the NJOY is amazing. Every woman who has ever played with a
sex toy|Sex toys for women
thinks about basic thrusting into her pussy. [Editor's Note: Not all women enjoy and/or purchase sex toys for the purpose of vaginal penetration.] The NJOY works great for that.
For me, it worked because of the feelings of weight and fullness inside, as well as the fact that I was holding it only with a thumb and finger as it swung across my clit. As sexual as I am, I also figured out that you can wonderfully play with it in your ass while laying on your back.
Then, it was time to see what the NJOY could do with my husband. I used it to massage his balls while I was sucking his cock then let him play with it. He too explored anal sex for the first time and came harder than I've ever seen.
Great toy. Loved it.
Follow-up commentary
2 months after original review
I've played with the Njoy Pure Wand a few more times and still love it. It is so well balanced it is just a delight to hold and move. I still find that the steel is incredibly cold when I first get it out, but it warms up so easily. In fact, a little hot water, and if you're not careful it might be too hot (yep that felt lovely on my pussy too!).

The curved shape allows for so many possibilities. If you play with it inserted then you can push gently down towards your back massaging towards your own g-spot. The curves here, allowed me to imagine what it might be like to be fisted.

You can also push it gently over your pubic bone allowing the weighted end to massage the back of your vagina. I say "massage" because I find that I'm using very gentle movements, often with only one hand. The Pure Wand is often stimulating my clit at the same time.

The only drawback that I've found so far--my husband needed a little bit of instruction when he wanted to use it on me. It's just not that intuitive compared to other toys.
This product was provided free of charge to the reviewer. This review is in compliance with the FTC guidelines.

Thank you for viewing
Pure wand
– contoured probe review page!