Whaa Where is my Binky!
This pacifier is a great plug for the butt to suck on, like a Binky. Good feel and comfy base help to make this plug a joy to use. Factor in the price and this might be the best Silicone plug you can buy.
Published:
Pros:
Soft flexible Silicone, good size and great price.
Cons:
Seam around the whole plug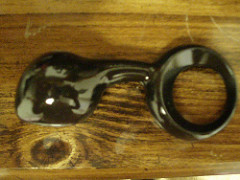 Ya, in my late thirties, I have a new Binky, for my butt. The Love pacifier advanced from Cal. Exotics is a Silicone butt plug that can be used for long-term wear or just to warm up for other butt toys. The Silicone is soft, almost to soft, and has a great handle in the form of a ring. The neck is long enough to provide some thrusting type play while keeping the spade shaped bulb in you butt. Very similar to the Pure Plugs, the handle is angled to provide comfort and to target the prostate. It may also work for G-spot stimulation if yours is shallow as the length is on the small side.
For me,
Silicone
is one of the best materials for butt play, or any kind of play for that matter. Why, you ask. Well let me tell you. First and foremost, you can fully sanitize it; boil it, bleach it or use a toy cleaner. They all will clean it spic and span. Secondly, it is a food-grade, Phthalates and Latex free, Hypoallergenic and a non-porous material. Rather grabs your attention, eh?
The Silicone is very soft but this does make it somewhat hard to insert. You basically have to push in the bulb, as the handle does not work very well; it is just too flexible in the neck. Still it is comfortable to wear for long term, even when sitting on a hard chair.
The finish is somewhat rough, not like sandpaper but like an ice cube when you take it out of the freezer. I like this texture; it seems to hold the lube better than a smooth finish. In the picture below, you can sort of see it.
For size, this Pacifier comes in at 4 3/4" circumference (1 1/2" diameter) and has 2 3/4 insertable inches. The tip of the bulb is tapered for easy insertion but is not "poky". The neck, at the end of the bulb, drops from 1/2" down to 3/8" in diameter and is about an inch long. For me this gives about a quarter of an inch to thrust with, not much but it is enough to ensure that the bulb stays lubed up. After my experience with the
Severin
this is always on my mind. The handle is in the form of a ring and is 2" across, good for two of my fingers to grasp and manipulate the toy. Furthermore this ensures there are no "OOPS Where did it go" moments. We do want that do we,
NOT
. If you have a bony butt like me, it might be seen if you have tight fitting sweats but the soft handle probably will not be seen if you are wearing jeans.
No Silicone lube for this toy, sorry, they just don't get along very well. Do not fret though, you can still use water or oil based lubes.
The only problem I find with this plug is, can you guess?... It has a damn seam around the entire toy! In this picture you can see it clearly, also note the flexibility of the Silicone;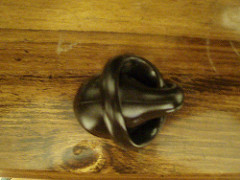 You cannot feel the seam during use but still, it just looks cheap. Well I guess at 15 buck it is, but well, you know. Since I could not feel it, I did not take a star away.
Experience
So overall this is a good plug, it stays in during climax and is comfortable to wear, even when sitting. For the price it is hard to beat and yes, I did flame test it just to make sure. I did not get much prostate stimulation from it but it was nice to play with to warm up for the Severin. It is fun to wear it around the house doing chores or just sitting perusing the web.

Therefore, for the person looking for a cheap, decent size plug it is a good buy. I would say if you can take three fingers this will be a good fit but the more advanced users may want something bigger.

In the "Similar products" section you will find the Love Pacifier beginner, which is smaller in diameter and the Icicles #14. It is similar to the advanced but made of glass, just for the glassaholics out there.
Follow-up commentary
5 months after original review
For long term wear, this is my plug of choice. It's not the biggest or most stimulating but the handle is just so comfy to wear. It does not chaff my cheeks and the flexibility makes sitting on a hard surface possible.

Even after all this time I am still shocked at the price for this plug. 100% silicone, stimulating, and perfect for long term wear all for around $15? WOW!
This content is the opinion of the submitting contributor and is not endorsed by EdenFantasys.com

Thank you for viewing
Love pacifier advanced
– butt plug review page!