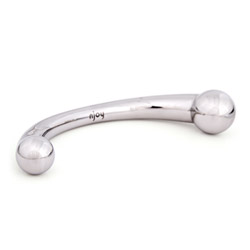 Pure wand
Contoured probe
by Njoy
Super Parenthesis to the Vagina!
To be be able to really love the Pure Wand - you need to hold it. The weight, the curve, the beauty. This is a gorgeous, sleek, sexy toy that can be sterilized! Plus- no batteries.
Published:
Pros:
Easy to use, beautiful packaging, and can be sterilized.
Cons:
None.
The Pure Wand is something that almost every reviewer eventually owns. Why? Because 99% of the reviews of it are super positive and us reviewers like those odds. Now, sure, I knew the odds on the Pure Wand. When almost everyone loves something it is hard not to automatically put it on your wish lists as the next MUST HAVE item. But I resisted. I resisted until I read a specific review of it; the review was just so darn tooting amazing that I couldn't resist it any more. I needed to have it.

When I first got it, I marveled at its weight, which is what everyone says. However, until you get it in your hands, I don't think you'll realize how different this is than your regular toy. Then the shape baffled me. When I had it in my hands, I started to convince myself that it wouldn't work for me. I mean, it looks like a parenthesis mark. I am used to straight toys or a slight curve. This is so… different. So I put it back in its great packaging, and left it alone for a day.

Let me talk about the packaging a little. First of all, I want to say that I think every single toy should come in great packaging. It makes you want something so much more. At least, it makes me want something more. This is almost something that you could put on display. The only people who would know what it was intended for- would know about it. You could pass this off as some inspirational art piece, or a creative paperweight. The box is sturdy with pink satin covering a Styrofoam cutout that fits the Pure Wand perfectly. This is something you could display honestly. I won't because of my living situation- but I *could*.

Now, the next day I realized the reason that I put the Pure Wand away before was because I was intimidated. I was scared of a sex toy. I was afraid that I wouldn't know how it would work. I was afraid I would hurt myself. I was afraid I was going to be disappointed. How silly is that: afraid of a sex toy? I wasn't going to let a little hunk of steel frighten me!

Now here's the thing, this goes in nice and smooth, but in case you want something more easy all lubes are compatible. I have never had an issue though. The first time I used this I was surprised at how quickly this targeted my g-spot. It was seriously like some sort of honing device. Why hasn't any other toy been made that has this design??? I know this is touted as the toy for squirting, but it hasn't made me squirt- yet. That is in fact why I bought it though. It is my goal to squirt before 2010 is out. However, this does make me gush. My liberator throe comes in handy whenever I want to play with my Pure Wand.

I haven't used this for anal play, but because of the curve this is safe for it.

When I'm done with it, I just use mild antibacterial soap and water. That's because only I use it. If you are looking to sterilize it, you can boil it or use the top rack of the dishwasher with no soap. Which means this is one of the great toys for features as well. It is always nice to have a toy that is able to be shared.

I'd definitely recommend this toy to anyone. It magically finds your special spots and massages it in the most fantastic way. Thrusting with this toy is a breeze, although I know after a particularly long session my wrist was a bit fatigued. The temperature play that can be used is always intriguing. Use warm/cold water to alter the temperature, and test the temperature on your inner wrist.

You can buy this toy. And I'd recommend buying it, which is like all the other reviews - I know. So what are you waiting for?
This product was provided at a discounted price in exchange for an unbiased review. This review is in compliance with the FTC guidelines.

Thank you for viewing
Pure wand
– anal probe review page!