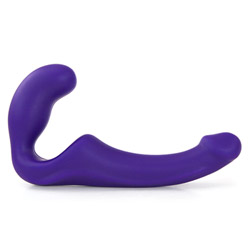 Share
Strapless strap-on by Fun Factory
Wanta go for a ride?
Do you long for more excitement during your pegging play? Have you ever wished you could climax with your partner during strap on play? Let Fun Factory's Share double ended dildo take you to whole new heights in strap on play with their strapless dildo. Erotic and exciting, with the Share you are only limited by your imagination.
Published:
Pros:
Gives the appearance of having a real member, Silicone, Design, Silicone
Cons:
May take extra training of the PC muscles to use to its fullest potential.
The Share is a uniquely shaped double ended dildo designed to provide optimal stimulation to both the giver and the receiver. The pony end provides firm pressure on the g-spot while, the penis end is designed be stimulating anally or vaginally. The Share can be used in a variety of situations and for many different types of play.

For those who want to know what it truly feels like to have a penis, the Share is perfect. When used for pegging play, its design allows it to be held firmly with your PC muscles. Also, in case you need a bit of extra support the Share can even be used in conjunction with a harness. In addition, with the Share, you can have a penis and even experience the erotic joy of being jacked off by your partner. You can even play with this toy solo and experience a new type of masturbation. The share truly offers something for every taste and pleasure.

No matter what your type of play, the Share is a perfect choice for your playtime.

Here's the facts:

The Share is a double ended dildo that is designed with you in mind. Its shape and style simulates both the giver and receiver while being easy and comfortable to use.

The pony end is shaped like a pistol grip. It is easy to hold onto with your PC muscles and the curved tip pin-points your g-spot. In addition, its extended shaft allows the head to reach deeper inside of you. Thick and solid, any movement makes the bulb work its magic.

The base section of the Share has an innovative shape which wraps around your pelvic bone and hugs you. When is used in a rocking motion, the firm wall of this area provides wonderful clitoral stimulation.
The penis end has a semi-realistic head and shape. Its shaft has a slightly upward curve similar to a realist penis for optimal pleasure. Although it is not truly realistic looking, when wearing the Share you look and feel like you have a real penis to please your lover with.

Designed with a shaft that gradually increases in girth, it can be enjoyed by any level of user. However, those who are new to toys or anal play may need a bit of warming up before using this piece it.

Thrusting with the Share feels natural and easy. It has just the right amount of flexibility to move in all the right ways. It's also firm and solid. Therefore, there is no worrying about a flimsy shaft doubling over you during playtime. With the Share you are in total control.

The texture is minimal. It has a slight ridge along both sides of the shaft extending down to the base. Also, the realistic head has a sloped lip. In addition, there is a seam that runs the entire length of the dildo. However, it cannot be easily felt.

In addition, it has no taste or smell. This is great for those who like to suck their partner's new member. Since any movement cause the other end to rock, you can experience delight while your partner gives you a blow job or jacks you off,

Each end also works great for a handle making solo play fun and easy. You can use it in virtually any position and even sit and rock while your hands are free to explore other delights.

Made from 100% premium silicone the Share can be thoroughly sterilized and is safe for vaginal or anal use. All toys should be cleaned before and after each use. To clean, wash with anti-bacterial soap and water or your favorite toy cleaner. If you use this piece anally or between different partners', it should be sterilized. To sterilize, allow it to boil for 10 min or place on the top rack of your dish washer.

Silicone is safe to use with only water or oil based lubricants. Unfortunately, it is not recommended that silicone toys be used with silicone lubricants because it may cause the finish of your toy to become sticky or tacky to the touch.

Measurements:

Pony end – 5 inches long 4 ½ inches insertable with a 1 ½ inch neck. The diameter of the pistol grip type head is 5 ½ inches at the widest point and 5 inches at the tip. Also, the tip sits at a 90 degree angle.

Base – 3 inches long with 1 inch that slopes down wards, flattens out and then slopes upward. The front wall of this area is 2 inches.

Penis end – 6 ½ inches long. The head is 1 ½ inches long. The shaft has a diameter that is 4 ½ inches around the head and 6 inches at the widest point next to the base.
Experience
Hubby and I really enjoy strap on play. Just the idea of being able to switch roles in the bed room is enough to make me tingle. In a nut shell strap on play erotic and exciting. As much as I love it, I always seem to feel a bit left out during our playtimes. Not anymore! With the Share I can feel intense pleasure along with Hubby.

The first time we used the Share I was a bit nervous. It seems kind of heavy and I was concerned it would not stay in. Walking around and strutting my new member it stayed in place great. Every time I looked down, I was amazing at how cool it was to actually have a penis coming right out of me. Hubby enjoyed it too. It was not long before he was on his knees sucking my new member. Oh my gosh, with each movement the bulb rocked into my g-spot. It was the first time I really felt the joys of receiving a blow job. As my knees started to get weak, Hubby began to jack me off. Words just can't fully describe the feeling but one thing is for sure, it was only a short time before my juices were running down my thigh.

Unfortunately, the wetter I got the less the Share wanted to stay put. After playing around for a while, it was time for Hubby to feel my member inside of him. Since my juices prevented me from holding the Share with my PC muscles, I laid Hubby on his back and I sat in-between his legs. Face to face I could look up and see the pleasure I was giving Hubby. In this position the Share stayed tight up inside of me and worked perfect as I rocked back and forth thrusting into Hubby. Although, Hubby was not able to take the entire length of my member, the head and first four inches of the shaft rubbed across his p-spot and brought him to total climax with very little effort on my part. For me, feeling the pony end rocking inside of me as I please my Hubby was more than I could handle. It was utterly amazing to climax together.

During other times, we have used the Share just on me. Unlike other g-spot dildos have tried, this one is more erotic. Weather it is because of the design and shape or just knowing that it is my penis we are playing with, the Share is totally satisfying.

Hubby really enjoys when I wear this toy. He, like me, enjoys the idea of me having my own member to please him with. Now with the Share, we can explore and even have more fun with us both being completely satisfied while doing it.
This product was provided free of charge to the reviewer. This review is in compliance with the FTC guidelines.

Thank you for viewing
Share
– double ended dildo review page!