Definitely Not Smallballs
I think the Smartballs Teneo Duo are a very quality made kegel exerciser that would be great for a woman wanting to strengthen her PC muscle after delivering a baby or for someone who just doesn't feel tight enough, but if you are already very tight with a smaller vaginal canal, these may be too big to move comfortably or lounge around using.
Published:
Pros:
Strong retrieval cord, Quality-made, Can be sterilized
Cons:
May be too big for comfort for some
I was very exciting to try these, but you can imagine how surprised I was when they arrived and I became intimidated just by looking at them. They are definitely bigger than I expected!
The ones I have are actually a color Fun Factory calls 'India Red', but I didn't see the color available on here, so I selected the orange because they seem to be very similar shades. This is the actual size in comparison to my hand.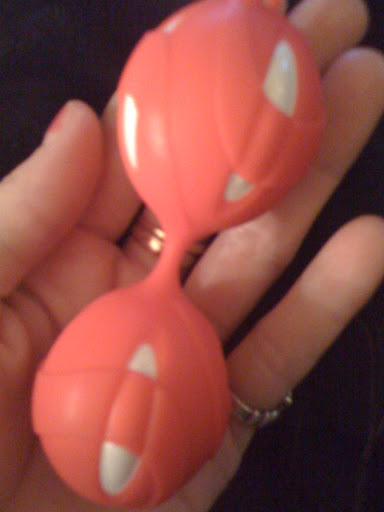 And in comparison to a soda can.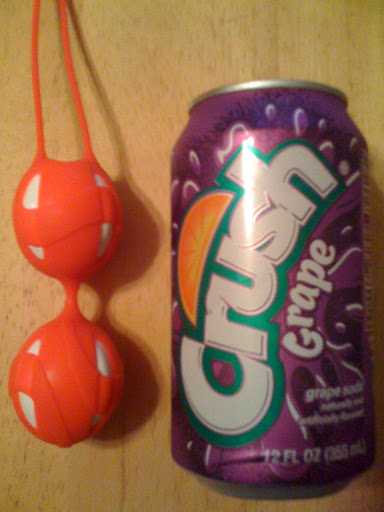 The Smartballs Teneo Duo are two kegel balls that are attached to one another with the same latex-free, phthalates-free, hypoallergenic, and non-porous, food-grade silicone material that encases them in a funky, futuristic design, and each ball contains a weight inside. The description says they weigh 0.3 lbs., though I'm not sure if that's the weight of the entire set or each weighted ball itself. I do know that on my digital scale each ball weighed in at a little over 44 grams. It kept teetering, but stayed between 44-45 grams. They are pretty heavy, and when you move them around you can hear the weights roll around inside the casing.
The two balls alone measured side by side are 3 3/4" in length with the retrieval cord alone also measuring 3 3/4" in length while the circumference of each ball is 4 3/4 inches around and 1 1/2 inches across in diameter.
There is a handy dandy retrieval cord at one end that Fun Factory guarantees will NOT break on you, and I have tested this theory by stretching it as far as I can and it seems like it'll live up to that expectation. There is also an indent on the end of the ball that holds the cord, and it is contoured to fit your finger snugly to help make the insertion process easier.
They are made of silicone and a hard, super smooth plastic that can also be bleached or boiled, and it's definitely a plus that they can be so easily cleaned and sterilized. The silicone does feel a bit more rubbery than a velvety soft type of silicone and has a good amount of drag more than something with a softer feel. The silicone portion encasing the balls also has a raised texture that wraps them in a swirling pattern, so these definitely have a good amount of texture compared to most vaginal balls out there. Between the material, texture, and the size, you'll want to use a generous amount of lube before inserting these bad boys.
You can't use a silicone-based lubricant with these as they are made of silicone and could leave the material permanently tacky. I use Wet Platinum water-based lubricant with all of my silicone toys to avoid that kind of catastrophe, and a catastrophe it would be if you happen to cherish your toys.
I figured with all that lube I could make these work, but for someone like me who's not constantly sexually active these days, has never given birth, and is pretty much ridiculously tight to begin with, it felt like I was nearly inserting bowling balls into my vagina. It just seemed damned near impossible, and when I finally made it work, with a lot of effort, I was too uncomfortable to move around freely with them inserted. Retrieval wasn't really a pleasurable experience either, due to the size, and again, esp. if you're very tight or small to begin with.
It goes without saying, just by looking at these, that they are not best suited for a woman who is already very tight or small! For the woman who's looking to start bigger with kegel exercisers and really strengthen those muscles, though, these would be a dream come true and the perfect pair for the job. They are very silent once inserted as well, though, they aren't too loud even when shaking them in your hand.
It was definitely easier for me inserting the first one than the second one, so if you're smaller or tighter than average or prefer things more shallow in this instance, and really want to try the new Smartballs, I would suggest going with the
Teneo Uno
.
Follow-up commentary
29 days after original review
Still too big for me to ever use regularly. I'm afraid these are staying at the bottom of the toy box and I'm going to try something smaller. I still wish they were smaller and that I actually could use them.
This content is the opinion of the submitting contributor and is not endorsed by EdenFantasys.com

Thank you for viewing
Smartballs Teneo duo
– sex toy review page!