More Like Largeballs Duo
These may be wonderful for women who want a quality product to strengthen their pelvic floor muscles, for women who have given birth or are not as tight as they want to be. If you have a smaller vaginal canal, don't like toys that are larger or firm with no give; these are not for you. If you're looking for something to get you in the mood or to make work more fun I'd recommend passing on this set.
Published:
Pros:
Easy removal, won't fall out, quality silicone
Cons:
Big for some, provided no sexual stimulation
I've never given birth and don't have pelvic organ prolapse, which can lead to urinary or fecal incontinence. I wanted this toy to strengthen my pelvic floor muscles for more controlled and better orgasms and because I've read from many reviewers that they can be arousing to wear and provide added enjoyment when worn during anal play or spanking. The directions suggest not wearing these for more than three hours. My first night with them I wore them around the house to make dinner, do housework and relaxing on the couch. I've also worn them hiking, out of the house and while being spanked. When I first put the balls in they feel quite filling, but not necessarily in a good way. Sort of like a super tampon that was inserted incorrectly. After a few minutes I got used to them being in and didn't really notice they are there. Unfortunately, that's about all I have to report. I didn't find them to be arousing at all and I didn't feel them rolling around when I was getting spanked. Again, I didn't get them so much to help with my pelvic floor muscles so they may work quite well this way for some. Others may also find them arousing. It's one of those things you don't really know until you try.
These balls are very nicely made and have a good weight to them. They are made of silicone and have weighted balls inside that you can feel roll around inside. The two balls are connected and have a long, narrow loop attached to the bottom ball for removal. The balls are stiff, there is no give or squish, and the removal loop is quite inflexible as well. The loop isn't necessarily uncomfortable but the firmness of it makes is so that you have to make it either go backwards or forwards in your panties. Depending on how much of the loop sticks out this can create a bulge as it doesn't lie flat or bend easily. I would not feel comfortable wearing these with a bathing suit, skirt or pants with no panties as I'd be afraid the loop would hang out or make an unsightly bulge in my clothes.
It's safe to use water-based lubricant with these balls. I found using lubricant was key to getting them inserted easily and comfortably. Word of caution on the lube though; it does make the balls slippery, which is the point I know, but be careful not to get lube at the base of the first ball where it attaches to the second. This is where you need to push to get the first ball in. If it's all slippery it makes the process of getting it in much more difficult. The first time I tried getting them in all lubed up everywhere my finger slipped off and I accidentally stabbed myself in my sensitive nether-regions with my fingernail. The second ball is easier to get in as there is a little indentation at the bottom for you to place a finger in.
They come in a nice, sturdy package that's not very discreet. It says for women ONLY and has a few pictures on the front that may make some people question what's in the box.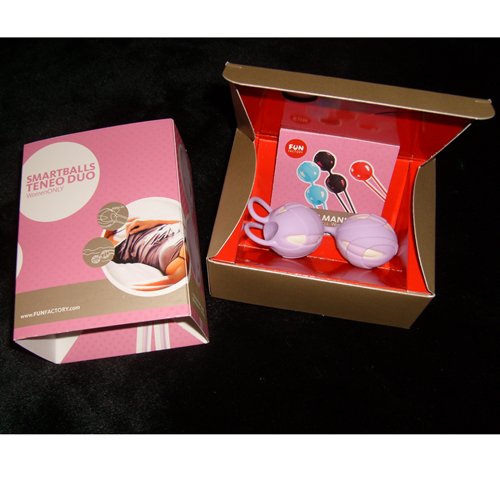 I want to point out that I ordered the "violet/white" Smartballs, which shows as the same color as the "grape/white" Smartballs. I actually wanted the "grape/white" color but as you can see below the "violet/white" is a much lighter color. Like a lilac, purplish shade.
Size:
Length: 7 1/4"
Insertable length: 7 1/4"
Circumference: 4 3/4"
Diameter: 1 1/2"
Weight: 0.3 lb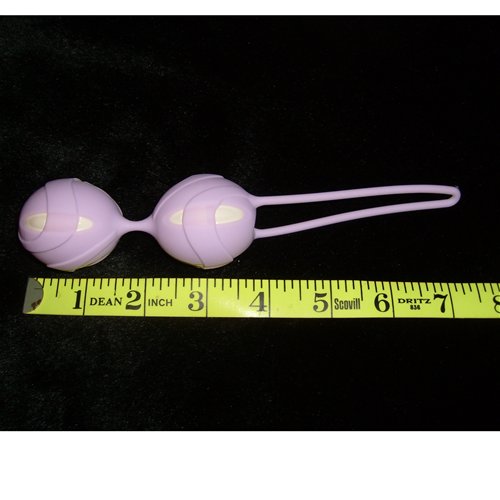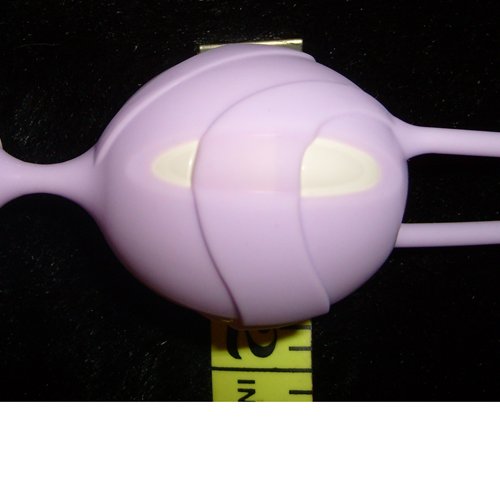 Next to a golf ball (top) and ping pong ball (bottom)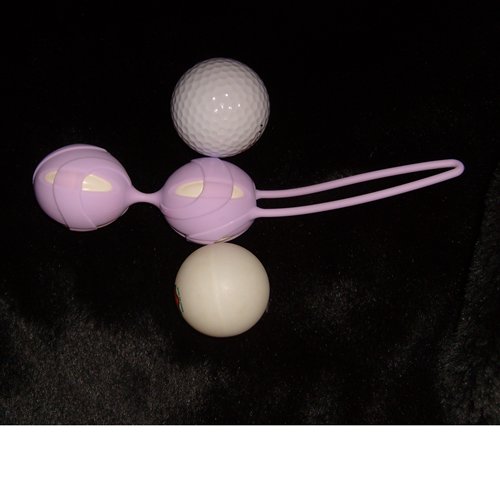 Material/Texture/Care:
These balls are made of silicone and are rated a 10 on Edens Material Safety scale. Silicone repels dirt and bacteria and holds up to prolonged use. These balls are smooth and not porous, although they do have ridges and layers as you can see by looking closely at the pictures. They can be fully disinfected by boiling for three minutes or by washing them in the top rack of the dishwasher.
Follow-up commentary
3 months after original review
These balls just aren't for me. They are meant to help strengthen pelvic floor muscles and I didn't really need to do that; that's not the main reason why I purchased these. I was hoping, as I'd read in some other reviews, that these balls would be arousing to wear. I wanted to be able to wear them while making dinner or doing laundry all the while being stimulated, sort of like extended, solo foreplay before going to bed with my husband. They didn't do this for me. I think it is entirely possible that these will work for other women as they are intended, to strengthen your pelvic floor muscles. Just be aware of the size as they may be too big for some.
This product was provided at a discounted price in exchange for an unbiased review. This review is in compliance with the FTC guidelines.

Thank you for viewing
Smartballs Teneo duo
– vaginal balls review page!