Euphoric Ecstasy ... Finally!
The heavy and ergonomically designed Njoy Pure Wand is like nothing else I have ever owned, I am speechless of the extreme sensation created by this wand during couples play.
Published:
Pros:
Non-porous, pinpoint G or P-spot stimulation, good for solo, great for couples play when done right.
Cons:
Can be tiring on the wrist because of its weight.
After reading all the raves about this Njoy product, I finally bought my very own Pure Wand five months ago. I have been playing with the wand so often, my husband has become a little jealous of its existence. This ergonomic and weighty wand is fabulous on both my clitoris and G-spot, it has provided me with pleasurable stimulation no other toy can match.
The Pure Wand came in a tasteful black box with "Njoy" embossed on top, its lid lifts like a jewelry box. The wand nestles in a layer of deep pink satin fabric lined over form-fitting cut out.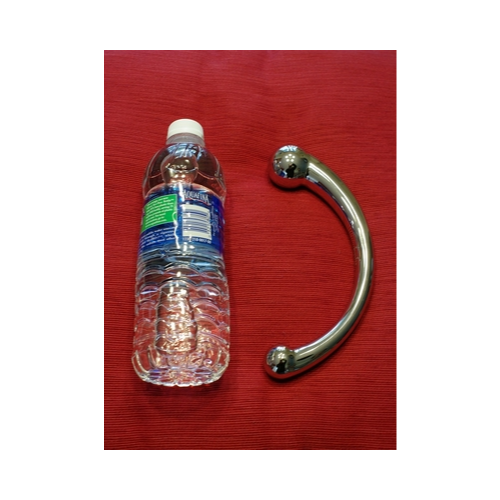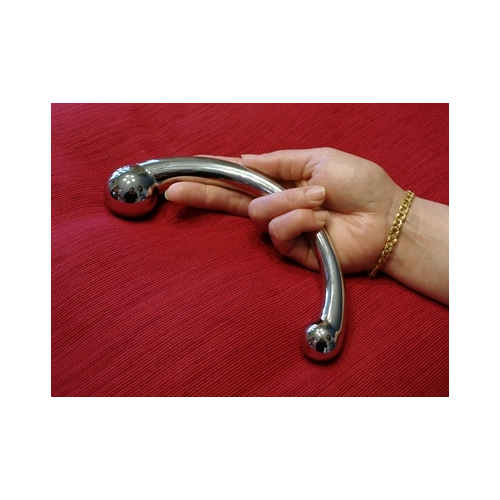 The entire wand is 11 inches long. The length of the shaft, excluding the balls on both ends only measures 8 inches. There are two spherical bulges on each end of the curved shaft, the large ball is 1 1/2 inches in diameter, while the smaller one has a diameter of 1 inch only. The tapered shaft connected to the large ball starts out at 1 inch in diameter, gradually reducing to a 1/2 inch at the center, then slightly increasing back to 5/8 inch when it joints the smaller ball. This stainless steel wand weighs a hefty 1.5 pounds.
The Njoy Pure Wand is cast in 316-grade medical stainless steel, and is highly resistant to corrosion. It is rated 10 on the safety scale. This elegant wand is hand-polished to a glossy mirror shine. The entire wand is completely smooth, except for the "Njoy" logo laser etched with a brushed finish on the inside of the curve, it is slightly noticeable if you rub a finger over it, but will not be detected during insertion.
Since the wand is made of stainless steel, you can use your preferred type of lubrication along with it without worry.
The Pure Wand was designed ergonomically to fit the human anatomy, the length and curvature of its shaft enables G or P-spot play easy as a breeze. If you have a problem locating your spot, this wand will get you there in no time.
I have different ways to work this wand. I always start with finger-play to get my natural lubrication flowing, so my pussy will be ready for the wand. I like to thrust the smaller ball slowly inside my vagina, while rubbing my clitoris with fingers on my other hand. If thrusting with the small ball makes my knees go weak; switching to the large heavy bulge, rubbing it on my already swollen clitoris, then thrusting it in my vagina pinpointed at my G-spot with a up-down rocking motion, makes me swoon. Although the wand has a narrow shaft, the weight and size of its larger end will still create that wonderful feeling of fullness in you.
I prefer to do short and gentle strokes with the wand, as I do not want to tire my wrist out holding 1.5 pounds of steel, and to avoid possible injuries inside my pelvis since the hard material can be quite unforgiving.
The Pure Wand is ideal for temperature play. For a cold wand, you can chill it in the refrigerator. If you prefer a nice warm wand in winter, simply run it under warmer water. Please refrain from using hot water, the wand is heat sensitive and can scorch your precious parts.
The stainless steel Pure Wand is completely non-porous, the simplest way to clean it is with anti-bacterial soap and hot water. Washing it on the top rack of your dishwasher using the hot cycle also works. If you have engaged it in anal play, please sterilize the wand by placing it in a pot of rolling boil hot water for one minute, to kill off any possible bacteria. To avoid unnecessary scratches on the wand's shiny surface, do not use any abrasive cleaners or pads. Wiping it dry with a soft cloth after each wash, will return the wand to its original mirror-like finish.
Experience
I have had the Pure Wand in my possession for over five months, and have been enjoying the exquisite sensations it brings me, but I have yet to relish it hands-free. In spite of all the warnings from other reviewers, about how the wand might cause possible injuries to the pubic bone or cervix, if you let a partner do the work and is not careful about it, I decided to have my husband try the wand on me. With my hips elevated over a contoured pillow, my husband thrust the Pure Wand into my vagina continuously with quick, short and precise strokes, focused on my G-spot. While his strong hand was busy handling the wand, he also gave me a great cunnilingus job on my clitoris. This intense experience is so different from going solo, the orgasm I have had was long and extremely mind-blowing, I should say it was the greatest one my husband has accomplished on me. What lead to this euphoric ecstasy was because I was not the one controlling the heavy wand, I just laid on my back savoring the extreme stimulation that was given to me.
If you are going to use the wand for couples play and have cunnilingus at the same time, positioning yourself on a contoured pillow or a
Liberator Wedge
is a must, because the curved Pure Wand will get in the way. When your hips are in an elevated position, your partner can handle the curved wand with ease, and does not have to crane his neck to perform oral on you simultaneously.
Follow-up commentary
15 days after original review
The Njoy Pure Wand is still number one on my favorites list, especially when I am in the mood for some serious G-spot loving, no other toy can match its excellent performance.

I have started a Njoy product popularity poll on the forum, the Pure Wand is ahead of the pack by a large margin, I am thrilled to be the owner of such a desirable product!
This content is the opinion of the submitting contributor and is not endorsed by EdenFantasys.com

Thank you for viewing
Pure wand
– anal probe review page!