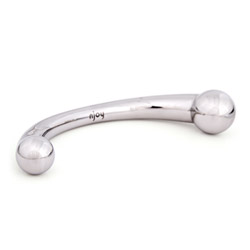 Pure wand
Contoured probe by Njoy
Move Over Potter.. I Have My Own Magic Wand
The Pure Wand was worth the investment because I can use it for sensory play and penetrative play. I plan to explore more with g-spot and clitoral orgasms together if I can manage it. I haven't used this with a violet wand, but because it's stainless steel, it would be conductive and in the hands of someone with expertise, it could be fun to experiment with it and a violet wand on the skin to see how it directs and changes the energy.
Published:
Pros:
Easy to clean, safe with all lubes, hard to damage
Cons:
expensive, might be heavy for someone with weak wrists
Now, like most people who get a new sex toy in the mail, the thing I'm most interested in what it can do for me. I'm selfish like that. The Pure Wand was no exception; however, instead of tearing into it like a greedy child at Christmas, I was stunned by how beautiful the packaging was. I actually stood there and admired the box. It's high quality and made to last and store your toy. It's hinged with satin ribbons and there's a molded foam insert that perfectly fits the wand. The whole inside is covered with pink satin. The Pure Wand laid there, shining and beckoning, nestled in its pink nest and I couldn't help but think.. Man, these people know how to sell it! The presentation was a production.

The Pure Wand is made of 100% stainless steel and it's sooo cold to the touch if you aren't prepared for it, especially on sensitive bits. There was no smell, and it's heavy in your hand. Because it's steel, it's incredibly safe to share with others and it's easy to clean. You can boil it, soak it in a bleach and water solution, or put it in the dishwasher. Also, in the heat of the moment you don't have to solve a riddle to figure out which lubes are safe with your toy. You can use oil based, water based, or silicone lubes without a problem. Just as I find weighty utensils help make a meal more enjoyable and substantial, this toy does the same.

I had never squirted and I believed I was one of those women who couldn't. My dear friend, the squirting oracle, -promised- me that I would squirt with this toy. It's her favorite. She swears by it and damn-near threatened violence when hers disappeared once. (All is right with the world, again, she's since be reunited with it and the angels did sing). Anyway, I figured it wouldn't hurt to be prepared so I folded a towel in half and put that under me just in case. I didn't warm the Pure Wand in my hands before i inserted it and that's my fault, but the temperature it conducts is astonishing. The cold nearly shocked me but it warmed up quickly and felt incredible inside me. I can see many possibilities of fun temperature play with this, in the future. I used this in my recliner and hooked my knees over the arms. This gave me greater access to my g-spot since I'd never attempted to stimulate it before. It was such an interesting sensation. I'd never experienced a g-spot orgasm before, and it was such an interesting sensation. And, I'll be damned, I squirted! Like.. a lot. It soaked through the towel so lesson learned - use 2 towels. My friend about crowed. I hate admitting she's right :P but, she was.

This toy can be used anally for those more experienced than beginners. In fact, it would be a wonderful prostate massager. I also think this toy would be incredible for sensory play because of the way it holds temperature. You could stroke it along skin and watch your partner shiver and moan.
This product was provided at a discounted price in exchange for an unbiased review. This review is in compliance with the FTC guidelines.

Thank you for viewing
Pure wand
– sex toy review page!