My Balls are Smart
Give your vag a workout with Fun Factory Smartballs Teneo Duo. These body safe, easy to use vaginal balls are great and will have your bits in shape in no time at all.
Published:
Pros:
Easy to use, trusted name, lightweight
Cons:
May be too large for some.
USE:
Do your kegels! It is something most women hear quite a bit at some time in their life. If you are anything like me, you don't really think about it. When you do, you get a few squeezes in here and there and then you forget, and next thing you know its been a month since you last did a
workout
.
But thankfully, there are vaginal exercisers like the Fun Factory Smartballs Teneo Duo. They are easy to insert, have an easy retrieval cord and they make your muscles work without you really even having to think about it. Stronger muscles make for better bladder control and better orgasms so it is certainly something we can all benefit from.
HOW DO YOU USE IT?:
There is not much to using these little things. There is a finger hollow at the base. You put your finger there to make it easy to put in. A small drop of water based lube on the top can help ease them in if you have problems. You then insert your Smartballs just like you would a tampon. You can prop your leg up, squat, whatever is comfortable for you. Once they are in place they will stay there with the help of your PC muscles.
The retrieval cord with hang out for easy removal when you are done. Just give it a little tug and the Smartballs pop out. The cord is strong and holds up to some hard tugs.
They should not be used anally.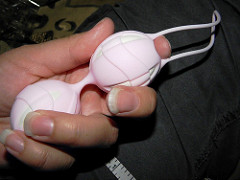 DESIGN/SHAPE/FEEL:
The Teneo Duo is made up of 2
elastomed
balls that are encased in smooth, soft silicone. Each ball has a circumference of 5 inches and is 1.75 inches long. The total insertable length is 4 inches. In each large ball, there is a smaller ball that jiggles around when in motion. This jiggle gives off the slightest vibration that tells your body to squeeze onto them. There is a 3.5 inch long retrieval cord attached to the base for removal.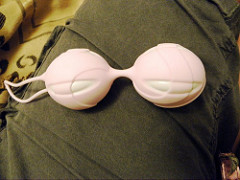 CARE AND STORAGE:
You can wash your smartballs with warm water and soap or your favorite toy cleaner. There are crevices where the silicone meets the elastomed balls that you will want to pay closer attention to to make sure they are good and clean. Once they are clean, you can store them with your other pure silicone toys, in a ziploc bag or int he original packaging.
HOW DID IT WORK?
I love these! They are bigger than the other vaginal balls I have which make them easier to grip during daily activities. Some people may have a harder time with the size of these but for my experience, I found the size just right. I tend to wear them to work and I have no issues at all with them when I am at it.
As with all Fun Factory toys it came with a full instruction pamphlet in multiple languages, a product pamphlet and a sample of their water based lube, Toyfluid. For those who wish to know, the ingredients for Toyfluid are Aqua, Glycerin, Ethoxydiglycol, Guar Hydroxypropultrimonium Chloride, Hydroxypropylcellulose, Citric Acid, Benzyl Alcohol / Methylisothiazolinone/ Methylchloroisothiazolinone.
This product was provided free of charge to the reviewer. This review is in compliance with the FTC guidelines.

Thank you for viewing
Smartballs Teneo duo
– sex toy review page!