The Orgasm That Never Ends!
I don't think I have to tell you that I'm beyond impressed with this orgasm machine. While the price tag is HEAVY, I think this is a get what you pay for kind of situation. If you can save your nickels and dimes, you'll be happy that you did! The ONLY negative I can think of is the velvet storage box tends to cause the velvety material to settle onto my Intensity. Of course, you can easily arrange for alternate storage ideas! A MUST have for everyone who loves a never ending orgasm!
Published:
Pros:
promotes strong pelvic floor muscles, customizable girth, non stop orgasms while using toy
Cons:
Velvet storage box tends to attract dust
After hearing about a toy that potentially gives you never ending orgasms, I took the plunge and bought the Intensity by Jopen. I haven't had experience with the brand before, but can assure you I will be getting further acquainted with them!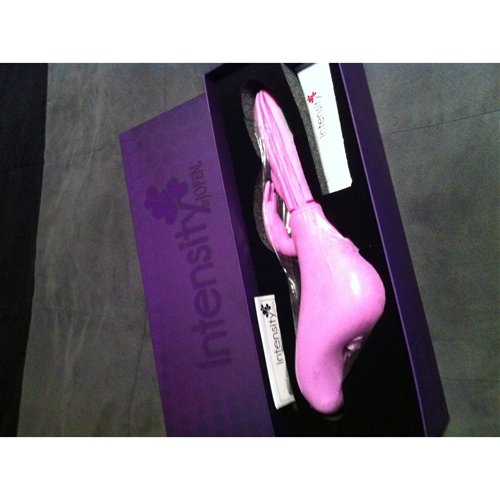 What makes this toy worth paying the $249.99 price tag? This "toy" isn't just a toy. It's actually a vaginal exerciser. Imagine doing kegel exercises without any effort AND being pleasured at the same time. Sited as a vaginal exerciser, I think this toy's goal is to be your kegel machine. Exercising your pelvic floor muscles provides you with a myriad of rewards. (Stronger orgasms, a "tighter" vagina, and less likelihood of needing to buy Depends due to bladder incontinence.)
This toy measures 12" in total length. The handle area is kind of bulky. This toy doesn't get bonus points for beauty, but frankly that doesn't matter because it delivers.
Design / Shape / Size
Color: Purple (Mine is actually pink, but I'm not complaining!)
Length: 12"
Insertable length: 5 3/4"
Circumference: 4 1/2"
Diameter: 1 1/2"
The set includes: Intensity and Electrode gel
Weight: 1.3 lb.
Here's the selling point: This toy gives you an endless orgasm. No, seriously.
If you're lucky enough to have had a g-spot orgasm, then this is exactly what you're going to get when you use the stimulation settings on the Intensity. (If you have only experienced clitoral orgasms, you're about to learn about another way!) There are ten settings on this in terms of your "shock therapy", with 10 being the most powerful. I've worked my way up to four, but I'm baby stepping this one, folks. The first two settings didn't phase me, but when I hit three, my pelvic floor muscles were contracting like crazy. I can only explain it as involuntary kegel exercises with a twist of orgasm. It's really mind blowing.
Now here's where the toy made me a teeny bit nervous. There is electrostimulation involved. I know, I know, it's a bit intimidating. But whatever you do, don't let it put you off, because this g-spot, clitoral stimulating device is AMAZING! On each side of the Intensity, there is a metal plate. This is where you want to use the provided Electrode Gel. (Which is hypoallergenic.) You definitely do not want to forget this step. Not sure what happens if you do, but I just wouldn't recommend it. Also, you can use a water based lube on the tip and shaft of this toy for easier insertion. WET water based lube is my preferred lubricant.
Additionally, a cute little rabbit-eared clitoral stimulator sits atop the Intensity allowing you to stimulate your clit as well. Two for the price of one! The rabbit has five speeds. They are intense and FABULOUS!
You'll insert this fine piece of machinery and begin pumping your Jopen Intensity up. This is because every woman has a different honey pot, so customize your preferred girth, girls. See the before and after of this process: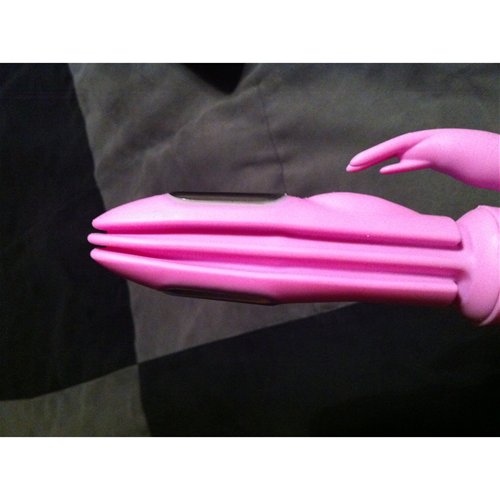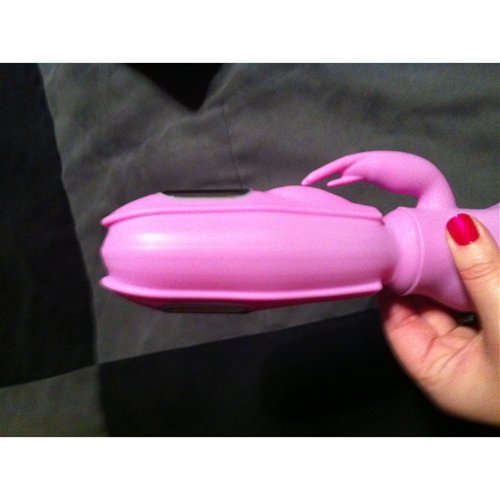 Once you feel the Intensity by Jopen fits you like a glove, you can start hitting the switches.
Turn on the Intensity by using the on/off button in the middle. I like to start out using the vibration method of the rabbit first. I find that you benefit MOST from this by being aroused prior to using it. This is because you are more relaxed and can enjoy optimal benefits by enjoying a clitoral orgasm at the same time.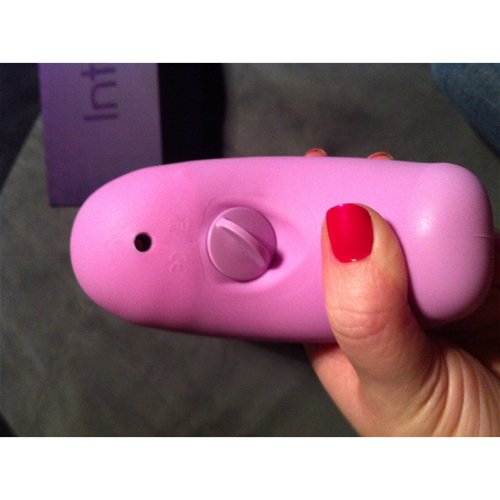 Batteries go into the bottom of the handle base. Uses 4 AAA batteries.
For the sake of science, I decided to get brave and try level 4. BAM! A stronger orgasm kicked in. It was fairly intense, so I have yet to test my luck with 5, but I will, so watch out for my follow up review.
When you're done, you turn your power off and push the black button in the back. It releases the air in the shaft.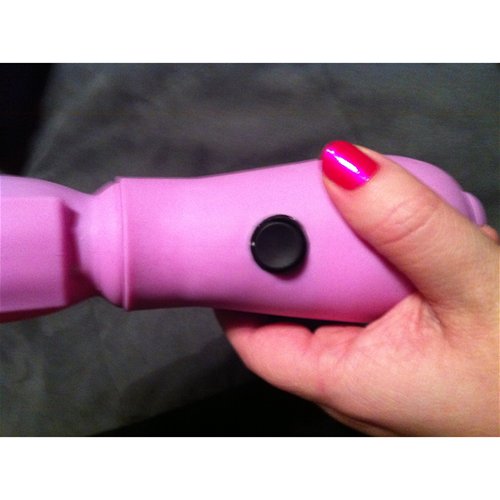 Only after completing these steps should you attempt to remove Intensity by Jopen.
This toy is composed of ribbed silicone, as well as food-grade material which is hypo-allergenic, latex free, non-porous and phthalates free, which is fancy talk for a super safe bet in terms of material safety.
How do you clean this toy? You can use water and a mild soap. However, know that this is NOT waterproof, so you do have to be careful. I prefer to use a toy wipe on mine. I also pump mine back up while cleaning it so I can get between the grooves, because I'm OCD like that!
Experience
So what's the bottom line? I've been using mine every day for about a week now. Usually about ten minutes per session and I feel like vaginal muscles are fitter than Mr. Universe the night before competition. Maybe it's in my head, but I think I could win gold in the World Kegel Championships.

My partner has been uninterested in participating with this one. He'll watch, but I think the whole electrode thing scares him, which is just as well, because I feel like this is a solo thing. Of course, to each their own. It can definitely be a group activity if you'd like it to be!

I'm actually going to follow up with another review throwing in my husband's two cents on any changes he may or may not notice in terms of tightness in another six weeks or so. Not that it really matters, because the endless orgasm is reason enough to save your pennies for this toy!
Follow-up commentary
3 months after original review
Unfortunately I haven't been diligent enough with this toy to say it truly tightens pelvic muscles. Ive noticed a slight difference, so I'm confident with more "practice" it'll pay off!!
This product was provided at a discounted price in exchange for an unbiased review. This review is in compliance with the FTC guidelines.

Thank you for viewing
Intensity
– electro stimulator review page!