You clearly didn't see it coming!
Following the success of both the regular and 'designer' Fleshlights, the Ice Crystal is a great idea on paper that fails to deliver in real life. If you want to see a teaser of what goes on during sex then it's fine, but if you're hoping to see anything clearly then forget it. An uninteresting internal texture and a much sticker SuperSkin only helps to make this something of a flop. Save your money and buy one of the superior Fleshlight Girls models instead.
Published:
Pros:
Clear case
Cons:
Sleeve is not clear, difficult to see what's going on, boring internal texture, tacky/gummy material
I never set out to be a Fleshlight collector. Actually, I don't consider myself to be one, despite this now being my fourth. Fourth? How did that happen? I don't follow any porn stars, and the thought of having lots of different-looking pussy lips to choose from doesn't really do much to me (unless they're attached to real people). After trying my first Fleshlight, the
Jenna Haze Forbidden
, I soon decided to try out some other body parts. Next came the
Misty Stone
model and finally - yes, I admit this one - the
Count Cockula
. So there it was: a Fleshlight to represent each orifice. I was done, surely?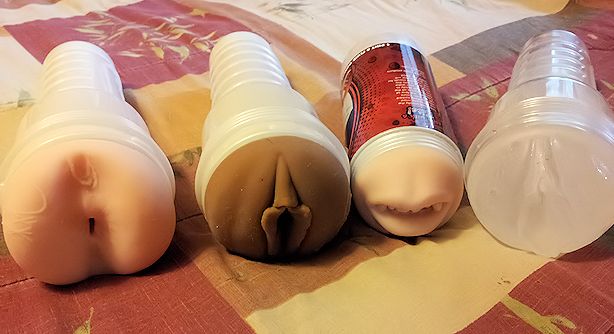 And after a nationwide vote... Crystal, your journey ends here
Well not so fast. I didn't know there was an Ice Lady range, so my interest was piqued when I first saw it. Not because of any new shape or textures, but because I thought the idea of my wife using this on me (or just watching) and being able to see all of the 'action' was a very sexy one. So after explaining this to her, and hearing the expected "I thought you had all of the Fleshlights you wanted. Where are you going to put another?", I ordered it and eagerly waited for delivery.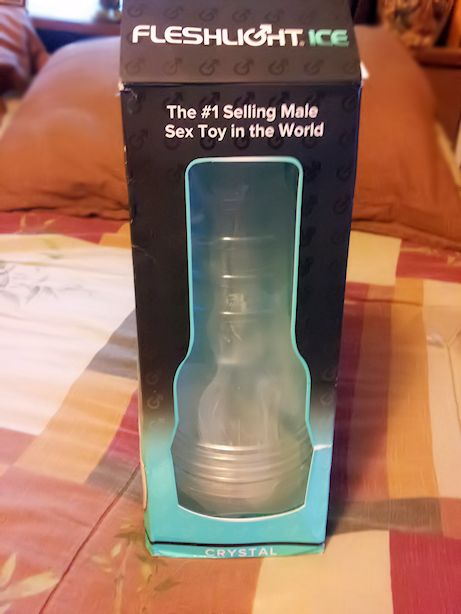 Packaging courtesy of Fleshlight. Scuffs & creases courtesy of Eden's bubble envelopes
The sleeve arrived in a fairly standard Fleshlight cardboard box (what on earth do I have to do to get one of those collector tins?), along with the standard-issue product leaflet and small lube sample. As with all of the full-length Fleshlights, this one came with the long plastic rod inserted down the middle.
Make sure you take this out
before diving in - otherwise you won't be sticking your cock into
anything
for a long, long time.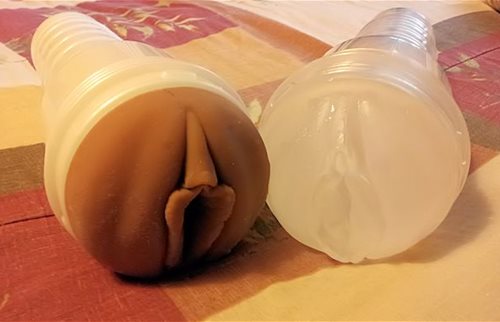 Misty, Crystal, the camera loves you! Now, can you both just trib for a couple of shots? There you go...
Looking at the clear case, I thought for a moment that I'd received a used toy. There was a series of what looked like little scratches around the inside and I panicked. Running my fingers over those 'scratches', I realised that it was powder - possibly corn starch? Maybe this was on my others when they were new too, and it's probably just more noticeable on a clear model. The description says that this is made of SuperSkin, which rates as just a 5 on EF's
Safety Scale
, but this isn't like the SuperSkin on my others. This particular model is very tacky to the touch and is only slightly helped by a dusting of corn starch (NOT talc!), at which point it begins to feel a little less like freshly-chewed gum. SuperSkin is latex-free and non-allergenic, but needs a little special attention for cleaning. For a start, you can't use soap with it. I find just rinsing in warm water then turning the entire sleeve inside out and repeating the process before air-drying works well. I found that after washing it, this gets a lot more sticky & tacky than the regular models, and has an almost gummy texture to it.
The sleeve itself is the standard Fleshlight size - 10" long (1/4" longer than my Fleshlight Girls cases, oddly enough), 3 1/2" wide at the top and 2 1/4" wide at the base with an internal usable depth of some 8", so it's not something you'll be able to easily hide or travel with. And if you thought the regular Fleshlights could be passed off as, well
flashlights
(yeah, right) then there's no explaining this one away if someone stumbles upon it.
Experience
Crystal, as we named 'her' arrived late last week, and from the moment I opened the box I was disappointed. "Clear Case, Clear Insert" boasts the Fleshlight website, along with "See yourself in action" in bold lettering. Unfortunately they're only partly right. The case is clear, but the sleeve itself certainly isn't.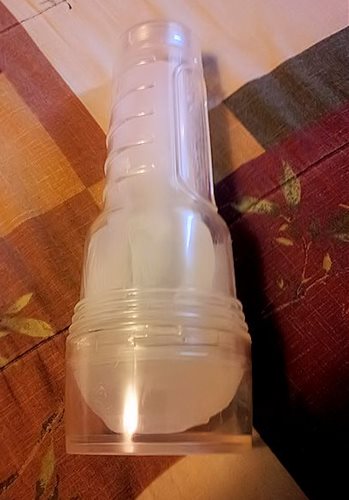 Clear? You keep using that word. I do not think it means what you think it means
I probably should have researched this better rather than just taking Fleshlight's word for it that this was clear. Due to the nature of the SuperSkin material, it probably can't be made to be completely transparent, but this is much more opaque than I expected. I tried to slip a couple of fingers inside her (calm down, you at the back!) and they almost disappeared from view. Still, I held out hope that things would be better in bed.
Well, last night my wife and I tried this out for size. Ok, not for size since the size works well. But, as expected, once she had placed this over my hard-on, we were both instantly disappointed. Not only could she barely see the 'action', but the internal texture was a bit of a let-down too. Each of my other models has its own pretty intense series of ridges, bumps and nubs, but this model doesn't feel as though it has much going on inside it at all. Ok, that's more 'realistic' since I've never been with a woman who had a series of textured ripples inside her, but it's not what I expected here. I actually experienced a new first for me - I told my wife she had to stop, since this felt boring! That's right - I've found the first Fleshlight that I'd rather leave under the bed and use something else. We used
Maximus
lube with this (water-based only with the Fleshlights, thank you) and noticed something else, too. I don't know whether it was some sort of reaction, but the lube went white and tacky - kind of like kids' school glue. That only happened on the outside, so it was possibly a combination of the SuperSkin, the lube and the corn starch, although I've never noticed this happen with the other models.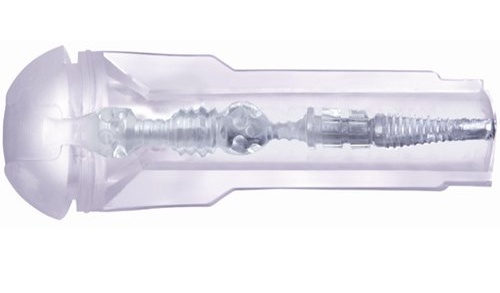 The Doctor had always fantasised about making love to Mrs Cyberman
We left the Fleshlight out next to the bed and went back to it right when I was about to finish (just for research purposes you understand). Once she knew the end was nigh, my wife slipped Crystal back over me and pumped, watching eagerly. I came inside the sleeve, but - as expected - all she saw was the kind of teasing view you'd get if you were watching somebody take a shower through frosted bathroom glass. It just looked like an indistinct shape moving back and forth, and wasn't the slightest bit sexy.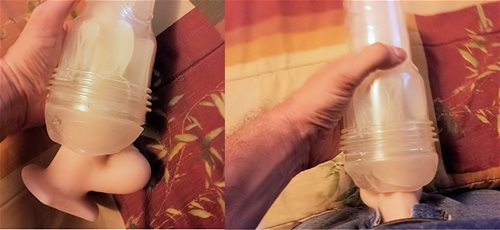 Now you see it... no you don't
It's a shame that my 100% record with Fleshlights has now come to an end. I used to recommend them without hesitation, now I've got three great ones and - since I won't return a used item like this - one that has become little more than a single-use $70 masturbator
This content is the opinion of the submitting contributor and is not endorsed by EdenFantasys.com

Thank you for viewing
Fleshlight ice lady crystal
– penis stroker review page!